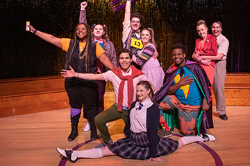 08/23/2019

SUNY Cortland will launch a bachelor of fine arts (B.F.A.) degree program in musical theatre starting in Fall 2020 — a major addition for students who aspire to perform professionally after graduation.
The degree distinction means that the academic major will add greater emphasis to studio training and creative work. Cortland has offered a traditional bachelor of arts (B.A.) in musical theatre since 2000 while growing a program recognized for its contemporary training standards, new facilities and diverse performances.
Sixty-five students were enrolled as musical theatre majors in Fall 2019, a record number for Cortland. Only two other SUNY campuses — Buffalo and Fredonia — currently offer a B.F.A. in the discipline.
"The B.F.A. program is what most prospective musical theatre majors are looking for," said Kevin Halpin, associate professor and chair of the Performing Arts Department. "It's very much focused on training students to go out and be professionals in the theatre upon graduation."
In the new program, expectations will include seven semesters of ballet training and working with a voice teacher plus course requirements in acting, spoken voice, theatre history, jazz dance, tap dance and theatre dance. The focus will continue to be preparing students to be working creative artists.
SUNY Cortland graduates have gone on to be actors, singers, dancers, choreographers, directors, theatre technicians and educators. Halpin noted that several alumni are performing in lead roles on national tours in productions such as "Fiddler on the Roof" and "Miss Saigon," while many others are working in regional theatres, summer stock shows and on cruise lines.
SUNY Cortland continues to host musical theatre industry showcases in New York City and on campus during the spring in an effort to highlight current seniors and young alumni.
"We're looking at the whole actor-scholar," he said. "It's not just about getting students through their classes, but moving them forward in a way that they're truly resilient and prepared for what's ahead in their careers."
Ninety-three credit hours of the 125 required for the new B.F.A. will be earned within the Performing Arts Department. Halpin explained a special quality of Cortland's training is that musical theatre is the only major offered within the department.
That means all performances at Cortland are planned intentionally to expose students to a variety of experiences, from musicals to classic plays to modern dramas. In a music school, for instance, larger roles in more serious musicals may be reserved for students specializing in vocal performance.
"Because musical theatre is our only major, all performance opportunities are available to all students," Halpin said. "Everything is for them."
Musical theatre majors also perform in new facilities, which came as part of a $22 million renovation of the Dowd Fine Arts Center in 2014. That project included a 400-seat theatre, private practice rooms and many other modern features.
Even more important are the genuine and direct relationships that students share with 18 faculty and staff members within the department. Areas of expertise are far-reaching and include skills such as acting, ballet, piano, voice, technical theatre and more.
In addition to earning admission to SUNY Cortland, prospective musical theatre majors must audition for the program. Three auditions are planned for 2019-20: Nov. 16 on campus, Jan. 18 at Pearl Studios in New York City and Feb. 15 at Ripley Grier Studios in New York City. More information about scheduling an audition can be found online.
Major campus productions for the 2019-20 academic year include a new adaptation of "Lysistrata," an ancient Greek comedy; "Head Over Heels," a musical comedy highlighting the catalog of The Go-Go's; "The Curious Incident of the Dog in the Night-Time," a play based on the mystery novel of the same name; and "Holiday Inn," a modern musical inspired by the 1940s film.
Those productions, coupled with the introduction of the B.F.A. in Fall 2020, should lead to an exciting year of musical theatre at SUNY Cortland.
"It's nice to be a hidden gem, but we don't want to be a secret anymore," Halpin said, referring to SUNY Cortland's inclusion on a 2018 list of the five most underrated theatre programs in the Northeast. "The B.F.A. is going to help us achieve the goal of being a nationally respected and recognized program."
---