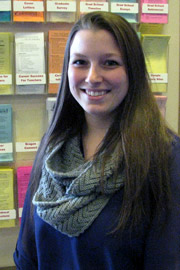 Campus Champion
A challenging first semester led Brooke Stevens to embrace the college experience and help others with the stress of transitioning from high school to college. Three years later, Brooke is a resident assistant, a Career Services assistant, a youth mentor, a recent COR 101 teacher's assistant — and a natural candidate for a career in psychology. Just coming off the Residence Life and Housing Conference, where she was master of ceremonies to a group of 400 and led a talk on social media, you'll soon find her working the Career and Internship Fair on Wednesday, March 25, in the Corey Union Function Room.

Nominate a Campus Champion
---
Wednesday, March 11
Summer Job and Internship Fair: Corey Union Exhibition Lounge, 11 a.m.-1 p.m.
Wellness Wednesday Safe Spring Break Fair: Student Life Center, 11 a.m.-2 p.m.
Sandwich Seminar: "The Walls of Palestine," by Corinne Tyo, Syracuse University, Brockway Hall Jacobus Lounge, 12:30-1:30 p.m.
Performance: "Wednesday at Four" concert, Dowd Center, Room 10, 4 p.m.
Thursday, March 12
Women's History Month Sandwich Seminar: "Norman Mailer's Ghost Still Smells: Why Literature is Still a White Man's World," by Lorraine Berry, NeoVox, Brockway Hall Jacobus Lounge, noon-1 p.m.
Friday, March 13
Grand Opening: The Student Life Center Multi-activity Court, ribbon cutting ceremony and remarks by campus officials and other dignitaries. 11 a.m.-noon. A reception and facility tour will follow.
Friday Films at Four: Following the theme Classic Comedies, "Tootsie" (1982) directed by Sydney Pollack, starring Dustin Hoffman, Jessica Lange, Teri Garr, Dabney Coleman, Charles Durning, Bill Murray and Geena Davis, presented by Robert Rhodes, professor emeritus of Anglo-Irish literature, Old Main, Room 223, Modern Languages Lab, 4 p.m.
Monday, March 16
Spring Break begins. Continues through Friday, March 20.
Monday, March 23
Classes resume
Tuesday, March 24
Red Cross Blood Drive: Corey Union Function Room, noon-5 p.m.
Open Mic Night: Corey Union Exhibition Lounge, 7 p.m.
---
---
Students Plan One 'Big Event' for Service
The Big Event is a student-led volunteer project slated for Saturday, May 2. read more
Blaze Falls Just Short in Mascot Madness
The College's red dragon lost in SUNY's online competition by the narrowest of margins. read more
---
Capture the Moment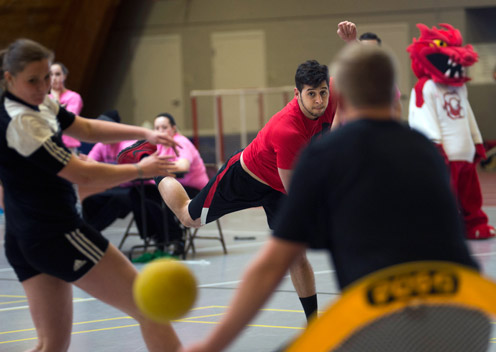 Rob Pizzola, a junior exercise science major, looks to score during the European Handball Tournament held Sunday at Lusk Field House. Organized by the Sport Management Club and co-sponsored by Mark's Pizzeria, the tournament included 76 students and raised more than $300 to benefit Susan G. Komen, the breast cancer awareness organization.
---
In Other News

Suggest a feature story
---
Faculty/Staff Activities
Carol Costell Corbin presented at the National Institute for the Study of Transfer Students conference. read more
Anna Curtis presented a paper at the 2015 International Conference on Masculinities. read more
Mary McGuire was interviewed for a public radio segment on state education boards that aired March 9. read more
Melissa A. Morris had her NASA grant proposal selected for funding in the amount of $319,000. read more
Mechthild Nagel presented "Pitfalls of Diversity Management" at a symposium in Frankfurt, Germany. read more
Emmanuel S. Nelson is the editor of the recently published Ethnic American Literature: An Encyclopedia for Students. read more
Gregory D. Phelan had a paper accepted for publication and received his 15th U.S. patent. read more
Pam Schroeder was a presenter at a professional conference in Florida. read more

Submit your faculty/staff activity