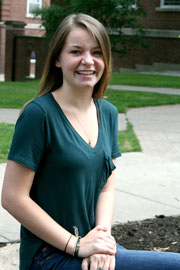 Campus Champion
New students and their families are in great hands with this year's team of Orientation Assistants, and coordinating their efforts is Taylor Vermilyea, a senior from Catskill, N.Y. The hands-on experience in Advisement and Transition is providing this business economics major with practical skills for a vibrant future. Following six weeks as one of the Orientation coordinators, Taylor will set her sights on the fall semester, when she takes on the new position of Lead TA – overseeing a large staff of COR 101 teaching assistants who facilitate the intellectual and social integration of first-year students into the College's academic community.

Nominate a Campus Champion
---
Monday, July 4
Independence Day
Thursday, July 7-Sunday, July 10
Alumni Reunion 2016: Campus-wide events.
Thursday, Aug. 25
President's Opening Address and Faculty Meetings
Sunday, Aug. 28
Academic Convocation: Park Center Alumni Arena, 4 p.m.
Monday, Aug. 29
Fall Semester Classes Begin
---
---
Water Sustainability Project has African Reach
Campus water conservation now is linked to alumna Karen Collier Flewelling '64. read more
Campus Emergency Squad Builds Community through Service
SUNY Cortland EMS celebrates its 40th year and a long tradition of giving back. read more
---
Capture the Moment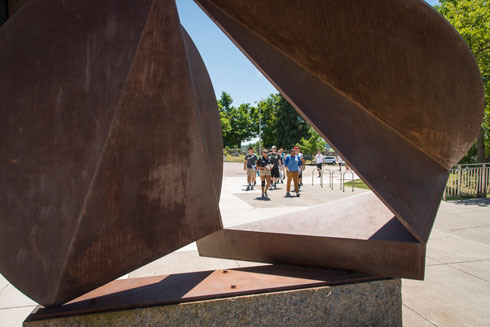 Several of the 600-plus transfer students who will visit campus for Orientation were spotted through the Windjammer sculpture outside Memorial Library on June 24. Advisement and Transition will welcome more than 1,200 new first-year students and their families over a four-week period while Orientation assistants lead programs that teach about life as a SUNY Cortland student.
---
In Other News

Suggest a feature story
---
Faculty/Staff Activities
Herb Haines was invited to speak at a conference at Stanford University in May. read more
Katherine Hicks and Andy Roering are co-advisors to the Chemistry Club, which was featured as the cover photo of inChemistry magazine. read more
Mary Schlarb presented on a panel discussing institutional culture and internationalization activities in June. read more
Larissa True was interviewed for an article that appears in the June issue of Runner's World UK. read more
Deborah Warnock was a panel presenter on the topic of class and higher education recently at SUNY Stony Brook. read more

Submit your faculty/staff activity