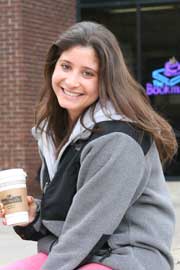 Campus Champion
Healthy, active and motivated are three labels to hang on Jaime Friedman, a junior physical education major from Oceanside, N.Y. The president of the College's Inter Greek Council and member of Alpha Phi is involved in a lengthy list of philanthropic endeavors, including the Red Dress Gala, the Teeter-Totter Marathon, Cortland's Crop Hunger Walk and Breast Cancer Awareness Month. Over Thanksgiving break she'll teach dance moves to children with disabilities, and when she returns to campus she'll prepare for the College's Relay for Life on Dec. 1-2.

Nominate a Campus Champion
---
Tuesday, Nov. 27
40th Anniversary of Title IX Event: "Thirty-Seven Words that Ignited Change," displays and SUNY Cortland's Women's Basketball game vs. Ithaca College; halftime address by Azure Davey, commissioner of the SUNY Athletic Conference, Park Center, 6 p.m.
---
Wednesday, Nov. 28
Union Matters Presentation: Corey Union Function Room, noon. Buffet opens at 11:45 a.m.
---
Wednesday, Nov. 28
'This I Believe' Series: Interim Associate Dean Susan Wilson, School of Education, will present, Interfaith Center, 12:05 p.m.
---
Wednesday, Nov. 28
Sandwich Seminar: "SUNY Global Workforce and International Experiential Learning," Aaron R. Zipp and William Skipper, Brockway Hall Jacobus Lounge, 12:30-1:30 p.m.
---
Wednesday, Nov. 28
In/Common Series Film: Screening and discussion of "Kite Runner," Sperry Center, Room 105, 7 p.m.
---
Thursday, Nov. 29
Sandwich Seminar: "Supporting a Co-worker, Family or Friend with Cancer," Susan Moranda, American Cancer Society, Brockway Hall Jacobus Lounge, noon-1 p.m.
---
Saturday, Dec. 1
Children's Museum Series: "Technology," featuring iPads, technology games and other tools designed to teach children and adults, Education Building, 10 a.m.-1 p.m.
---
Saturday, Dec. 1
Relay for Life: Lusk Field House, 6 p.m. Continues until 6 a.m. on Sunday, Dec. 2.
---
Monday, Dec. 3
Red Cross Blood Drive: Corey Union Exhibition Lounge, 8 a.m.-6 p.m.
---
Monday, Dec. 3
Taste of the World: Featuring cuisine and performances from around the world, Brockway Hall Jacobus Lounge, 5:30-8:30 p.m.
---
Monday, Dec. 3
Comedian Steve Hofstetter: Corey Union Function Room, 7-8 p.m.
---
Tuesday, Dec. 4
Dowd Gallery Artists' Talks: Dowd Gallery at Main Street SUNY Cortland, 9 Main St., 3rd floor, 5 p.m.
---
Tuesday, Dec. 4
Choral Union Concert: Music from or about Great Britain, Interfaith Center, 8 p.m.
---
---
College Celebrates 40 Years of Title IX
The College has planned a daylong series of events for Tuesday, Nov. 27. read more
Jets Camp Brings $5.5 Million Impact to Cortland
More than $3 million was directly spent in Cortland County. read more
---
Capture the Moment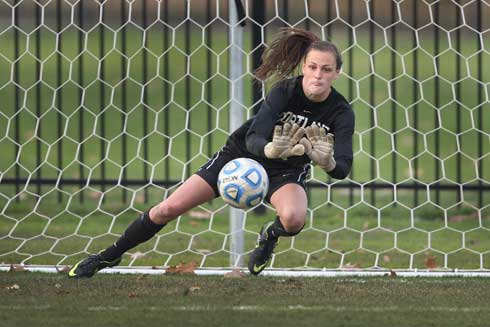 After 110 minutes of scoreless soccer, sophomore goalkeeper Taylor Hudson makes a save during the penalty-kick shootout versus nationally eighth-ranked William Smith on Nov. 11. The Red Dragons won the shootout, 5-4, advancing to the third round of the NCAA Div. III Women's Soccer Tournament for the second straight season. The Red Dragons finished their season on Saturday, tied for ninth nationally in Div. III. Photo by Kevin Colton, Hobart and William Smith Colleges.
---
In Other News

Suggest a feature story
---
Faculty/Staff Activities
Seth N. Asumah recently officiated the National Junior Colleges Athletics Association (NJCAA) women's national soccer championship. read more
Carolyn Bershad has learned that Counseling and Student Development centers received full re-accreditation. read more
Jeremiah Donovan will have his recent ceramics work on exhibit beginning Dec. 1 in Windsor, N.Y. read more
Casey Hickey, Jennifer Kronenbitter and Hailey Ruoff presented at the Wizard 2012 conference geared to address current information technology-related issues important to SUNY. read more
Bonni C. Hodges was appointed to the American School Health Association Editorial Board. read more
Nancy Kane choreographed the musical, "1776," which was recently performed in Ithaca. read more
Gregory D. Phelan and Kerri Freese helped plan and execute the Second Annual Noyce Northeast Conference in Cambridge, Mass. read more
Claus Schubert, Gregory D. Phelan and Kerri Freese attended the Noyce Northeast Conference along with six Noyce Scholars. read more
Robert Spitzer presented at a conference on the 2012 presidential elections held at a college in Ohio. read more

Submit your faculty/staff activity