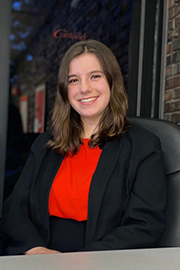 Campus Champion
A year ago, Student Government Association President Callie Humphrey '21 promised students their voice would be heard when decisions are made. Reflecting on this overwhelming year, Callie grew personally and as a leader. She succeeded in bringing student concerns to the administration and she built lasting relationships. Great groundwork for pursuing her career dream of foreign service and diplomacy work. Callie will attend graduate school at American University in Washington, D.C. this fall, where she'll study U.S. foreign policy and national security. She says she's lucky to be a Red Dragon. SUNY Cortland is fortunate to call her an alum.

Nominate a Campus Champion
---
Wednesday, May 19
Summer Session begins, with courses offered over 2, 5 and 10-week terms.
Vaccine Clinic: SUNY Cortland Ice Arena, 4 to 6 p.m., register online.
---
Friday, May 21
SUNYAC 2021 Baseball Championship Series: SUNY Cortland will host the State University of New York Athletic Conference Best-of-3 Championship. A limited number of pre-registered guests will be permitted, noon.
2021 Virtual Kente Celebration: Guests are invited, RSVP, online via Webex, 6 p.m.
---
Tuesday, June 1 to Thursday, June 3
Summer Institute for Diversity, Equity, Inclusion, and Social Justice: Open to faculty, staff and administrators, location on campus to be announced, register early here. Space is limited.
---
Thursday, June 17 to Sunday, June 20
Blackbird Film and Arts Fest: Greek Peak Mountain Resort, in-person and virtual events, details schedule posted online.
---
Summer Hours
SUNY Cortland Cupboard: Wednesdays and Fridays from 10 a.m. to 2 p.m., located at the Interfaith Center, 7 Calvert St. Students, bring Cortland ID card for swipe in access.
---
Publication Dates
The Bulletin will be published four times during Summer Session, as follows:
Bulletin #17
Tuesday, May 18
Bulletin #18
Tuesday, June 8
Bulletin #19
Tuesday, June 29
Bulletin #20
Tuesday, July 20
---
---
Spectators allowed for SUNYAC finals
A limited number of fans will be able to attend baseball games this weekend. read more
Pool testing grand prize winner announced
SUNY Cortland administered nearly 50,000 COVID-19 tests among its campus community during the spring semester. read more
---
Capture the Moment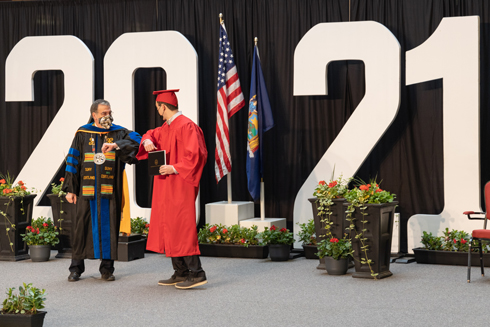 Many members of the Class of 2021 participated in a Grad Walk ceremony at Lusk Field House on May 12 and 13, taking selfies, chatting with President Bitterbaum and becoming part of the SUNY Cortland alumni family. Congratulations to the Class of 2021!
---
In Other News

Suggest a feature story
---
Faculty/Staff Activities
Frank Rossi and Terrence Fitzgerald are principal authors of an article, coauthored with four SUNY Cortland graduates, that appears in Chemoecology. read more
Katie Silvestri coauthored an article recently published in a special issue of the Journal for the Theory of Social Behaviour. read more

Submit your faculty/staff activity