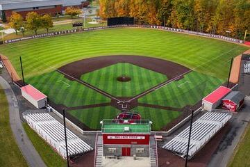 05/18/2021

With the reopening to visitors of the SUNY Cortland campus and the furthering reduction of restrictions on social gatherings by New York State beginning May 19, the State University of New York Athletic Conference (SUNYAC) will welcome a limited number of spectators to its 2021 Baseball Championship Series.
The SUNYAC Best-of-3 Championship will take place on Friday, May 21, beginning at noon with Oswego visiting Cortland for a pair of nine-inning games. If the teams split the two contests on Friday, the SUNYAC Championship and an automatic berth in the NCAA Division III Baseball Championship Tournament will be decided on Saturday, May 22, with a single nine-inning game also beginning at noon.
Each school is permitted 150 complimentary guests who must be on the institution's official attendance list submitted to the conference office by Thursday, May 20, at noon. The admission list will be for all three games and there will be no changes after the deadline. All children must be included on the lists, and no pets are allowed.
Because the attendance will be under the 500-spectator maximum permitted for outdoor events by New York State, no proof of a negative test or vaccination is required. Guests will be expected to adhere to appropriate CDC, New York State Department of Health and SUNY Cortland guidelines.
"Now that visitors are permitted to return to the SUNY Cortland campus, we felt this was an opportunity to allow a limited number of spectators to attend the SUNYAC Baseball Championship," Erik Bitterbaum, the president of SUNY Cortland, said. "We are excited to provide this opportunity to the loyal fans of both teams."
"The priority for the SUNYAC was to ensure that the student-athletes who participate in spring sports did not lose a second season," Tom DiCamillo, commissioner of the SUNYAC, explained. "The plan was an outstanding success; however, now with the changes coming this week both at the state level and on campuses, it is time for the SUNYAC to take the next step and allow fans to attend our championships."
DiCamillo said that the reduction in restrictions gives the SUNYAC an opportunity to admit spectators as a test run instead of waiting until the fall semester.
Mike Urtz, director of athletics at SUNY Cortland, is excited about the atmosphere fans will bring to the championship series. "It has been a long, tough road requiring difficult decisions to ensure our student-athletes could compete this spring," Urtz said. "Now we are able to bring the enthusiasm and energy of fans back to our campus to enjoy what is expected to be an outstanding championship series."
---