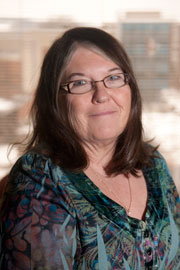 Campus Champion
Students and their parents who walk into the Judicial Affairs Office in Corey Union first encounter the kind and calm Neeca Root, administrative aide, described as "the ultimate professional." She schedules hearings for the students accused of violating the College's Code of Student Conduct and interacts with the volunteer faculty and student justices who must make decisions about violations of College policy. Always seeking to put others at ease, for almost nine years her compassionate manner has encouraged students to consider possible unfortunate turns in their college career as learning experiences toward a more positive life path. A 12-year College employee, Neeca previously served the Career Services, Telecommunications and Registrar's Offices and served as treasurer of the Civil Service Employee's Association (CSEA) from 2006-10.

Nominate a Campus Champion
---
Tuesday, March 8
Gallery Talk: "The Making of an 'Artiste:' Nakunte Diarra's Signature Bògòlanfini Design, Dowd Gallery, 5 p.m.
---
Tuesday, March 8
Coffeehouse: Corey Union Exhibition Lounge, 8 p.m.
---
Wednesday, March 9
Wellness Wednesday Series: "Celebrating Life — Staying Safe and Healthy on Spring Break" table display Corey Union first floor, 11 a.m.–2 p.m.
---
Wednesday, March 9
Women's History Month Lecture: "Our Health, Our Lives: Health and Wellness in Women of Color II," Corey Union Exhibition Lounge, 5 p.m.
---
Wednesday, March 9
Women of the Shale Panel II: "Teaching and Activism," Sperry Center, Room 205, 7 p.m.
---
Friday, March 11
Spring Break begins – 6 p.m.
---
Monday, March 21
Classes resume - 8 a.m.
---
---
William Thomas, M.D. '82 Addresses Top Students
William Thomas, M.D. '82, an advocate for innovative, person-centered approaches to aging, addressed the most outstanding students on March 25. read more
College Will Celebrate Women's History Month
The celebration of Women's History Month at SUNY Cortland will run through Thursday, March 31, with a series of speakers, presentations and art exhibitions. read more
---
Capture the Moment
Yomee Lee, assistant professor of kinesiology, front, and other members of the Africana Dance Ensemble performed at the opening reception of the Dowd Gallery exhibit "Bògòlanfini, Patterns of Bamana Culture," on Feb. 28. The exhibit explores authentic mudcloth methods practiced by people belonging to Bamana Culture in Mali, Africa, and is from the personal collection of Kassim Kone, professor of anthropology and linguistics at SUNY Cortland. Three lectures will accompany the exhibit, which runs through Monday, April 18.
---
In Other News

Suggest a feature story
---
Faculty/Staff Activities
John Foley will be inducted as a fellow in the prestigious Research Consortium of AAHPERD. read more
Christopher Gascon has been elected secretary of the Association for Hispanic Classical Theater. read more
Thomas Hischak had his book, Off-Broadway Musicals: From Greenwich Village to The Toxic Avenger, published. read more
Ute Ritz-Deutch presented "Detention and Deportation of Immigrants in the United States: A Year in Review" at Cornell University. read more
Robert Spitzer had an article published in the Gonzaga Law Review. read more
Cynthia J. Benton and Kathleen A. Lawrence collaborated on a project that was presented at the Association of Teacher Educators annual meeting. read more
Mark Dodds had an article accepted by the journal Choregia. read more

Submit your faculty/staff activity