William Thomas, M.D. '82 Addresses Top Students
03/01/2011
William Thomas, M.D., a 1982 SUNY Cortland graduate who has since become a tireless advocate for innovative, person-centered approaches to age, aging and longevity around the world, addressed the College's most outstanding students on March 25.
Thomas of Ithaca, N.Y., delivered the keynote address at the President's List Ceremony and Reception, an event honoring the College's students earning the highest grade point averages the previous semester. The event was held in the Corey Union Function Room.
Thomas, the recipient of a 2000 honorary doctorate from SUNY Cortland, discussed "We Are Elders in the Making."
In 2006, Thomas became part of the inaugural class of the SUNY Cortland Academic Hall of Fame, joining the ranks of the College's alumni who graduated 10 or more years ago with magna cum laude or higher honors and who have made significant contributions to society through their chosen professions. The inductees, 10 at present, are recognized with a picture and plaque in a special display in the Old Main lobby.
Thomas grew up in Nichols, N.Y., where, by his own admission, he was an indifferent and bored high school student. Admitted after his high school principal asked the College's admissions director to take a chance on the young man, he was the first person in his family to attend college. Thomas served as Cortland College Student Association president, contributed frequent articles to the student newspaper, and graduated summa cum laude with a degree in biology.
A very politically active student, Thomas ran unsuccessfully for mayor of Cortland. Perhaps his most lasting legacy as a student was to spearhead an effort to end the widespread practice in New York in which boards of elections would illegally bar students from registering to vote in local races by treating them as non-residents.
He earned his medical degree at Harvard Medical School, and did his post-graduate medical education at the University of Rochester's Family Medicine residency. Although he initially focused on emergency room care, in 1991 he took a position as the medical director at an upstate nursing home. There, he pioneered the culture change methods and philosophy that would become known, worldwide, as "the Eden Alternative." Outcomes of the project included a marked drop in infections and daily drug costs, sustained improvements in facility staff morale and highly significant improvements in the well being of elders.
Since it was founded in 1991, the Eden Alternative, his nonprofit organization based in Rochester, N.Y., has trained more than 23,100 associates and lists more than 300 registered nursing homes in the U.S., Canada, Europe and Australia. Over the past 20 years, the Eden communities have seen a 26 percent reduction in employee turnover, their patients have experienced lower infection rates, fewer clinical complications and a 15 percent lower death rate.
In the early 2000s he developed a new model of care that is designed to "make nursing homes obsolete." These "Green Houses" are designed to meet the needs of frail elders with significant medical needs. With the aid of grants from the Robert Wood Johnson Foundation totaling $15 million, he initiated the development of a model Green House Project in all 50 states.
A professor of aging studies at the University of Maryland's prestigious Erickson School of Aging since 2007, Thomas writes award-winning and widely influential eldercare books and conducts training sessions to espouse the "Eden Alternative" and "Green Houses."
In 1997, he received the America's Award, established by Norman Vincent Peale and sometimes called "The Nobel Prize for Goodness." In 2000, SUNY Cortland presented Thomas with an Honorary Doctor of Humane Letters at Commencement.
In 2006, he was awarded a prestigious Heinz Award for the Human Condition, named after the late U.S. Sen. John Heinz of Pennsylvania. Only five of the $250,000 awards are given each year to recipients the Heinz Family Foundation identifies through careful research. The Heinz Award is among the largest individual achievement prizes in the world.
Thomas and his wife and business partner, Judy Meyers-Thomas, have five children, Zachary, Virgil, Haleigh, Hannah and Caleb.
College Will Celebrate Women's History Month
03/06/2011
The celebration of Women's History Month at SUNY Cortland will run through Thursday, March 31, with a series of speakers, presentations and art exhibitions.
Presented by the Women's Studies Committee, the events are free and open to the public.
"This is truly a collaborative effort across a number of departments and offices on our campus," said Caroline Kaltefleiter, associate professor of communication studies and coordinator of the Women's Studies Program. "We're showcasing our own women's studies faculty and students as well as international scholars, artists and activists."
Gallery Talk: "The Making of an 'Artiste:' Nakunte Diarra's Signature Bògòlanfini Design," will be presented by guest speaker Barbara G. Hoffman, director of the Visual Anthropology Center at Cleveland State University beginning at 5 p.m. on Tuesday, March 8, in Dowd Gallery.
The talk coincides with the current exhibit at the gallery, which features Bògòlanfini, or mudcloth, from the Bamana women of West Africa. Art works on display are from the private collection Kassim Koné, Sociology/Anthropology Department. The mud-dyed cloth of the Bamana women artists of Mali is a living art form, constantly changing, reflecting new concerns, inspirations and patronage. Most pieces were made by the renowned Nakunte Diarra, whose work has been put on permanent display at the Smithsonian. Koné is Bamana himself and is from Mali.
Lecture Series: Bianca Hendricks, a health major with a minor in women's studies, will present the second of a two-part series titled, "Our Health, Our Lives: Health and Wellness in Women of Color," on Wednesday, March 9. Noelle Chaddock Paley, director of multicultural life and diversity and an adjunct faculty member in the Africana Studies and Philosophy departments, serves as the faculty advisor for this project. She will moderate the discussion that begins at 5 p.m. in the Corey Union Exhibition Lounge.
"Women of the Shale" Panel Discussion: Four women from around the region will address the topic of gas drilling and hydrofracking at a "Women of the Shale" panel discussion on Wednesday, March 9.
"Teaching and Activism" is the title of the discussion that will focus on four questions:
Why did you become concerned about gas drilling/hydrofracking?
How have you used your strengths and talents to address these concerns?
What have you accomplished?
What can others do to become an activist in this realm?
The talk will begin at 7 p.m. in Sperry Center, Room 205.
Sheila Cohen, SUNY Cortland professor emerita of literacy, will serve as the moderator.
2011 Charles N. Poskanzer Lecture: On Monday, March 21, Kelli McCormack Brown, professor and associate dean at the College of Health and Human Performance, University of Florida, will discuss "Social Marketing: What's the Value Added for Health Promotion Research and Practice?" The talk begins at 7 p.m. in Brockway Hall Jacobus Lounge.
Brooks Lecture Series: Judith Van Buskirk, associate professor of history, will present "The Glam Girls and the Studios: Stars of the Early Silver Screen as Workers" on Wednesday, March 23.
The lecture will begin at 4:30 p.m. in Moffett Center, Room 2125. A reception to welcome the speaker will begin at 4 p.m. at the Rozanne M. Brooks Museum in Moffett Center, Room 2126. The 2010-11 Rozanne M. Brooks Lecture Series encompasses the theme of "Women's Worlds Redux."
"We tend to think of the great actresses of the silver screen as somewhat vacuous, pampered dolls," Van Buskirk said. "But many were trailblazers in the movie business, taking on the big studios and risking their careers on social issues."
Van Buskirk, who has a doctorate from New York University, has focused her research on the involvement of women and African Americans in events surrounding the American Revolution.
Guest Artist Lecture and Demonstration: Ceramicist Denise Pelletier, associate professor of art at Connecticut College, will present "Out of Place" at 7 p.m. on Wednesday, March 23, in the Dowd Gallery sculpture pit.
Women's Path to Success Panel Discussion: Learn about five talented women and how their paths led to SUNY Cortland on Thursday, March 24. Moderated by Jena Curtis, associate professor of health, the presentation is from 3-4:30 p.m. in Brockway Hall Jacobus Lounge.
Panelists include:
• Mary Kate Boland, assistant director, leadership and community development, Campus Activities
• Jamie Dangler, associate professor, Sociology/Anthropology Department
• Vicki Johnson, protestant chaplain, Interfaith Center
• Virginia Levine, executive assistant to the president, President's Office
• Sherry Snell, secretary II, Physical Education Department (retired)
Women of Color Celebration: The celebration begins at 3 p.m. on Saturday, March 26, in Corey Union Exhibition Lounge.
Presentation: "Becoming an Advocate: I Don't Tolerate Hate," will be presented by Lesbian, Gay, Bisexual, Transgender and Queer (LGBTQ) Committee co-chairs Kate Coffey and Aimee Greeley, Health Department, at 2 p.m. on Wednesday, March 30, in Brockway Hall Jacobus Lounge.
Women's History Month Closing Reception and Lecture: On Thursday, March 31, guest speaker Tavy D. Aherne will present "Meaningful Mud: Exploring Bogolanfini Textiles Through the Works of Nakunte Diarra." Aherne is visiting professor and art historian from DePauw University in Greencastle, Ind. The talk begins at 5 p.m. in Dowd Gallery.
Women's History Month is co-sponsored by the Women's Studies Committee, the Lesbian, Gay, Bisexual, Transgender and Queer (LGBTQ) Committee; Native American Studies Committee, the President's and Provost and Vice President for Academic Affairs offices; the Campus Artist and Lecture Series (CALS); the Art and Art History Department, Dowd Gallery, Africana Studies, Sociology/Anthropology, Health, and History departments; the Education Club; Professional Development School; deans of the schools of Arts and Sciences and Education; Women's Initiatives Committee; the Center for Gender and Intercultural Studies (CGIS) and Gas Drilling Awareness for Cortland County (GDAAC).
For more information about Women's History Month, contact Kaltefleiter by e-mail or at (607) 753-4203.
---
Capture the Moment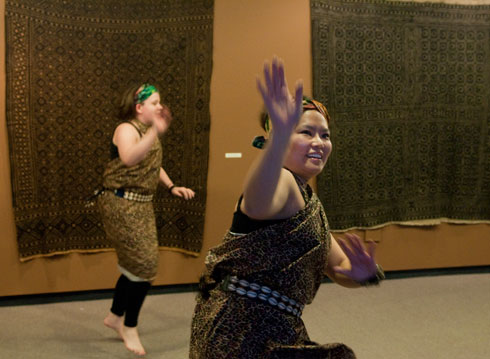 Yomee Lee, assistant professor of kinesiology, front, and other members of the Africana Dance Ensemble performed at the opening reception of the Dowd Gallery exhibit "Bògòlanfini, Patterns of Bamana Culture," on Feb. 28. The exhibit explores authentic mudcloth methods practiced by people belonging to Bamana Culture in Mali, Africa, and is from the personal collection of Kassim Kone, professor of anthropology and linguistics at SUNY Cortland. Three lectures will accompany the exhibit, which runs through Monday, April 18.
---
In Other News
Noyce Scholar Pilot Workshop Planned for March 26
03/01/2011
Eleven Central New York math and science teachers and seven members of the SUNY Cortland Noyce Project Steering Committee met at SUNY Cortland on Feb. 12 to plan a future pilot workshop for 19 SUNY Cortland Noyce Scholars.
The plan for the pilot workshop resulted from a brainstorming session and group discussion, explained one workshop planner, Kerri Freese, Noyce Project coordinator.
The Saturday, March 26, workshop will address areas above and beyond what the 19 future educators already receive, or will receive, in the College's teacher preparation programs, Freese explained.
These students are studying at the College on Robert Noyce Teacher Scholarships, which encourage talented science, technology, engineering and mathematics (STEM) majors and professionals to become K-12 mathematics and science educators.
In accepting this scholarship, the juniors and seniors who receive $12,500 and graduate students who receive $15,000 agree to teach for at least two years at a high-needs school.
A high-needs school is defined by the National Science Foundation (NSF) as "a local educational agency that serves an elementary or secondary school located in an area in which there is a high percentage of individuals from families with incomes below the poverty line; a high percentage of secondary school teachers not teaching in the content area in which the teachers were trained to teach; or a high teacher turnover rate."
The workshop will address issues related to successfully teaching in a high-needs school, organizers explained.
Topics to be covered are: "Motivation and Classroom Success: Building Professional Relationships," "Motivation and Classroom Success: Sensitivity to Student Needs," "What is Collegiality: Building Healthy Relationships with Teachers" and "What is Collegiality: Building Healthy Relationships with 'Everyone Else.'"
"If the pilot workshop is successful, the Noyce Project will host a series of workshops," noted another workshop planner, Gregory Phelan, the project principal investigator and an associate professor and chair of chemistry. "These will be not only for Noyce Scholars but for students enrolled in Cortland's Urban Recruitment of Educators (C.U.R.E.) Program who are science and math majors and for SUNY Cortland students interested in applying for the Noyce Scholarship."
"By participating in a series of interactive workshops, the Noyce Steering Committee hopes the pre-service math and science teachers will be more prepared to successfully enter a high-needs environment by acquiring additional knowledge or expanding on current knowledge on topics," Freese noted.
The students will have an opportunity to interact with and learn from successful STEM teachers working in high-needs districts, she noted. They also will begin a network of support among fellow Noyce Scholars, teachers and SUNY Cortland faculty.
Teacher participants in the Feb. 12 planning session included Abbey Albright, mathematics, Cortland Junior-Senior High School; Chad DeVoe, seventh grade life science, Groton Middle School; Kevin Douglass, eighth grade physical science, Homer Middle School; Sandy Francis, mathematics, Grant Middle School, Syracuse; Paula Jones, chemistry, Homer High School; Richard Lajza, mathematics, Dewitt Middle School.
The teacher participants also included Nicholas LeFort, physics, Lafayette Junior-Senior High School; Michael Osborn, earth science, Fayetteville-Manlius High School; Gary Podsiedlik, mathematics, Homer High School; Ron Reed, biology, Cortland Junior-Senior High School; and Kurt Schmidt, earth science, Cincinnatus Central School.
SUNY Cortland faculty and staff who joined the planning session included five project co-principal investigators: Anne Burns Thomas, assistant professor, foundations and social advocacy, and coordinator, C.U.R.E. Program; Mary Gfeller, associate professor, mathematics; Rena Janke, associate professor, biological sciences; Larry Klotz, distinguished teaching professor, biological sciences; and Andrea Lachance, professor and chair, childhood/early childhood education.
The SUNY Cortland Noyce Scholarship Project is named after the late Robert Noyce, the co-inventor of the integrated circuit or microchip, who co-founded Fairchild Semiconductor in 1957 and Intel in 1968. The National Science Foundation funded Cortland's program with a five-year grant of $900,000 in 2009-10.
For more information about the Noyce Scholarship, visit the website at www.cortland.edu/noyce or contact Freese at (607) 753-2913.
Volunteers Sought for Study on Stuttering
03/02/2011
SUNY Cortland's Communication Disorders and Sciences Department is looking for adults who stutter, ages 18 to 70 years, to participate in a research study.
The study will be conducted by Irena Vincent, assistant professor, Communication Disorders and Sciences Department, and senior Michaela Granato of Auburn, N.Y. Granato received a summer research fellowship from the College's Undergraduate Research Council.
The research findings will enhance the present understanding of the nature of stuttering and help direct further investigation of the relationship between language processes and stuttering.
"The fellowship has provided me the opportunity for hands-on experience doing research in a field that I hope to pursue after graduation," said Granato. "Getting the word out to the community that we are looking for adults who stutter is key to this project's success."
Participation requires about two hours and will take place in the Professional Studies Building Speech Science lab at SUNY Cortland.
Participants will complete a questionnaire, have their stuttering assessed and will perform three experimental tasks which involve viewing various pictures and pushing a button in response to the pictures.
Individuals who meet the inclusion criteria and complete the study will receive compensation for their time and participation.
SUNY Cortland's Institutional Review Board has approved this study, which needs to be completed by April 25, 2011. It is supported by the Research and Sponsored Programs Office.
To participate or for more information, contact Vincent by e-mai or (607) 753-2536.
Panel Will Discuss Gas Drilling at SUNY Cortland
03/06/2011
Four women from around the region will address the topic of gas drilling and hydrofracking at a "Women of the Shale" panel discussion on Wednesday, March 9, at SUNY Cortland.
"Teaching and Activism" is the title of the discussion that will focus on four questions:
• Why did you become concerned about gas drilling/hydrofracking?
• How have you used your strengths and talents to address these concerns?
• What have you accomplished?
• What can others do to become an activist in this realm?
The talk, presented as part of the College's Women's History Month series of events during March, will begin at 7 p.m. in Sperry Center, Room 205. The event is free and open to the public. Sheila Cohen, professor emerita of literacy, will serve as the moderator.
The panelists are members of Gas Drilling Awareness for Cortland County (GDACC). They include:
• Chris Applegate worked at the College's Auxiliary Services Corporation (ASC) for 20 years in dining management and marketing. She has been the chef/owner of two local restaurants and is involved in the local foods movement. She teaches food safety part time at Cornell University. She has presented on hydrofracking for many groups in the region and will give a presentation at a conference in New York City.
• Cohen chairs the SUNY Cortland Center for Gender and Intercultural Studies Environmental Justice Committee and is a GDACC outreach coordinator. She is interested in increasing arts and cultural events in the community and assuring Cortland remains a safe, clean and healthy environment. She began to pursue research on fracking in 2008 when legislation passed in the state Assembly and Senate permitting horizontal hydrofracking.
• Mary Menapace, women's health nurse at Upstate Medical University and lifelong resident of the Finger Lakes area, started researching fracking almost two years ago after discovering she has 13 wells near her home. She began attending fracking meetings then and is still surprised to find herself speaking out. She is a founding member of ShaleshockCNY, a member of Skaneateles Lake Association, and chair of Skaneateles Town Board Citizen's Committee on Hydrofracking.
• Mary Jane Uttech has served as deputy public health director for the Cortland County Health Department since 1999. She served 22 years in the U.S. Army, U.S. Army Nurse Corps and retired as a lieutenant colonel before moving back to Cortland in 1992. During her time as a military nurse she had several assignments at U.S. Army hospitals in the U.S. and overseas in Bangkok, Thailand and Wurzburg, Germany. Her last assignment before retiring was Assistant Chief Nurse at Walter Reed Army Medical Center in Washington, D.C.
For more information, contact Cohen by e-mail or at (607) 753-2464.
Raquette Lake Summer Reservation Forms Available
The Antlers facility at the Outdoor Education Center at Raquette Lake will be available for use by faculty, staff and their guests including spouses, children and significant others, from Monday, June 27 through Saturday, July 2.
Reservation information is available at the Center for Environmental and Outdoor Education Office, Miller Building, Room 230. Registration forms can be found on their website under Raquette Lake, upcoming events. A $50 deposit is required with registration.
Room and board for six days and five nights is $223 per person for adults and $172 per person for children age 12 and under. There is no charge for children under one year of age.
Visitors arrive between 2-4 p.m. on Monday, June 27. An orientation will be held at 5 p.m. with dinner following at 6 p.m. Visitors will depart Saturday, July 2, following breakfast.
Participants will be acknowledged on a first-come, first-served basis following receipt of reservation and deposit.
For more information, call the center at (607) 753-5488.
NCATE Board of Examiners Will Visit
SUNY Cortland, a nationally accredited college for teacher education, will have the opportunity to earn that recognition again when a team from the National Council for Accreditation of Teacher Education (NCATE) visits campus March 5-9.
NCATE is the largest national accrediting body for teacher education programs in the United States. SUNY Cortland was accredited in 2004 following the last site visit by a national team of reviewers.
During their time here, five members of the Board of Examiners will interview people across campus, visit partner schools and prepare a reaccreditation report. They may arrive unannounced to observe classes and are invited to ask members of the campus community questions about their experience at Cortland.
The College's NCATE Committee wants students, faculty and staff to be aware of the visit and to present all of the positive aspects of SUNY Cortland.
To learn more about NCATE, visit www.cortland.edu/teacher-education.

Suggest a feature story
---
Faculty/Staff Activities
Cynthia J. Benton and Kathleen A. Lawrence
Cynthia J. Benton, Childhood/Early Childhood Education Department, and Kathleen A. Lawrence, Communication Studies, collaborated on an action research project that was presented at the annual meeting of the Association of Teacher Educators on Feb. 14 in Orlando, Fla. Their work was titled "An X-Factor for Preservice Teacher Excellence: Practicing Communication and Presentation Skills in Multiple Contexts."
Mark Dodds
Mark Dodds, Sport Management Department, had an article accepted by the journal Choregia. "Using Mobile Marketing to Engage NASCAR Fans and Increase Sales" will be published in an upcoming edition of the journal.
John Foley
John Foley, Physical Education Department, will be inducted as a fellow in the prestigious Research Consortium of the American Alliance for Health, Physical Education, Recreation and Dance (AAHPERD) at the annual conference in San Diego, Calif., on March 31.
Christopher Gascon
Christopher Gascon, Modern Languages Department, has been elected secretary of the Association for Hispanic Classical Theater (AHCT), an international scholarly organization of 200 academics, directors, actors and musicians that annually hosts a conference in El Paso, Texas, supports the Spanish Golden Age Theater Festival at the Chamizal National Memorial Theater, and publishes the journal Comedia Performance. As secretary, he will assist the president, vice-president and treasurer in running the organization. He has served the AHCT for 15 years.
Thomas Hischak
Thomas Hischak, Performing Arts Department, had his book, Off-Broadway Musicals: From Greenwich Village to The Toxic Avenger, released by Scarecrow Press/Rowman & Littlefield Publishers. The non-fiction book is a critical study that examines 375 off-Broadway musicals between 1919 and 2009.
Ute Ritz-Deutch
Ute Ritz-Deutch, History Department, presented "Detention and Deportation of Immigrants in the United States: A Year in Review" as part of Cornell University's Committee on U.S.-Latin American Relations series on Feb. 23 at Cornell University.
Robert Spitzer
Robert Spitzer, Political Science Department, is the author of an article titled, "Still Saving the Constitution from Lawyers" that has just been published in the most recent issue of the Gonzaga Law Review.

Submit your faculty/staff activity