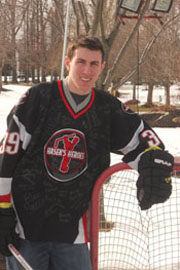 Campus Champion
Not many 18-year-olds can raise charity money by selling the naming rights of their backyard hockey tournament to a national restaurant chain. But that's exactly what Nick Penberthy, a first-year childhood/early childhood education major, did in creating the Tim Hortons Backyard Classic. The tournament, played on backyard rinks throughout Buffalo, raised $10,000 for a local children's charity in its first three years. This year, Tim Hortons paid $5,000 for naming rights and Penberthy hopes to raise at least $5,000 more from the Feb. 12 tournament. For his efforts, he won a competitive scholarship worth $1,500 from Citizens Bank in December.

Nominate a Campus Champion
---
Tuesday, Jan. 17
Comedy Hypnotist: Eric Mina, Corey Union Function Room, 8 p.m.
---
Wednesday, Jan. 18
Spring Semester classes begin
---
Wednesday, Jan. 18
Sandwich Seminar: "Shale Promises or Shale Spin? The Economics Behind Hydrofracking," by Economist Deborah Rogers, Brockway Hall Jacobus Lounge, 12:30-1:30 p.m.
---
Wednesday, Jan. 25
Sandwich Seminar: "The Woods Are for Men: Sexual Dimorphism and the Origin of Gender Roles," Brockway Hall Jacobus Lounge, 12:30-1:30 p.m.
---
Thursday, Jan. 26
Red Cross Blood Drive: Corey Union Exhibition Lounge, noon-5 p.m.
---
Saturday, Jan. 28
$ Girls' Day Out: For girls in grades 5-8, sponsored by the Athletics Department and Cortland YWCA, Park Center, 8:45 a.m.-2:30 p.m.
---
Monday, Jan. 30
Monday Afternoon Talks about Writing: "Inventing a Killer WI Course," David Franke and Vicki Boynton, English Department, Brockway Hall Jacobus Lounge, 12:30-1:30 p.m.
---
---
Survey Notes College's Hands-On Learning
A national survey highlights participation in internships and field experience. read more
Scholars' Day Gets New Name, New Direction
In 2012, changes planned for Scholars' Day go far beyond a new name. read more
---
Capture the Moment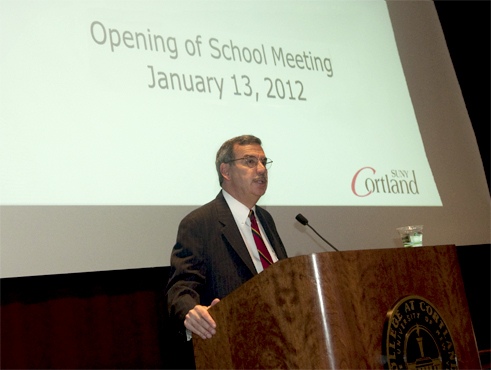 President Erik J. Bitterbaum offers welcoming remarks at the President's Spring Opening of School meeting, which took place Jan. 13 in the Corey Union Function Room. The event featured a question and answer panel session titled "The Green Campus: Sustainable and Attainable," led by members of the Climate Action Plan Committee.
---
In Other News

Suggest a feature story
---
Faculty/Staff Activities
Janet Duncan presented at a conference and toured schools in Croatia in October. read more
Alexander G. Gonzalez had his article published in Studies in Short Fiction. read more
Bonni C. Hodges will participate in a school health education academy in Atlanta in February. read more
Richard Hunter discussed his use of Geographic Information Systems at a colloquium in Taiwan in January. read more
Louise Mahar and Joseph Agnew introduced SUNY Cortland recreation and fitness programs at a conference in November. read more
Eric Malmberg was recognized by NYS-AHPERD with an outstanding professional award. read more
Mechthild Nagel was an invited speaker to two conferences in Iceland in November. read more
Robert Spitzer had his article accepted for publication in the Government Law and Policy Journal. read more
Barbara Wisch served as consulting curator for a three-month exhibition in Pennsylvania. read more
Charles Yaple has had success with his book, Foxey Brown, on Amazon.com and in Adirondack bookstores. read more

Submit your faculty/staff activity