Survey Notes College's Hands-On Learning
01/17/2012
When students graduate from SUNY Cortland, there's a good chance they're entering the job market with relevant work experience, according to a report released by the National Survey of Student Engagement (NSSE).
By their senior year, 73 percent of SUNY Cortland students who were surveyed had participated in a form of hands-on learning, whether it was through an internship, clinical assignment or field experience. By comparison, 50 percent of fourth-year students surveyed at 672 other institutions shared a similar hands-on experience.
"Students are getting information about internships pretty early on now," said John Shirley, the College's director of career services and the coordinator for internships and volunteer programs. "The job market said, 'Experience is a must-have.' So the earlier students can start, the better."
A slumping economy has SUNY Cortland students looking to get ahead with their post-graduate plans. Students in any class year can earn course credit, ranging from one-half to 16 credit hours, depending on the time commitment to the learning experience. Shirley said a campus policy was amended recently to allow first-year students in their second semester to pursue internships.
Lee Ann Mazzarisi '11, a communication studies major from Westchester, N.Y., pursued her first internship with the College's Health Promotion Office when she was a sophomore. She added two more campus experiences to her resumé — one with Speak magazine and another with the Lynne Parks '68 SUNY Cortland Alumni House — and landed a job with fashion giant Tommy Hilfiger this past summer.
"Without my internships, I wouldn't have been able to get my foot in the door," said Mazzarisi, who works as an executive assistant to the company's vice president for men's design. "I don't think I'd have the confidence or the experience."
She was proud of her grade point average in college but the topic never came up in her interview with the clothing designer's vice president.
"Just getting good grades isn't enough," Mazzarisi said. "The one thing that I was told stood out about me was my experience."
SUNY Cortland students have secured high-visibility internships with UNICEF, the Smithsonian Institute and ESPN in the past. Sometimes, they leave New York state for competitive opportunities.
"If you can think of something you want to do, you can probably make it happen," Shirley said.
Kayleigh Caswell, a junior childhood education major from Webster, N.Y., aspires to be a special education teacher when she graduates. In the fall, however, she decided to pursue an internship outside of her field to develop an important skill that her future career will require.
Caswell worked with the Disney College Program at Disney World in Orlando, Fla., to build confidence working with children. A shy student when she entered college, Caswell said the internship turned her into an outgoing person.
"Before the internship, if you made me go into a restaurant with people I didn't know, I might not have ordered food for myself," she said. "I wasn't one to talk to strangers. I thought Disney would be a great opportunity to open up and see what's out there and it was."
Each year, SUNY Cortland's Career Services staff helps 340 to 400 students like Caswell find the perfect internship. And that number doesn't include student teachers, students whose major requires an internship or practicum experience, or students who participate in research projects.
"College students everywhere hear about the importance of internships from their professors and their family members," Shirley said. "But the hands-on learning component is something we place an added emphasis on (at SUNY Cortland).
"We want our students to graduate with pre-professional experience and use that experience confidently in any career they pursue."
Scholars' Day Gets New Name, New Direction
01/17/2012
In 2012, Scholars' Day will get a new beginning.
Changes planned for the annual day of research and inquiry go well beyond the evolution of its name to "Transformations: A Student Research and Creativity Conference," declared Bruce Mattingly, dean of the School of Arts and Sciences.
"Last year we had a campus-wide conversation about the future of Scholars' Day, and we ended up making a pretty major shift," Mattingly said. "We decided not to have any classes cancelled moving forward."
This academic event has had significant meaning for the hundreds of students who participate or attend each year.
However, a special committee created to review the event last year found that less than 10 percent of the student population took part in the event, which many students had come to view as simply a day off from schoolwork. The committee learned that many of the non-participating students were using the lack of classes as an excuse to hold parties that were creating a visible, negative community impression about Scholars' Day.
"The committee wanted to have a fresh start," Mattingly said. "We felt there really needed to be a name change. Obviously with the new name we were drawing off the College's strategic priorities, 'transformational education' being one of them, and 'academic excellence' being another.
"We believe, in many disciplines, that students having an opportunity to participate in an original research experience is a very important aspect of their whole educational experience," Mattingly said.
In fact, the Transformations conference will not be held in the same place as Scholars' Day. Due to campus renovations during that time, the event will move from Old Main to Sperry Center.
The conference was moved to Sperry Center due to room availability there.
The discussions brought to light another issue.
"It became quite clear that the campus felt this event really needed to focus on student achievement," Mattingly said.
This year, faculty weren't invited to give individual presentations about their areas of scholarship since committee members felt the educators have ample opportunity to present their own research at other conferences and academic society meetings. Presenting students invariably work closely with faculty mentors, so there still will be a strong faculty presence at the event.
Breanna Driscoll discussed one aspect of international perspectives on power in the modern world during the 2011 Scholars' Day.
"We felt this event is really important for students. We want students going to conferences to give presentations, but the Transformations conference may be their first opportunity to present their own research," Mattingly said.
The event on Wednesday, April 18, also will move to later in the day, beginning at 12:30 p.m. rather than at 8:30 a.m., pushing the keynote address well into the evening.
"That has the advantage for some of our graduate students who are only around in the evenings," Mattingly said. "This will give them an opportunity to participate as well. We're moving the keynote lecture from Brown Auditorium at lunchtime to the large lecture hall in Sperry Center in the evening."
The committee will have a better idea about what this year's event will be like on Jan. 20. That's the deadline for students to submit their lecture proposals. The College offered more than 100 seminars and many poster sessions last year.
Between the change in the scheduling and the increased emphasis on student presentations, the committee hopes the entire campus community realizes this year will represent a sea change in the way this event is conducted.
"We felt it was important to focus this event back on the students," Mattingly said. "We're all looking forward to it. We're doing something new and we'll be here to see how it all turns out."
Students interested in participating should email completed forms by Friday, Jan. 20, to Rhonda Moulton in the School of Arts and Sciences. For more information, please contact the Dean's Office at (607) 753-4312.
For more information about the program, visit the Transformations Web page at www2.cortland.edu/transformations/.
---
Capture the Moment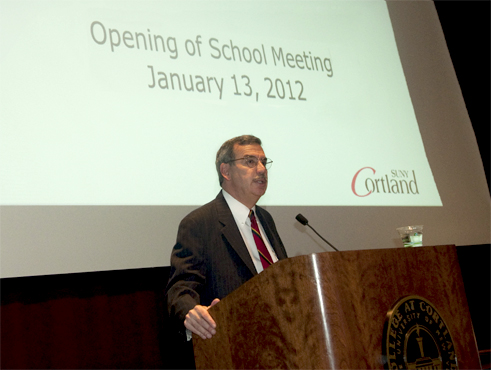 President Erik J. Bitterbaum offers welcoming remarks at the President's Spring Opening of School meeting, which took place Jan. 13 in the Corey Union Function Room. The event featured a question and answer panel session titled "The Green Campus: Sustainable and Attainable," led by members of the Climate Action Plan Committee.
---
In Other News
Professor Emeritus Honored for Outdoors Work
01/16/2012
When the Lehigh Valley Railroad limped out of business in the late 1960s, SUNY Cortland Professor Emeritus of Biological Sciences John A. Gustafson saw an opportunity for Cortland County.
A portion of the railroad cut through an area of ponds and peat bogs near the county's western border, which today houses the Lime Hollow Center for Environment and Culture. So Gustafson, with a group of former SUNY Cortland faculty members, approached local officials with a plan.
"It's really a great place to take students on field trips," said Gustafson, 86, of Homer, N.Y. "So we went to the county and said: 'You've got to buy this railroad right away because it's such a precious thing.'"
To his surprise, the county purchased the railroad portion, which measured 80 feet wide and two and half miles long.
"That was the beginning of what is now a pretty extensive situation," Gustafson said.
That extensive situation is the Lime Hollow area, a 400-acre nature preserve established in 1992 which includes 10 miles of trails and a $1 million visitor center. The site attracts more than 23,000 visitors and hundreds of SUNY Cortland students each year. For thousands of alumni, especially those who majored in the natural sciences, Lime Hollow is part of their scrapbook of college memories.
Gustafson was one of Lime Hollow's earliest visionaries and still serves as one of its most loyal caretakers. That's why in December he was awarded one of five Central New York "Heroes of Conservation" awards presented by The Post-Standard in Syracuse, N.Y.
The honor surprised the professor emeritus who served SUNY Cortland for 26 years, from 1955 to 1981. He said he was happy to see his award shine light on one of Cortland County's most precious natural gems.
With more than half a century's worth of wildlife work under his belt, Gustafson still pours his effort into Lime Hollow. He visits the nature preserve at least twice a week to handle his duties as treasurer. He's a longstanding board member and financial supporter. And when he's not actually working, he's bird watching or taking his grandchildren on night walks under the moonlight.
"It keeps me active," he said.
Gustafson said his Lime Hollow experiences remind him of the 12 years he spent as the chair of the College's Biological Sciences Department, when he would take a group of students to Florida for science-related spring break trips.
"A whole bunch of kids, we caravanned our own automobiles to Florida during the March break to look at alligators and birds and all of the other things you see in that area," said Gustafson, who helped establish the College's Aldo Leopold Award for outstanding biological sciences majors. "Students would come back and say that's what they remember: the field trips, being outdoors and getting their hands dirty.
"That's what I benefitted from too — not just the classroom stuff, but getting my hands dirty."
College Seeks Anti-Tobacco Submissions
01/16/2012
There are no magic words that can make tobacco disappear.
But SUNY Cortland's Tobacco Advisory Committee hopes to come close.
In preparation for 2013, when SUNY Cortland officially becomes a tobacco-free campus, the committee is asking students, faculty, staff and alumni to submit suggestions for an anti-tobacco slogan or logo. The winning entry will be used College-wide to encourage people to forego cigarettes, cigars and chewing tobacco.
The contest's grand prize is a classic Schwinn bicycle. Other top entries will earn gift certificates for health-related services such as professional massages. Submissions for the contest are due by Friday, Feb. 17.
"The slogan or logo should promote a completely tobacco-free campus," said Catherine Smith, the College's health educator in its Health Promotion Office. "That means all forms of tobacco, including chewing tobacco and snuff, not solely smoking."
Smith said the logo or slogan will be used on future messages and posters. The contest is a continuation of a search that began last semester when the committee first publicized the competition. The original deadline was pushed back to Feb. 17 to give more people from all walks of campus life an opportunity to participate.
"We're looking for something simple, catchy and recognizable by students, faculty, staff and visitors to campus," Smith said.
Submissions should be sent to Smith at her email address.
All submissions must adhere to the College's guidelines for department and program logos, which is available through the SUNY Cortland website.
In addition to efforts to increase awareness of tobacco's health hazards and the upcoming campus ban on tobacco products, SUNY Cortland will offer a variety of tools and programs to help smokers and other tobacco users quit.
Freshstart, an innovative approach developed by the American Cancer Society that lets people design their own cessation plan, is kicking off this semester. Beginning this month, two Freshstart groups will be offered to all SUNY Cortland employees and students. If interested, send a message to Marie Blanden.
As part of SUNY Cortland's ongoing effort to become one of the healthiest higher education institutions in the United States, President Erik J. Bitterbaum and his cabinet this summer approved a proposal to transform the College into a tobacco-free community starting Jan. 1, 2013. In November, the American Cancer Society recognized the College as one of its "Partners in Excellence" for the tobacco-free decision.
Tobacco use accounts for at least 30 percent of all cancer deaths in the United States, according to the American Cancer Society. Smoking is by far the leading risk factor for lung cancer, and lung cancer is the most common — and most preventable — type of cancer for both men and women.
Alumnus and Olympian Wins Super Bowl Raffle
12/23/2011
SUNY Cortland's only United States Olympian to date now owns a new distinction.
George T. Breen '56, of Sewell, N.J., was announced Thursday, Dec. 22, as the winner of SUNY Cortland's Super Bowl XLVI weekend package.
The prize includes two tickets to the Super Bowl at Lucas Oil Stadium in Indianapolis, Ind., this February, as well as hotel accommodations and $1,000 to offset travel expenses. The deluxe package is worth $3,837.
One of the most decorated student-athletes in SUNY Cortland's history, Breen, 76, earned national and international prominence as a swimmer. He won four Olympic medals (one silver and three bronze) and set four world records in the swimming pool during his career. He was a three-time All-American at SUNY Cortland and a 1969 C-Club Hall of Fame inductee.
George Breen '56
His most recent high-profile prize came after College President Erik J. Bitterbaum drew his name on one ticket from a drum containing the 216 raffle entries.
Breen reacted with disbelief when Bitterbaum and SUNY Cortland Vice President for Institutional Advancement Raymond D. Franco '72 called on speakerphone to deliver the good news.
"Get out of here," Breen said to the pair. "You're kidding me. This morning, I said to myself: 'What the heck would that be like?'"
Breen, who has played the College's Super Bowl raffle in each of the three years of its existence, said he likely will ask his wife, Caroline, to attend professional football's biggest game with his other ticket. He said he is not loyal to a particular team but that he will monitor the National Football League (NFL) season closely during its postseason.
"Honestly, this is the first time I've won something since my name was pulled for a Polaroid camera in the 1960s," Breen said.
The College acquired the Super Bowl tickets through its close ties with the NFL's New York Jets, which used the SUNY Cortland campus as its official training camp site in 2009 and 2010. Although the NFL lockout forced the Jets to hold training camp in New Jersey this summer, the team plans to return in 2012, 2013 and possibly beyond that.
Bob Kashdin, the auditor for the College's Super Bowl
raffle, mixes the raffle tickets before the drawing.
Raffle tickets for the Super Bowl package were sold at $100 apiece.
"I am so happy for George and I am very grateful to all of those who purchased tickets for a chance to attend this once-in-a-lifetime event," said Franco. "This year we raised nearly $20,000 and will be able to use the proceeds to support scholarships, the arts, and alumni and civic engagement programs."
"The Super Bowl raffle has proven to be a terrific fundraiser for the Cortland College Foundation and the College," Franco added. "It's a unique resource provided by our partner, the New York Jets, and it allows us to focus entirely on SUNY Cortland's most precious resource: our students."
Bob Kashdin, an accountant from the firm of Port, Kashdin and McSherry, audited the entire raffle proceedings. He observed the drawing in the Brockway Hall second floor conference room, attended by a small gathering of onlookers.
Ashley Aurilio Named to Coordinate Civic Programs
01/09/2012
A SUNY Cortland graduate and former staffer for Syracuse's young professionals organization returned to the College last month as program coordinator for its Institute for Civic Engagement (ICE).
Ashley Aurilio '11 of Cortland, N.Y., began her new role on Dec. 12. Aurilio provides coordination and administrative support for the institute's programs, including those offered at the College's outreach center, Main Street SUNY Cortland, located at 9 Main St. She also collaborates with a downtown revitalization organization, the Cortland Downtown Partnership, as well as other community organizations.
"I'm thrilled to be back at Cortland," said Aurilio, a Williamsville, N.Y., native who graduated from the College in May with a Bachelor of Arts in Communication Studies. "I want to be able to help integrate the College with the surrounding community. There are so many fantastic opportunities available that students just don't know about. I hope I can change that."
She replaces Wendy Burton, who had served on an interim basis since Sept. 13.
"We are very excited to have Ashley join the team," said Richard Kendrick, the Institute's director and a SUNY Cortland professor of sociology/anthropology. "Her prior experiences are a big plus, and her knowledge of the Cortland community — developed as a student here — is a tremendous asset. She brings a great deal of enthusiasm for working with the College and the community, and she is a very skilled communicator."
Aurilio spent the previous six months in a dual role as the marketing and communications assistant for the non-profit young professional organization, 40 Below, in Syracuse, N.Y., and as the program coordinator for Project-ION, its internship opportunity program for students in Central New York. The organization's mission is to "connect, empower, and engage young people in the Central Upstate New York community."
At SUNY Cortland, Aurilio served as vice president of the Student Government Association. She also was a resident assistant in a first-year residence hall, an orientation assistant for the summer orientation program and a peer tutor.
Among other leadership roles, she was D.J. of her own radio show, "Talk Trash with Ash."
Aurilio completed several internships, including a semester in the public relations department at Eric Mower and Associates, an integrated marketing communications agency with clients throughout the United States.
Both members of the community and SUNY Cortland students are encouraged to reach out to her at (607) 753-4271 or at her email address.
Kendrick commended Burton for her interim role with ICE.
"She did an excellent job for us during a critical period in which we were getting the fourth year of our AmeriCorps program off the ground, wrapping up the third year, and applying for a fifth year of funding," he said.
For more information on SUNY Cortland's Institute for Civic Engagement, contact Kendrick at (607) 753-2481 or at his email address.
College Sustainability Initiative Recognized
12/15/2011
One of SUNY Cortland's many sustainability efforts was recently honored by a regional organization that recognizes forward-thinking, environmentally friendly developments in the Cortland-Ithaca area.
Sustainable Tompkins named SUNY Cortland's creation of a new energy manager position as one of its 2011 "Signs of Sustainability." The non-profit organization, which has produced an annual listing of positive initiatives since 2004, praised SUNY Cortland's efforts in the category of "energy efficiency."
"Environmental and economic sustainability are among the top priorities of this College," SUNY Cortland President Erik Bitterbaum said. "We are honored by this recognition and proud to play a role in the transformation of our region into a shining example of how progressive environmental practices can help create a solid economic foundation for the future."
Earlier this year, SUNY Cortland created and filled a position dedicated to monitoring and lowering energy use on campus and to exploring creative ways to reduce carbon emissions and cut energy costs.
It hired Douglas Roll, a former biology teacher and engineer with experience operating power plants, to help the College meet its sustainability goals. Roll also will play a role in educating students, faculty and staff about sustainable energy practices, supporting the culture of sustainability that has taken root among faculty, staff and students.
A charter signatory of the American College and University Presidents' Climate Commitment, the College recently developed the Cortland Climate Action Plan, which sets goals for energy conservation, recycling and other sustainable practices. The College has established a variety of successful sustainability initiatives, ranging from its community bike program to the creation of "green" representatives in all residence halls.
Sustainable Tompkins, an Ithaca-based nonprofit organization, was created to promote the long-term well-being of communities in and around Tompkins County and the region by integrating social equity, economic vitality, ecological stewardship, and personal and civic responsibility. Its projects and programs have focused on energy efficiency, climate protection, green purchasing, sustainable community development, green-collar jobs, sustainable enterprise, greening heath care, and economic and ecological justice.
Every year, the group issues a growing list of "Signs of Sustainability" that members feel show a shift in the region toward a more sustainable lifestyle. A total of 300 new signs were identified in 2011, and officially were recognized during a reception in downtown Ithaca on Dec. 11.
The complete list may be viewed at Sustainable Tompkins' website: http://sustainabletompkins.org/signs-of-sustainability/annual-awards/.
College Provides $65,300 in Study Abroad Awards
01/06/2012
SUNY Cortland recently awarded a total of $65,300 in scholarships and exchange awards to help 34 of its students expand their educational horizons through study in China, Germany, Australia or other countries.
The College will provide $20,300 in scholarships so 24 students can study abroad during the 2012 winter session or spring semester.
Additionally SUNY Cortland, through its many exchange agreements with international universities, presented 10 SUNY Cortland students with a total of almost $45,000 in tuition waivers at host institutions to help pay for international study during the Spring of 2012. These awards will save the students an average of roughly $4,500 apiece in tuition during their transformative, study-abroad experiences.
The 34 students will study in Australia, Belize, China, Costa Rica, France, Germany, Ghana, Ireland, Italy, Mexico, Morocco, Spain or the United Kingdom.
Seven different scholarships, ranging from $400 to $3,000, were awarded. They are managed along with the exchange awards through the College's International Programs Office.
"We believe every SUNY Cortland student should have access to the transformational intercultural experience an education abroad can provide," said Mary Schlarb, director of international programs.
The International Programs Office recently replaced the James M. Clark Center for International Education as the College's manager of study abroad programs and provider of related support services.
"Students can choose from more than 600 SUNY exchange, faculty-led and internship programs abroad, each offering an opportunity to enhance their academic learning, broaden their perspectives and develop confidence and skills that will serve them in their personal and professional lives," she said. "These study abroad scholarships help put these opportunities within the reach of every deserving student."
Recipients for the scholarships and exchange awards were selected based on criteria that included high academic achievement, financial need, involvement in extracurricular activities, a personal essay and letters of recommendation.
A description of the seven scholarships and the students who won each award appear below:
Overseas Academic Program (OAP) Award
SUNY Cortland students transform their scholarly lives among ceramic artifacts in China.
Overseas Academic Program (OAP) scholarships are awarded to students accepted in a study abroad program. The scholarship is $500 or $400 for winter recipients and $1,000 or $500 for spring recipients. The OAP Award recipients of $500 for Winter 2012 are:
• Kelly Caulfield, a junior adolescence education: Spanish major from Smithtown, N.Y., for study in Cuernavaca, Mexico;
• Rachel Epstein, a senior speech language pathology major from Depew, N.Y., for study in Portugal, Spain, Morocco and France;
• Rachel Kolod, a junior childhood education major from East Syracuse, N.Y., for study in Rome and Florence, Italy.
The OAP Award recipient of $400 for Winter 2012 is:
• Tara Donnino, a junior psychology major from East Northport, N.Y., for study in Cuernavaca, Mexico.
The OAP Award recipient of $1,000 for the Spring 2012 is:
• Bianca Hendricks, a senior community health major from Brooklyn, N.Y., for an internship in Ghana.
The OAP Award recipients of $500 for Spring 2012 are:
• Rhiannon Jardim, a junior sport management major from Greenville, N.Y., for study in Barcelona, Spain;
• Kyle Dillingham, a senior communication studies major from Laurel, N.Y., for study at University of Veritas, Costa Rica;
• Madison Giannattasio, a junior adolescence education: English major from Commack, N.Y., for study in Cumbria, United Kingdom;
• Jennifer Langer, a senior inclusive special education major from North Woodmere, N.Y., for study in Florence, Italy; and,
• Courtney McKee, a junior psychology major from Baldwinsville, N.Y., for an internship in Belize.
Yuki Chin Scholarship
The Yuki Chin Scholarship supports exchange students at SUNY Cortland from Capital Normal University in Beijing, other Mainland China universities and other Asian countries. It also supports SUNY Cortland students wishing to study in Asia. The scholarship was created by Chinese native Wah Chip Chin and his Japanese-born wife, Yuki,. During their lives, the local Cortland couple opened their hearts and home to visiting Chinese students. Wah Chip survived his wife, establishing the scholarship in his estate in 2003.
The Spring 2012 recipient of the $1,000 Yuki Chin Scholarship is:
• Valerie Smith, a senior geography major from Auburn, N.Y., for study in Beijing, China. She is the first individual SUNY Cortland student to be awarded the stipend for study abroad, although the scholarship has been used to offset the expenses of a SUNY Cortland class that travels to China.
Willi Uschald Scholarship
Created in 1991, the Uschald Study Abroad Scholarship is named for Willi A. Uschald, professor emeritus of foreign languages and director emeritus of international programs at SUNY Cortland. Uschald Scholarships are open to students accepted to a study abroad program who are U.S. citizens.
The Spring 2012 recipients of $1,000 are:
• Cruise Dittus, a junior fitness development major from Queensbury, N.Y., for study in Cologne, Germany;
• Michael Montana, a sophomore criminology major from New City, N.Y., for study at Griffith University, Australia;
• Christine Mosich, a junior childhood education and mathematics dual major from Penn Yan, N.Y., for study at University of Chester, United Kingdom; and,
• Hannah Murphy, a sophomore adolescence education: Spanish major from Baldwinsville, N.Y., for study at University of Salamanca in Spain.
The Spring 2012 recipients of $950 are:
• Evelyn Botwe, a senior community health major from Bronx, N.Y., for an internship in Belize;
• Amalia Reyes, a senior Spanish major from Huntington, N.Y., for study in Barcelona, Spain;
American visitors from SUNY Cortland explore an international coast on horseback.
• Emily Rowse, a junior communication studies major from East Greenbush, N.Y., for study at London Metropolitan University, United Kingdom; and,
• Thomas Welch, a junior fitness development major from Syracuse, N.Y., for study in Cologne, Germany.
The Spring 2012 recipient of the $850 scholarship is:
• Christine Justiniano, a junior adolescence education: Spanish major from Mountaindale, N.Y., for study at University of Veritas, Costa Rica.
Gregory R. Huether '10 Scholarship
Created in 2010 by Ronald and Marguerite Huether and family, the Gregory R. Huether '10 European Sport Study Seminar Memorial Scholarship offers the College's sport management majors an opportunity to attend the annual European Sport Study Seminar. The scholarship of $3,000 for Spring 2012 was awarded to:
• John Recordon, a sophomore sport management major from Boiling Springs, Pa., for study at Griffith University, Australia.
Kevin A. Rowell '83 Award
SUNY Cortland graduate Kevin A. Rowell '83 created the award in 1998 to support the overseas studies of a student who has participated in club sports, student government and volunteer work. The recipients of the $750 for Spring 2012 are:
• Stephanie Hopkins, a junior adolescence education: social studies and history major from Hawthorne, N.Y., for study at London Metropolitan University in the United Kingdom; and,
• Rebecca Sullinger, a sophomore kinesiology major from Suffern, N.Y., for study in Cumbria, United Kingdom.
Marcia Spaeth McDermott Scholarship
The Marcia Spaeth McDermott Professional Study Abroad Scholarship was created in 2009 by the late Professor Emerita Marcia Spaeth McDermott, former acting dean of the School of Professional Studies, to support the overseas studies of a SUNY Cortland student majoring in a School of Professional Studies program. The recipient of the $750 scholarship for Spring 2012 is:
• Shannon McHugh, a sophomore health education major from Sparta, N.Y., for study at University of Veritas, Costa Rica.
Exchange Awards
American students including ones from SUNY Cortland shared a moment together during their study abroad experience.
For this award cycle, the College presented 10 SUNY Cortland students with exchange awards resulting from the agreements it has with some 25 international universities, Schlarb added. The partner universities involved on both sides have agreed to waive tuition for students involved in the exchange. For example, an award recipient pays only the SUNY tuition for the duration of the study abroad opportunity, saving in some cases $9,600 in tuition expense from the foreign university. At times, two or more SUNY Cortland students attending one university will split one exchange award.
Recipients of exchange awards for Spring 2012 are:
• Heather Bailey, a junior psychology major from Pittsford, N.Y., received an exchange award of $4,640 for study at University College of Cork, Ireland;
• Emily Clifford, a junior undecided major from Baldwin, N.Y., won an exchange award of $4,640 for study at University College of Cork, Ireland;
• Taylor Hartley, a sophomore physical education major from Fairport, N.Y., was presented with an exchange award of $9,600 for study at University of Ballarat, Australia;
• Claire Moore, a junior physical education major from Glasco, N.Y., was selected for an exchange award of $9,600 for study at University of Ballarat, Australia;
• Nicholas Heintz, a sophomore business economics major from Vernon Center, N.Y., received an exchange award of $3,312 for study in University of Griffith, Australia;
• Richard Jarvis, a sophomore business economics major from Westbury, N.Y., was chosen for an exchange award of $3,312 for study at University of Griffith, Australia;
• Stefanie Meyers, a senior psychology major from Fairport, N.Y., earned an exchange award of $3,312 for study at University of Griffith, Australia;
• Rachel Hendrix, a senior early childhood and childhood education major from Merrick, N.Y., was granted an exchange award of $1,522 for study at University of Salamanca, Spain;
• Eleanor Troy, a junior adolescence education: Spanish major from Cortland, N.Y., received an exchange award of $1,522 for study at University of Salamanca, Spain; and,
• Tricia Stevens, a senior adolescence education: Spanish major from Richland, N.Y., was selected for an exchange award of $3,480 for study at University of Veritas, Costa Rica.
For more information on the study abroad scholarships, contact the International Programs Office at (607) 753-5989.
Athletics Moves Up in National Standings
12/23/2011
The SUNY Cortland men's and women's intercollegiate athletic program ranks eighth out of approximately 430 NCAA Division III schools after the fall season in the 2011-12 Learfield Sports Directors' Cup standings.
The competition, which continues through the winter and spring seasons, is organized by the National Association of Collegiate Directors of Athletics (NACDA) to annually recognize the top collegiate athletic programs for overall excellence.
Cortland, the top-ranked New York school, scored 205 points in the fall season. Washington University of Missouri leads the standings with 372 points.
The standings are compiled based on schools' national finishes in different sports. Teams earn points by qualifying for the NCAA postseason and additional points for advancing in the playoffs. The national champion in each sport receives 100 points.
Cortland scored points in four of the seven NCAA championships conducted during the fall. The Red Dragons' women's soccer and women's volleyball teams each tied for fifth nationally after advancing to the national quarterfinals. The field hockey team tied for 17th place and the men's cross country squad finished 20th.
Cortland is one of only five schools nationwide, and the only New York institution, to place in the top 20 every year since the standings were first compiled on the Division III level during the 1995-96 school year.
The Red Dragons have earned eight top-10 finishes, including a tie for second place in 1997-98 and a third-place finish in 2006-07.
View the current rankings.
Performing Arts to Offer Six Spring Events
01/17/2012
The Performing Arts Department at SUNY Cortland recently unveiled its Spring 2012 schedule of performances, which include a faculty recital, three concerts, and multiple presentations of the popular musical, "Violet," and the Andrew Bovell play, "Speaking in Tongues."
All take place in the College's Dowd Fine Arts Center Theatre unless otherwise noted. Events are open to the public and admission is free, unless otherwise noted.
The faculty recital begins at 8 p.m. on Tuesday, Feb. 7. Edward Moore, associate professor of performing arts (music), and Ralph Dudgeon, professor of performing arts (music), will offer selections on the theme of "Music Made in America for Trumpet and Piano."
The duo's recital, with Moore performing on piano and Dudgeon on trumpet, will include "Three Preludes," by George Gershwin; "Yamekraw," by James P. Johnson; "Nightsongs," by Richard Peaslee; "Spain," by Chick Corea; as well as pieces by Astor Piazzola, Leonard Bernstein, Dave Frishberg and Edward "Duke" Ellington.
The hit Off-Broadway musical "Violet" will be presented at 8 p.m. on March 23, 24, 30, 31 and at 2 p.m. on March 25 and April 1. "Violet" tells the story of a woman in search of healing. The composer of "Violet" also created the Broadway shows "Thoroughly Modern Millie," "Shrek," and "Caroline or Change." Tickets will be sold at Jodi's Hallmark on Main Street, Cortland.
The College Singers, under the direction of Stephen Wilson, SUNY Cortland professor of performing arts (music), will perform at 8 p.m. on Tuesday, April 10. The concert, titled "Two and a Half Stephens," will present music by Stephen Schwartz, Stephen Sondheim and Stephen Wilson.
The College-Community Orchestra performs under the direction of Ubaldo Valli at 8 p.m. on Tuesday, April 17.
The Andrew Bovell drama, "Speaking in Tongues," will be performed at 8 p.m. on April 12, 13 and 14 and at 2 p.m. on April 15 in the Dowd Fine Arts Center Lab Theatre. "Speaking in Tongues" is about contracts being broken between intimates while deep bonds are forged between strangers. The play will be directed by Robert Moss, the former artistic director of Syracuse Stage and the Hangar Theatre in Ithaca. Tickets will be sold at the door and at Jodi's Hallmark on Main Street, Cortland.
The spring season will conclude on Tuesday, May 1, when Choral Union will present Giovacchino Antonio Rossini's "Le Petite Messe Solennelle" at 8 p.m. This last major work by Rossini is noteworthy for its geniality and joyfulness in music composed for a mass.
For more information, visit the Performing Arts Department website at www.cortland.edu/performingarts or call the office at (607) 753-2811.
Political Science Honorary Inducts New Members
The Cortland Zeta Delta chapter of Pi Sigma Alpha, the national honors society formed to recognize outstanding achievement in political science, formally inducted 14 students in a Dec. 8 ceremony.
The inductees are: Justin T. Atkinson, Erin E. Bourgeois, Chelsey O. Chavez-Egan, Amanda L. Ephraim, Marc E. Favro, Lucas Finley, Angela M. Fortunato, Loraine C. Jelinek, Blaithin S. Loughran, Michael K. McNulty, Emily G. Riordan, Douglas Scott, Tatyana N. Walker and Nathan C. Woodard.
Membership in Pi Sigma Alpha is open to juniors, seniors and graduate students enrolled at institutions where chapters are located. Undergraduates must be at least juniors who have completed a minimum of 10 credit hours in political science, including at least one upper-division course, with a B or higher average grade. They must also have achieved an overall GPA placing them in the top one-third of their junior or senior class. They need not be political science majors to qualify for membership.
Distinguished Service Professor of Political Science Robert Spitzer advises the Zeta Delta chapter. Formed in 1970, Cortland's chapter was the third to be established among political science departments in the SUNY system.
College Council Convenes Jan. 23
SUNY Cortland's College Council will hold its next regularly scheduled meeting at 4 p.m. on Monday, Jan. 23, in Miller Building, Room 405.
The agenda includes approval of the Nov. 9, 2011, minutes. Council members will hear reports by President Erik J. Bitterbaum, College Council Chair Thomas Gallagher, Faculty Senate Chair Timothy Phillips, and Student Government Association President Jamie Piperato.
A pre-meeting program beginning at 3:15 p.m. in the same location will include a review of the Middle States Reaccreditation by committee co-chair Lynn Anderson, Recreation, Parks and Leisure Studies Department.
ASC Accepting Program Grant Applications
Auxiliary Services Corporation (ASC) is now accepting Program Grant applications online for the 2012-13 academic year.
Application packages may be downloaded at https://www.cortlandasc.com/grant-application.cfm. Applications must be submitted online by midnight on Friday, Feb. 17.
Each year the ASC Board of Directors allocates funds to support grants for a wide range of purposes and projects that enhance the life of the SUNY Cortland community.
Although ASC is willing to consider a wide range of ideas, it seeks to avoid duplicating other funding sources or funding projects more properly supported by state funds. Therefore, applicants should first seek funding from primary funding sources.
ASC grant funds may not be used for salaries, honoraria, travel normally funded by the College's budget, or scholarships for SUNY Cortland faculty, staff or students. Funds may not be used to purchase computers, related hardware or software. In general, Program Grant funds may not be used exclusively for food for SUNY Cortland students, faculty or staff. Funding for food may be considered if the food is deemed integral to the success of the program or event. All food shall be provided by ASC. Other grant guidelines are described in the application package.
For more information, contact Annette O'Hara at (607) 753-4325.
CALS Lecture Grant Applications Available
Campus Artist and Lecture Series (CALS) Lecture Grant Applications are now available for the 2011-12 academic year. Applications are eligible for a maximum award of $500 and are open to any club, program or department. These are lecture grants and will not cover performances of any kind.
Applications must be received by Thursday, Jan. 26, in order to be considered for February, March, April and May 2012 lecture programs. Applications received after Jan. 26 may not be eligible for any spring semester funds remaining.
For more information or to request a copy of the CALS Lecture Grant Application, contact Sandra Wohlleber at (607) 753-5574.
College Hosts 'Girls' Day Out' With Cortland YWCA Jan. 28
The SUNY Cortland Athletics Department and the YWCA of Cortland will be hosting Girls' Day Out on Saturday, Jan. 28, from 8:45 a.m. to 2:30 p.m. at SUNY Cortland's Park Center.
Girls in grades 5-8 are invited for activities that include participation in volleyball, yoga, gymnastics, dance, swimming and rock climbing with SUNY Cortland women student-athletes, coaches and staff. There will also be an interactive career fair with women from the Cortland community and surrounding areas, as well as a health & wellness lecture. Participants will be able to watch the Red Dragon women's ice hockey team and gymnastics team compete that afternoon.
The registration cost is $10 per person. Lunch, snacks, and a T-shirt are included in the price.

For more information, contact Cortland Assistant Director of Athletics Courtney Wormuth by email or at (607) 753-4635.
IDA Applications Due Feb. 6
The State of New York/United University Professions Joint Labor-Management Committees have allocated $16,865 to SUNY Cortland for the Individual Development Awards (IDA) Program for the period July 2, 2011 through March 31, 2012.
Completed applications with required attachments are due by the end of the business day on Monday, Feb. 6, to the UUP Chapter Office, Moffett Center, Room B-5, to the attention of the Professional Development Committee (PDC).
Application forms may be downloaded at http://www.nysuup.lmc.state.ny.us/forms/app.html and also are available in the Research and Sponsored Programs Office and in the UUP Chapter Office.
The SUNY Cortland Campus PDC has established the following procedures for applying for benefits under this program.
IDA is intended to assist eligible employees in developing their full professional potential and in preparing for advancement. IDA funding may be provided for enhancing teaching, research capabilities, and improving professional knowledge and skills. All expenses must be incurred during the period July 2, 2011 through March 31, 2012. The maximum award under this program is $1,000. Note that only one application encompassing one activity per applicant is permitted.
Details about the program can be found online at the New York State UUP website, in the Research and Sponsored Programs Office, Miller Building, Room 402, or in the UUP Chapter Office, Moffett Center, Room B-5. IDA applications are reviewed on campus by the Campus PDC, which makes all award decisions.
The PDC intends to initially dedicate 15 percent ($2,530) of SUNY Cortland's 2011-2012 IDA funds to eligible part-time employees.
For more information about the program, contact Glen Clarke in the Research and Sponsored Programs Office by email or at (607) 753-2511 or Gretchen Herrmann in the Library by email or at (607) 753-2899. Do not submit IDA applications or budget summary forms to Albany. In addition, neither President Erik Bitterbaum's signature nor UUP Chapter President Jamie Dangler's signature is needed on any IDA Application.

Suggest a feature story
---
Faculty/Staff Activities
Janet Duncan
Janet Duncan, Foundations and Social Advocacy Department, gave a presentation for the Alliance of Universities for Democracy (AUDEM) in Dubrovnik, Croatia, in October. The talk, "Toward a Deeper Understanding of Disability in Society," was based on the Capabilities Approach by Martha C. Nussbaum. While in Croatia, Duncan and Elaine Little, former Special Education Administrator for the Ithaca School District, toured a local elementary school and a community residence for adults with disabilities.
Alexander G. Gonzalez
Alexander G. Gonzalez, English, had his article, "Joyce's Presence in Iris Murdoch's 'Something Special,'" published in Studies in Short Fiction after many delays on the journal's part. Gonzalez received encouraging support from the College Research Committee, which awarded him a Faculty Research Program grant in 2007.
Bonni C. Hodges
Bonni C. Hodges, Health Department, has been selected to participate in the American Cancer Society/Centers for Disease Control and Prevention's "School Health Education Higher Education Academy" set for Feb. 2 to 4 at Emory University in Atlanta, Ga. The 45 academy participants from across the country will engage in activities and participate in sessions designed to provide the basis for 21st century school health education preparation programs.
Richard Hunter
Richard Hunter, Geography Department, spoke at a colloquium hosted by the Department of Geography at National Taiwan University in Taipei on Jan. 3. His presentation focused on his use of Geographic Information Systems to better understand the causes of historical environmental change in Mexico's tropical highlands.
Louise Mahar and Joseph Agnew
Louise Mahar, Recreational Sports, and Joseph Agnew, a graduate assistant for fitness, presented at the National Intramural and Recreational Sports Association Regional Conference held at Syracuse University in November. The presentation centered on how SUNY Cortland has integrated its Kinesiology/Fitness Development curriculum into the fitness component of the Campus Recreation Program, through Field Experience classes. The current structure as well as the history of the program was described. Strong emphasis was placed on how integrating the two programs has strengthened the quality of student employees, recreational use of the facility and fitness programs offerings.
Eric Malmberg
Eric Malmberg, Physical Education Department, received an outstanding professional award at the New York State Association for Health, Physical Education, Recreation and Dance (NYS-AHPERD) Conference held in Verona, N.Y., in November.
Mechthild Nagel
Mechthild Nagel, Philosophy Department and Center for Gender and Intercultural Studies (CGIS), gave two talks as an invited speaker to two conferences at University of Iceland, Reykjavik, in November. One talk addressed feminist discourses vis-à-vis state violence. The second presentation addressed recent trends in philosophy. Nagel also served as expert consultant for the Nordic workshop on "Gender, Violence and Power," which drafted several grant proposals to European Union grantors.
Robert Spitzer
Robert Spitzer, Political Science Department, has been informed that his article, "Gun Law, Policy, and Politics," has been accepted for publication in a future issue of the journal Government Law and Policy Journal.
Barbara Wisch
Barbara Wisch, professor emerita of art history, was invited to serve as the consulting curator for the exhibition "Shared Treasure: The Legacy of Samuel H. Kress," held at the Allentown (Pa.) Art Museum from Oct. 16, 2011-Jan. 15, 2012. The exhibition celebrated the 50th anniversary of the generous Kress gift of Renaissance and Baroque paintings to the Allentown Art Museum. "Shared Treasure" brought together more than 30 exceptional paintings, borrowed from other recipients of the Kress legacy. These works span the European continent from the Renaissance to the Enlightenment. Wisch provided all the wall texts and contributed to the brochure.
Charles Yaple
Charles Yaple, Recreation, Parks and Leisure Studies Department, has learned that his book, Foxey Brown: A Story Of An Adirondack Outlaw, Hermit And Guide As He Might Have Told It, has generated five-star reviews on Amazon.com and is an Adirondack bookstore best seller. It was published in August 2011.

Submit your faculty/staff activity