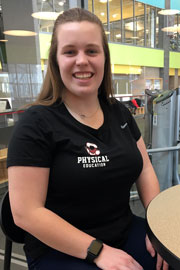 Campus Champion
Alexis Kane is described by one of her professors as "an amazing role model with great civic engagement qualities and advocacy skills. Her impact in the community is beyond impressive and she inspires everyone else to take part as well." What more can we say! This senior physical education major redefines the term "Campus Champion" and has more accomplishments than we can list. So, we'll share her two most recent awards. Alexis was named the 2017 New York State Association for Health, Physical Education, Recreation and Dance Jay B. Nash Outstanding Major of the Year and the 2018 SHAPE America Robert T. Pate Scholarship recipient.

Nominate a Campus Champion
---
Tuesday, Jan. 23
Dowd Gallery Reception: For Ondrej Janek's exhibition "Loop: Connecting to the Beginning," Dowd Gallery, 4 to 5:30 p.m.
Open Mic Night: Poets, singers and musicians welcome, free refreshments, Corey Union Exhibition Lounge, 7 p.m.
Wednesday, Jan. 24
Sandwich Seminar: "Academic Grievance/ Academic Integrity Process," presented by Academic Grievance Tribunal Chair Tim Delaune, Political Science Department, Brockway Hall Jacobus Lounge, 12:30 to 1:30 p.m.
Wellness Wednesday Series: Experience a Yoga Class, Student Life Center Mind Body Room, 6 or 7 p.m.
Thursday, Jan. 25
Sandwich Seminar: "Cultural Perceptions in Politics," presented by William McNeill, history and sociology major, Brockway Hall Jacobus Lounge, Noon to 1 p.m.
Panel Discussion: "Careers in Student Affairs," presented by Buffalo State College's Higher Education and Student Affairs Administration Program, Van Hoesen Hall, Room B-5, 3:30 to 5 p.m.
Dowd Gallery Artist's Talk: By Ondrej Janek, for his exhibition "Loop: Connecting to the Beginning," Dowd Gallery, 4:30 to 5:30 p.m.
Wednesday, Jan. 31
Panel Discussion: Coffee and Conversation: An Introduction Intergroup Dialogue, hosted by Residence Life and Housing, Brockway Hall Jacobus Lounge, 9 to 11 a.m.
Damon A. Williams Webinar: Training and Development by the Institutional Equity and Inclusion Office, Old Main Colloquium, 1:45 to 4:30 p.m.
Wellness Wednesday Series: "SUNY Cortland Cupboard (food pantry)," Interfaith Center, 6 p.m.
Thursday, Feb. 1
Black History Month Lecture: M.O.V.E. Presents Carlos Malave, Corey Union Function Room, 6 to 8 p.m.
Monday, Feb. 5
Poskanzer Lecture: "Less Talk, More Action: Accelerating 4th Generation Disparities Research to Achieve Health Equity," by Stephen B. Thomas, professor and director of the University of Maryland Center for Health Equity, Old Main Brown Auditorium, 5:30 p.m.
Tuesday, Feb. 6
Red Cross Blood Drive: Corey Union Function Room noon to 6 p.m.
---
---
College Announces Sesquicentennial Celebrations
The College will turn 150 and celebrate with many planned events in 2018-19. read more
SUNY Cortland Ranked No. 23 Nationally in Best Value for Teaching Degrees
Faculty, partnerships with school districts and SUNY Cortland students are credited for program's success. read more
---
Capture the Moment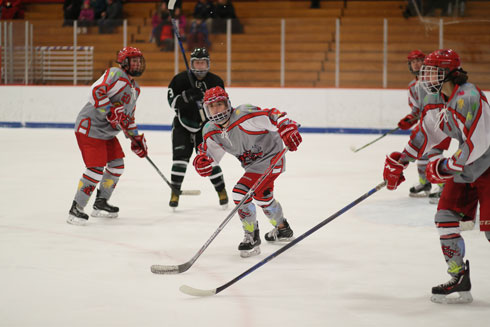 Senior forward Emily Busta (center) skates during the women's hockey team's 4-1 victory over Nichols College on Jan. 6. The team wore custom jerseys for its Cortland C.A.R.E.S. charity game that brought students from Cortland County elementary schools to the Park Center Alumni Arena. Busta, along with senior teammates Nadine de Nijs and Jackie Richards, were inspired to expand their efforts in the community after first working with local elementary students during last season's winter break. At the game, those students sang the national anthem, participated in the ceremonial pre-game puck drop and formed a pep band. The principal of each of the five elementary schools was presented with a custom jersey, designed by former SUNY Cortland men's hockey player Darren McCormick '17. The team also collected donations for the SUNY Cortland Cupboard student food pantry.
---
In Other News

Suggest a feature story
---
People on the Move
---
Faculty/Staff Activities
Regina B. Grantham participated in the Language-Hearing Association Convention in November in Los Angeles. read more
Richard Hunter co-authored a research article that is published in Ecological Indicators. read more
Kathleen A. Lawrence recently had two of her poems, "Winged Love" and "Grit: The Resilience of New Yorkers," published. read more
Chris Manaseri had his article about schoolhouses in the Finger Lakes region published in the Country School Journal. read more
Robert Spitzer updated The Politics of Gun Control, originally published in 1995, to include recent developments on the subject. read more
Maria Timberlake had her research article published in the December issue of International Journal of Inclusive Education. read more
Deborah Van Langen, James F. Hokanson, Erik Lind and Larissa True co-authored an article that was published in Clinical Kinesiology. read more
Amanda Wasson gave a lecture to the Ithaca College campus police, public safety and emergency management personnel on Fair and Impartial Policing. read more
Ben Wodi was a panelist and workshop facilitator at the American Public Health Association annual conference. read more
Tiantian Zheng was invited by University of Las Vegas to deliver a campus-wide book talk in November. read more

Submit your faculty/staff activity