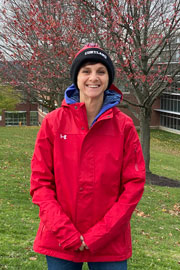 Campus Champion
Emily Quinlan has spent more than a decade caring for our students and their well-being. Initially, she served first-year and transfer students as a member of Advisement and Transition. A year ago she started in a new role as Student Affairs Case Manager, a direct point of contact with students exhibiting signs of distress, crisis or other reported struggles. Student outreach and consultation during a normal year is all-consuming. During the pandemic, as a member of the Quarantine and Isolation Support Team, Emily's responsibility has become broader than ever imagined. She's grateful to have built campus and community connections. SUNY Cortland is grateful for her.

Nominate a Campus Champion
---
Tuesday, Nov. 10
Dowd Gallery Exhibition Opening: Opening Remarks by artist Gary Sczerbaniewicz and Gallery Director Jaroslava Prihodova, 4:30 to 8 p.m.
Panel Discussion: Business During COVID, connect with Cortland alumni and learn how the pandemic has affected their work, register on the Red Dragon Network to receive Webex link, 6:30 to 8:30 p.m.
Discussion: School to Prison Pipeline, hosted by SUNY Cortland NAACP, online via WebEx, 6:30 p.m.
Wednesday, Nov. 11
Lecture: Towards Containment? China-US Relations in the 2020s: Presented by Tudor Onea, Department of International Relations, Bilkent University, Turkey. Online via Webex, noon.
Virtual Veterans Day Ceremony: The ceremony will be available for viewing on our Veterans Day website: cortland.edu/veterans-day, 3 p.m.
In-person Study Abroad 101: Old Main, Room 220, 3 p.m.
BLM Watch Party and Discussion: View Ava DuVernay's powerful documentary, "13th," on racial inequality in the United States, particularly in our nation's prisons. Followed by a discussion, 7 to 9:30 p.m.
Thursday, Nov. 12
SUNY-wide Virtual Career Fair: Register here. Noon to 3 p.m.
Dowd Gallery Documentary Screening: Sculpture and Space, online via Webex, 4:30 to 8 p.m.
Presentation: Job Search Strategies for the Health Care Management/Administration Markets, online via Webex, 6 to 7 p.m.
Inclusive Special Education Club Speaker: Special Educator Linda Linn, online via WebEx, 7 pm.
Friday, Nov. 13
NYPIRG: Student Empowerment Virtual Conference, Register
Scavenger Hunt: Join the Student Activities Board for a virtual scavenger hunt filled with riddles and special tasks. Email by Friday, Nov. 13 to join the scavenger hunt and for instructions on how to complete it. Must use a Cortland email address to participate.
NAACP and Black Student Union Discussion: Something Bigger, discussion on what a Black Lives Matter mural should look like on our campus. Online via WebEx, 6:30 p.m.
Cortland Nites: Virtual event, 9 p.m.
Saturday, Nov. 14
Singing Competition: The Voice of Cortland, featuring talented Cortland students who submitted videos of themselves singing. Follow @CortlandSAB to vote.
Student Activities Board Event: Get To Know President Bitterbaum, online via WebEx, 7 p.m.
Monday, Nov. 16
Film Discussion: The Death and Life of Marsha P. Johnson, hosted by the Sexual Orientation, Gender Identity and Expression (SOGIE) Committee. Online via WebEx Meeting Link, noon to 1 p.m.
Study Abroad Panel Discussion: Going Abroad After College: Graduate Study, Work, and Teaching Abroad, presented by a panel of recent SUNY Cortland graduates who have done these things. Topics include applying for graduate school in another country and working or teaching abroad, access online through Webex with this link, 4 p.m.
Intro to Handshake and LinkedIn Workshop: Register online via Handshake, sponsored by Career Services, 4 to 5 p.m.
Virtual Meet Up: Meet other students on WebEx through structured conversations, 4:30 p.m.
Tuesday, Nov. 17
Lecture: Daily Life in Italy During the Black Death, presented by Assistant Professor, of History Celeste McNamara, free and open to the public, online on Webex, register on link, noon.
Black Lives and Liberation Forum Series: Stereotypes and their Impact on People of Historically Marginalized Identities, register here, 4 to 6 p.m.
Wednesday, Nov. 18
GIS Day 2020: This virtual event, hosted by the website shemapsmaps.rocks, will include interactive maps, treasure hunts, videos and articles about what geographic information system (GIS) is, and more.
Virtual Study Abroad 101: Online in Remote Advising Room, 3 p.m.
Panel Discussion: What's Next for AEN Majors? Intended for adolescence education English students and students of other majors who are interested in teaching English at the secondary level. Online, 7 to 8:30 p.m.
Thursday, Nov. 19
Interviewing for Success Workshop: Register online via Handshake, sponsored by Career Services, 4 to 5 p.m.
---
---