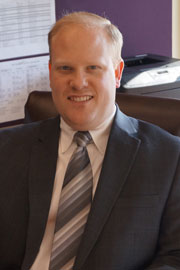 Campus Champion
Keep quality teachers in the classroom. That's the ambitious goal of SUNY's Master Teacher program in a nutshell, according to Dominick Fantacone M.A.T. '12. Dominick would know; he's both the Central New York regional coordinator and the chief campus coordinator for the crucial statewide effort touted by Gov. Andrew Cuomo at his State of the State address in early January. Of the program's 10 host sites, SUNY Cortland trains the most science, technology, engineering and mathematics (STEM) teachers. Dominick not only assists their professional development locally, he also serves as the point person between all 10 training centers and the state's capital.

Nominate a Campus Champion
---
Monday, Jan. 27
College Council Meeting: Miller Building, Room 405, 4 p.m.; a presentation titled "The New Normal: Who's Coming to College Now" will be held prior to the meeting at 3:15 p.m.
---
Tuesday, Jan. 28
Red Cross Blood Drive: Corey Union Function Room, noon-6 p.m.
---
Tuesday, Jan. 28
Film Screening: "The Other City," hosted by Memorial Library and the CICC, Sperry Center, Room 105, 7 p.m.
---
Wednesday, Jan. 29
Sandwich Seminar: "Instructional Design and Support at SUNY Cortland," Brockway Hall Jacobus Lounge, 12:30-1:30 p.m.
---
Wednesday, Jan. 29
Wellness Wednesday Series: "An Intro to Yoga," beginner-level yoga class. Participants should dress in loose, comfortable clothing and bring a towel, Corey Union Exhibition Lounge, 7 p.m.
---
Thursday, Jan. 30
Sandwich Seminar: "Emergency Response Plan," Brockway Hall Jacobus Lounge, noon-1 p.m.
---
Thursday, Jan. 30
Dowd Gallery Opening Reception: "Anomie: Fractured Art Norms!" Dowd Gallery, 9 Main St., 3rd floor, 4:30-6:30 p.m.
---
---
President's Opening Talk Offers Encouragement, Updates
President Erik J. Bitterbaum covered plenty of ground during his talk Tuesday. read more
Emergency Response Website Unveiled
An updated emergency response plan and website were presented to faculty and staff Tuesday read more
---
Capture the Moment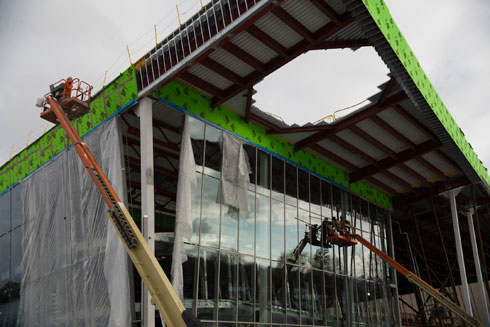 Winter Break was not on the agenda for more than 300 contractors busy on campus completing three large projects, including the Student Life Center, pictured above. Nearly 150 workers have moved indoors at Bowers Hall, where they are wrapping up construction and testing building systems, and at Dowd Fine Arts Center, where they're making finishing touches while faculty and staff begin moving in. As the weather improves and temporary enclosures allow for some heat, the number of contractors will swell at the Student Life Center, where there is plenty to do before its year-end opening.
---
In Other News

Suggest a feature story
---
Faculty/Staff Activities
John C. Hartsock has been invited to lecture for two weeks at South China University of Technology in Guang Zhou, China. read more
Thomas Hischak wrote a chapter on the "American Musical Theatre" for The Oxford Handbook of American Drama. read more
Richard Kendrick contributed the lead story that will appear on the front page of the Bringing Theory to Practice Winter 2014 Newsletter. read more
Yomee Lee and Sam L. Kelley presented on "Racism & White Privilege" at the Stony Point Conference Center in October. read more
Mecke Nagel had her Wagadu article published in the journal TripleC - Communication, Capitalism & Critique. read more
Robert Spitzer had his article "Separating Truth and Myth in the American Gun Debate" published in The Islamic Monthly. read more
Sharon L. Todd was inducted into the South Central Chapter of the Pennsylvania Sports Hall of Fame in November. read more

Submit your faculty/staff activity