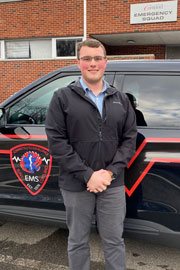 Campus Champion
Two years ago, senior biology major Kaleb Frierson read about the impact climate change has on humans and focused his career goals on public health. "Ultimately I want to be an emergency physician at a hospital where I can teach, research and practice medicine." He's well on his way — in 2022 he earned Outstanding Undergraduate Research in Biological Sciences, received a summer research fellowship and serves as a teaching assistant and supplemental instructor. A presenter and a published author, teaching enables Kaleb to reflect on his own understanding. The SUNY Cortland Emergency Medical Services club president also manages to be a full-time EMT for Skaneateles/Marcellus Ambulance. An amazing resume of leadership, service, honors and fellowships ensures a bright future for this Campus Champion.

Nominate a Campus Champion
---
Tuesday, Dec. 6
Honoring Excellence: Teaching, Research and Service Awards Ceremony, Corey Union Function Room, 4:30 to 6:30 p.m.
---
Wednesday, Dec. 7
Healthy Salad Lunches: Participants bring one ingredient to add to create a shared salad, hosted by EAP, Van Hoesen Hall, Room C-119, 12:15 to 12:45 p.m.
---
Thursday, Dec. 8
Game Room Party: Take a break from studying, Student Life Center Game Room, 5 to 7 p.m.
Drop-in Chemistry Tutoring: For CHE 227 and CHE 228, Van Hoesen Hall, Room B-205, 6 to 9 p.m.
---
Friday, Dec. 9
UUP Holiday Gathering: Cortland Beer Company, 5 to 7 p.m.
Performance: The Bone Harp, a staged reading of a new musical, Dowd Fine Arts Center Theatre, 7 p.m.
Fall semester classes end
---
Saturday, Dec. 10 and Sunday, Dec. 11
Study Days
---
Sunday, Dec. 11
Performance: The Bone Harp, a staged reading of a new musical, Dowd Fine Arts Center Theatre, 2 p.m.
---
Monday, Dec. 12
PAWS for Stress Relief: Student Life Center 3-Court Gym, noon to 4 p.m.
Moonlight Breakfast: Hosted by Cortland Auxiliary, open to all students regardless of meal plan status, The Bistro, 10 to 11:30 p.m.
---
Tuesday, Dec. 13
PAWS for Stress Relief: Student Life Center 3-Court Gym, noon to 4 p.m.
Information Session: Student Teaching in Alaska, use the Alaska information session link to join at 6 p.m.
---
Monday, Dec. 19
Train the Trainer: Re-Thinking Abilities Workshop, Corey Union, Room 209, 10 a.m. to noon.
---
Thursday, Jan. 19
Spring 2023 President's State of the University Address: Corey Union Function Room, 9 a.m. A light breakfast will be available beginning at 8:30 a.m. Please RSVP by Friday, Jan. 6.
---
Monday, Jan. 23
Spring semester classes begin
---
This is the last issue of The Bulletin for the fall semester. The next issue of The Bulletin will be published on Tuesday, Jan. 24.
---
Spring 2023 Publication Dates
Bulletin #9 Tuesday, Jan. 24
Bulletin #10 Tuesday, Feb. 7
Bulletin #11 Tuesday, Feb. 21
Bulletin #12 Tuesday, March 7
Bulletin #13 Tuesday, March 21
Bulletin #14 Tuesday, April 4
Bulletin #15 Tuesday, April 18
Bulletin #16 Tuesday, May 2
---
---
Psychology class considers pseudoscience 
Craig Foster promotes skeptical thinking by busting Bigfoot. read more
Staged reading of 'The Bone Harp' planned
SUNY Cortland students are now fine-tuning the new musical for future professional production. read more
---
Capture the Moment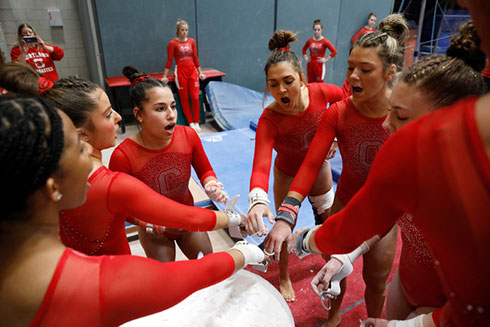 SUNY Cortland's women's gymnastics team came together in a pre-routine cheer at its annual Red and White meet on Saturday, Dec. 3 in Park Center. The Red Dragon gymnasts performed routines they plan to use in competition this season, which opens on Jan. 15. They opened the meet by highlighting their three senior captains — Glynis Curcione, Bianca Carr and Abby Bang.
---
In Other News

Suggest a feature story
---
Faculty/Staff Activities
Kati Ahern had a chapter published in Methods and Methodologies for Research in Digital Writing and Rhetoric.  read more
Eric Edlund  gave a talk at Colgate University titled "A simplified analysis of orbital interception and rendezvous." read more
Rhiannon Maton had an article published in Radical Teacher. read more
Lori Reichel presented two 70-minute activity-based sessions at the annual NYS AHPERD Conference on Nov. 17. read more
Wylie Schwartz presented a research paper titled "Radical Subjectivity in the Scandinavian Situationist Bauhaus."  read more
Tadayuki Suzuki presented "Challenge Heteronormativity and Nurture "Queer Eye" in Children Using LGBTQ-Themed Children's Books" at a conference. read more

Submit your faculty/staff activity
In Memoriam
E. Kim Stone, associate professor in the English and Africana Studies departments, died on Saturday, Nov. 26.