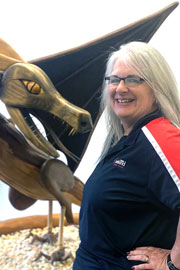 Campus Champion
Hailey Ruoff '98, associate director for design help, launched her career at SUNY Cortland working for Classroom Media Services just prior to graduating. For 25 years, she's guided students and staff through the university's technical resources and academic support systems. Along the way she earned a master's from SUNY Albany and received a Professional Service Award for Institutional Service. Following a two-year process and dozens of campuswide emails from Hailey pointing the way, the university launched Brightspace at last week's start of Summer Session. "All 64 SUNY campuses are migrating to Brightspace," Hailey said. "Don't feel alone, we're all in this together!"
Find training opportunities, resources and updates on the Brightspace faculty information page.

Nominate a Campus Champion
---
Wednesday, June 7
'Stop the Bleed' Program Training: Bleeding control kits will be installed in strategic areas on campus. Kits are designed to be used by anyone present at an emergency and faculty, staff and students are encouraged to attend walk-in training, Student Life Center, Room 1104, 9 to approximately 10:30 a.m.
---
Saturday, June 17
Juneteenth Celebration: Join the Cortland County Community of Color (C4) at the 3rd Annual Juneteenth Celebration, 37 Court House Park, Cortland, 11 a.m. to 1 p.m.
---
Monday, June 19
Juneteenth: Juneteenth National Independence Day national holiday, offices are closed.
---
Wednesday, June 21
Orientation Skit Preview: The campus community is invited to view skits prepared by Orientation Assistants for first-year students, Corey Union Function Room, 2:30 p.m.
---
Monday, June 26 and Tuesday, June 27 
First-Year Orientation Session 1: Campus-wide event, 10 a.m. day one to 2 p.m. on day two.
---
Thursday, June 29 and Friday, June 30
First-Year Orientation Session 2: Campus-wide event, 10 a.m. day one to 2 p.m. on day two.
---
Summer Bulletin publication dates
---
The Bulletin will be published the following dates this summer:
Tuesday, June 27
Tuesday, July 18
Bulletin Fall 2023  publication dates
Bulletin #1 Tuesday, Aug. 29
Bulletin #2 Tuesday, Sept. 12
Bulletin #3 Tuesday, Sept. 26
Bulletin #4 Tuesday, Oct. 10
Bulletin #5 Tuesday, Oct. 24
Bulletin #6 Tuesday, Nov. 7
Bulletin #7 Tuesday, Nov. 21
Bulletin #8 Tuesday, Dec. 5
---
---
Former sociology major earns EOP's highest honor
Nia Vega '23 received a 2023 Norman R. McConney Jr. Award for Student Excellence. read more
Association to present 2023 alumni awards 
A total of 12 alumni will be recognized during Reunion 2023 for their outstanding accomplishments.   read more
---
Capture the Moment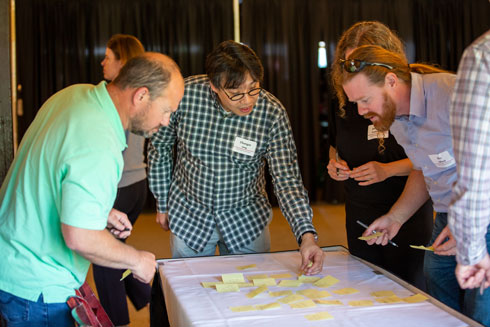 More than 60 faculty and staff attended the Great Expectations SUNY Cortland Teaching and Learning Conference at Greek Peak Mountain Resort on Tuesday, May 23. Attendees took part in a range of teaching and learning issues throughout the day.
---
In Other News

Suggest a feature story
---
Faculty/Staff Activities
Rhiannon Maton had an interview about a recent successful faculty union strike in Quebec City published.   read more
Samantha Moss had an article titled "Overweight/obesity and socio-demographic disparities in children's motor and cognitive function" published. read more
Deborah Seipp lectured a class on the European sport of team handball and traveled to the national competition where she and the team competed. read more
Alex Vizgaitis had an article published in the Journal of Attention Disorders. read more
Zachary Wilson was awarded the New York State Transfer and Articulation Association's New Professional Award read more
Tiantian Zheng organized three conference panels, one for the SUNY Graduate Research Conference, one for the Association of Asian Studies and the third for the New York Association of Asian Studies. read more

Submit your faculty/staff activity
Teresa Smith, an administrative assistant in the Modern Languages Department, died on May 26, 2023.