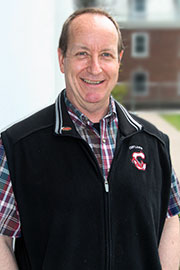 Campus Champion
When you want something done on campus, call Joe Westbrook. This architect turned project coordinator, with 10 years in the Facilities Planning, Design and Construction Office, finds his drive in connecting people for the good of the whole. Joe always ensures people know what's going on and how things work — qualities that come out in his role as president of United University Professions (UUP) Cortland chapter. In early May he led the annual SUNY Cortland Works! event, uniting all employees in celebration of their efforts. Tomorrow, his work continues when UUP honors professionals for their work milestones at the College.

Nominate a Campus Champion
---
Wednesday, May 18
Summer Session I begins. Continues through Wednesday, June 22
Professional Service Recognition Luncheon: Corey Union Function Room, 11:30 a.m.-1 p.m.
Friday, May 27
SUNY Cortland Child Care Sustainability Garage Sale: Recycle usable items and donate or shop, Van Hoesen Hall, Tomik Fitness Facility, 9 a.m.-2 p.m. Continues on Saturday, May 28 and Sunday, May 29
Monday, May 30
Memorial Day: No Summer Session classes, offices are closed
Tuesday, June 7
J.P. Morgan Chase Corporate Challenge: Buses will provide transportation to the event on Onondaga Lake Parkway, Liverpool, N.Y. The 3.5 mile run/walk begins at 6:25 p.m. Registration deadline is Thursday, May 19.
Sunday, June 12
3rd Annual William Shaut Memorial 5k Fun Run and Walk: To benefit the SUNY Cortland Child Care Center, Stadium Complex, 9 a.m.
Monday, June 27
Summer Session II begins. Continues through Monday, Aug. 1
Thursday, July 7-Sunday, July 10
Alumni Reunion 2016: Campus-wide events.
The next issue of The Bulletin will be published on Tuesday, June 7.
---
---
Six Faculty and Staff Members Earn Chancellor's Awards
The faculty and staff members were honored at Commencement. read more
Nation's Top Health Agency Taps Professor as Expert
The CDC relies on Diane Craft, a professor of physical education, as its subject matter expert for early childhood physical activity. read more
---
Capture the Moment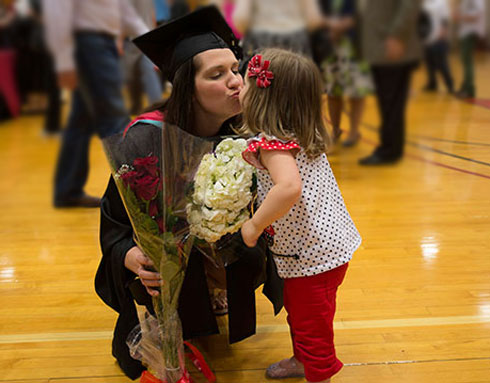 Joyce Sears of Homer, N.Y., receives a kiss from her daughter Emily, 2, following graduate commencement ceremonies on May 13. Joyce received her master of science in education, literacy, and was one of 276 people awarded master's degrees. An estimated total of 1,368 seniors — one of the largest graduating classes ever —received bachelor's degrees on Saturday.
---
In Other News

Suggest a feature story
---
Faculty/Staff Activities
Laura Davies had her essay published on an education blog for writing teachers. read more
Li Jin co-authored a paper with Kristina Gutchess '13 for Science of the Total Environment. read more
Mechthild Nagel delivered a keynote on gender and the law at a gender studies conference in Romania. read more
John Suarez will lead a Reflective Listening Workshop for employees of the state's Office of Children and Family Services. read more
Tadayuki Suzuki wrote about searching for information on Japanese Americans' experiences in WWII internment camps. read more
Nance S. Wilson co-authored two articles published recently in publications about children's literature. read more

Submit your faculty/staff activity