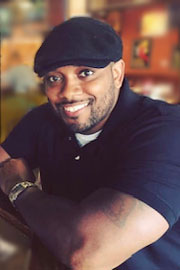 Campus Champion
Diversity Faculty Fellow Marcus Bell, assistant sociology professor, lectures on crime and inequality and serves on committees that uphold the university's core values of diversity, equity and inclusion. "Important topics people care the most about often come with political partisanship," he says. "For example, crime and the police response can be an either-or conversation, but most people grapple with both sides to varying degrees." Marcus presents his ideas in his TEDx SUNY Cortland talk on "Freedom Dreaming" Thursday, May 4. He's one of 10 speakers, along with SUNY Cortland's Performing Arts Lecturer Renee Heitmann and Modern Languages Lecturer Shena Driscoll Salvato, who will share their thoughts for a better world.

Nominate a Campus Champion
---
Tuesday, May 2
Asian Pacific American Heritage Month Workshop: More than Kpop, "Chinavirus," and the Model Minority Myth, Registration form, online via Webex, 4:30 to 5:30 p.m.
---
Wednesday, May 3
Student Select '23: On view at the Dowd Gallery weekdays through Friday, May 12, and Saturday, May 13, 10 a.m. to 3 p.m.
SUNY Cortland Spring Pottery Sale: Old Main lobby, 11 a.m. to 3 p.m.
Get "Resume Ready" Career Services Workshop: Online via Webex, 6 to 7 p.m. Register on Handshake.
---
Thursday, May 4
Red Dragon Fest: Bishop/Shea Quad, 2 to 5 p.m. Rain location: Corey Union Function Room. Bring one non-perishable food item to use dunk tank.
Senior Send-Off: Lynne Parks '68 SUNY Cortland Alumni House, 29 Tompkins St., 5 to 9 p.m.
TEDx SUNY Cortland: Featuring 10 speakers who will share ideas related to "Freedom Dreaming," envisioning a better world and exploring pathways to get there, Old Main Brown Auditorium, 7 p.m. No-cost virtual tickets are required and are available online.
---
Friday, May 5
Last day of classes
SUNY Cortland Works! Join the walks along signed routes around campus beginning at 11:40 a.m. Group photo on the Corey Union steps at noon. BBQ and solidarity gathering followed by speakers on the Corey Union steps, or inside Corey Union if raining, from 12:05 to 2 p.m.
---
Saturday, May 6 and Sunday, May 7
Study Days
---
Monday, May 8 to Friday, May 12
Final examination period
---
Monday, May 8
PAWS for Stress Relief: Student Life Center 3-Court Gymnasium, noon to 4 p.m.
Moonlight Breakfast: The Bistro Off Broadway, 10 to 11:30 p.m.
---
Tuesday, May 9 
PAWS for Stress Relief: Student Life Center 3-Court Gymnasium, noon to 4 p.m.
---
Friday, May 12
Graduate Commencement: Ceremony: 7 p.m. in the Park Center Alumni Arena, doors open at 6 p.m. Students report to Park Center Corey Gymnasium at 6 p.m., reception immediately following the ceremony in Park Center Corey Gymnasium
---
Saturday, May 13
Undergraduate Commencement: Ceremony A: 9:30 a.m., Undergraduate reception: 11 a.m., Lusk Field House, Ceremony B: 2:30 p.m., Undergraduate reception: 4 p.m., Lusk Field House, Ceremony C: 7 p.m.
---
Wednesday, May 17
Summer Session begins: Visit cortland.edu/summer for registration details and tuition information.
---
The Bulletin will be published the following dates during the summer:
---
Tuesday, May 16
Tuesday, June 6
Tuesday, June 27
Tuesday, July 18
---
---
Chancellor King visits Cortland
SUNY's newest leader is touring all 64 SUNY campuses during the first semester of his tenure. read more
Ann McClellan is Cortland's new provost
McClellan starts as provost and vice president for academic affairs on May 4. read more
---
Capture the Moment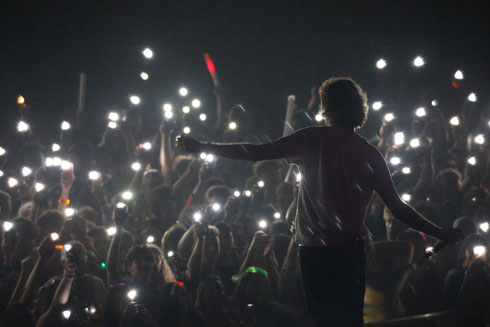 Students turned out when rapper Yung Gravy performed at SUNY Cortland's Spring Fling concert on Saturday, April 29, along with opening acts Kristin Merlin and DJ Lady Verse. The concert in Park Center Alumni Arena marked the end of Spring Fling Week which featured daily events including a color run, comedy night and carnival.
---
In Other News

Suggest a feature story
---
Faculty/Staff Activities
Brittany Adams had two articles published recently, one in Reading Horizons and one in Middle School Journal. read more
Paul Arras presented a paper at the Popular Culture Association/American Culture Association national conference. read more
Tyler Bradway gave an invited guest lecture at Ithaca College in April. read more
Nichole Edwards was interviewed about our food waste composting by Spectrum News. read more
Craig A. Foster and his undergraduate students had an article published in the recent edition of Skeptical Inquirer. read more
Jeremy Jimenez had his article accepted for publication in the journal Teaching in Higher Education.  read more
David A. Kilpatrick was invited by the United States Library of Congress to present a talk and presented at two workshops. read more
Rhiannon Maton had a co-authored article published in the History of Education Quarterly. read more
Wylie Schwartz had her article published in the current edition of the Oxford Art Journal.   read more
Robert J. Spitzer was featured in WalletHub's recent article titled "Cities with the Biggest Homicide Rate Problems." read more
Nance Wilson was quoted in an article about the Lorax published April 21 in Education Week. read more

Submit your faculty/staff activity
In Memoriam
Louis Gebhard, professor emeritus of history, died on April 23, 2023.