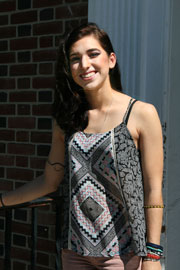 Campus Champion
Salome Clarke earned highest ranking female in her flight at this summer's ROTC training camp, positioning her to become an outstanding U.S. Air Force officer when she is commissioned in Spring 2018. Meanwhile, the junior with a dual major in French and communication studies has other big goals. The squadron commander, who also serves as resident advisor at Cheney Hall, embraces her leadership roles and the ability to influence and build trust with others. Finding her way to the ROTC program during her second semester, she says, "was like finding the puzzle piece that makes everything just fit together."

Nominate a Campus Champion
---
Tuesday, Sept. 13
Wendy Thibeault Memorial Food and Supply Drive: As part of the United Way for Cortland County Annual Day of Caring, SUNY Cortland is participating in the county-wide drive to collect non-perishable food items and personal supplies to help restock Cortland County food pantries. Drop boxes at over a dozen campus locations through Tuesday, Sept. 27.
Wednesday, Sept. 14
Study Abroad Fair: Corey Union lobby, 11 a.m.-2 p.m.
Faculty Advising Workshop: The PASS: Promoting Academic Student Success, Memorial Library, Room B-111, 11:30 a.m.-12:30 p.m.
Wellness Wednesday: "Simple Steps to Strong: A Physical and Educational Workout," Corey Union Exhibition Lounge, 7 p.m.
Thursday, Sept. 15
Sandwich Seminar: "How To Talk About Religion (and How Not To)," presented by Benjamin de Lee, assistant professor of history, Brockway Hall Jacobus Lounge, noon-1 p.m.
Friday, Sept. 16
Constitution Day Lecture: "The Constituting Constitution and its Limitations," by Tim Delaune, Political Science Department, Brockway Hall Jacobus Lounge, 1 p.m.
Homecoming Pep Rally: Corey Union steps, 7:30 p.m.
Saturday, Sept. 17
Homecoming Event: Hypnotist Dan Lornitis, Old Main Brown Auditorium, 9-11 p.m.
Tuesday, Sept. 20
SafeZone Training: For faculty and staff members and alumni, hosted by Multicultural Life and Diversity, Corey Union Fireplace Lounge, 1-4 p.m.
Alumni Speaker Series: Careers in Sociology and Criminology: Old Main Colloquium, 6:30-8:30 p.m.
Take Back the Night March: Corey Union steps, 7 p.m.
Open Mic Night: Corey Union Exhibition Lounge, 7 p.m.
Wednesday, Sept. 21
Sandwich Seminar: Panel Discussion on Turkey, "Turkey at the Crossroads of a Coup D'Etat," panel discussion, Brockway Hall Jacobus Lounge, 12:30-1:30 p.m.
Saturday, Sept. 24
Performance: "A Taste of Broadway" by musical theatre majors in SUNY Cortland's Performing Arts Department. In addition, the Syracuse chapter of the American Culinary Federation will have guest professional chefs prepare a four-course meal of primarily locally sourced food, Center for the Arts in Homer, N.Y., 7 p.m. A cocktail hour will precede the performance at 6 p.m. Event details.

Monday, Sept. 26
International Lecture: "Study Abroad in Transylvania," and "Teach/Conduct Research in Transylvania," Moffett Center, Room 2127, 4:30 p.m.
---
---
Try Something New During Healthy Campus Week
Students can win prizes by helping SUNY Cortland prove it's one of the nation's healthiest campuses read more
Campus Seeks Big Student Voter Turnout
The College has joined the ALL IN Campus Democracy Challenge. read more
---
Capture the Moment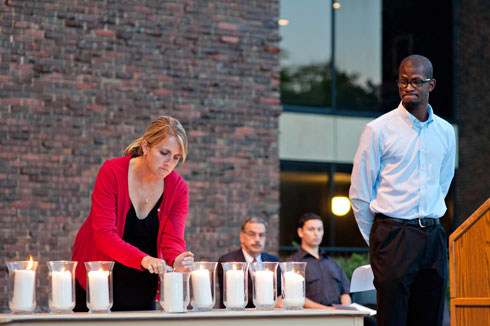 Erin Boylan, associate director of alumni engagement, lights a candle during Sunday's 9/11 Memorial Service on the steps of Corey Union. Timothy Bennett '07 stands at her side. Seven of the eight candles represented alumni lost 15 years ago during the worst terrorist attack ever on American soil. The eighth candle, which she is lighting, represents all of the nearly 3,000 lives lost that day.
---
In Other News

Suggest a feature story
---
Faculty/Staff Activities
Janet Duncan gave a keynote address about human rights for persons with disabilities. read more
Melissa Morris presented at the annual meeting of The Meteoritical Society held in August in Germany. read more
Gregory D. Phelan had a new patent issue, his seventh this year, and presented at the annual Noyce Scholarship National Conference. read more
Susan Rayl recently had three book reviews published. read more
Carrie E. Rood recently had an article published in published in Teachers College Record. read more
Claus Schubert had his paper, which he researched during his sabbatical in 2015, accepted for publication. read more
Robert Spitzer served on a panel at the annual meeting of the American Political Science Association. read more
Dennis L.C. Weng co-authored a paper that was accepted for publication and presented another paper at the American Political Science Association annual meeting. read more

Submit your faculty/staff activity