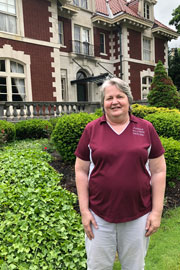 Campus Champion
Alumni Reunion 2019 lasts four days, July 11 to 14, but LuAnn Poole, lodging and events coordinator at the Lynne Parks '68 SUNY Cortland Alumni House, has spent a portion of the last four months preparing. The Parks Alumni House is a year-round bed and breakfast and special-event facility that hosts weddings and private parties, business meetings and workshops and overnight lodging in five elegant rooms. LuAnn is the perfect go-to person, responsible for event planning, reservations, catering schedules and more. Her compassion for the house is reflected in her kindness to its guests. Alumni Reunion 2019 will celebrate the close of SUNY Cortland's Sesquicentennial.

Nominate a Campus Champion
---
Monday, July 1
Summer Session II Begins: Read full schedule
Tuesday, July 2
Orientation: Summer sessions for first-year and transfer students continue through July 19
Thursday, July 4
Independence Day: Offices are closed, classes are not in session.
Thursday, July 11 to Sunday, July 14
Alumni Reunion 2019: See all the events online at RedDragonNetwork.org/reunion
Friday, July 12
Red and White Golf Classic: Captain and Crew 18-hole tournament. Proceeds will support Cortland Athletics and the SUNY Cortland Alumni Association. Cortland Country Club, check in at 9:30 a.m., shotgun start at 10:30 a.m.
Saturday, July 13
Musical Legacy Commemorative Project: 1960-1990 Sculpture Unveiling: Corey Union, 10:30 a.m.
Alumni Awards Luncheon: Corey Union Function Room, noon to 2 p.m. Followed by a Meet and Greet with Alumni Awards Winners, Corey Union Fireplace Lounge, 2 p.m. See all the events online at RedDragonNetwork.org/reunion
Grand Re-Opening of Voice Office and Calvin Louis-Juste ''09 Plaque Unveiling: Corey Union, 2 p.m.
Sesquicentennial Closing Fireworks Celebration: Courthouse Park, Cortland, 8 p.m.
Thursday, Aug. 22
President's Opening Address and Faculty Meetings: Corey Union Function Room, 8 a.m.
Sunday, Aug. 25
Academic Convocation: Park Center Corey Gymnasium, 4 p.m. Dinner will follow immediately after the ceremony.
Monday, Aug. 26
---
---
Class Creates 'Flying Frogs' Proposal
Students visited the Adirondacks to hatch fixes for the park's economic and environmental issues. read more
Faculty, Students to Study Invasive Jumping Worms
The research is supported by a $95,000 grant from the Department of Environmental Conservation. read more
---
Capture the Moment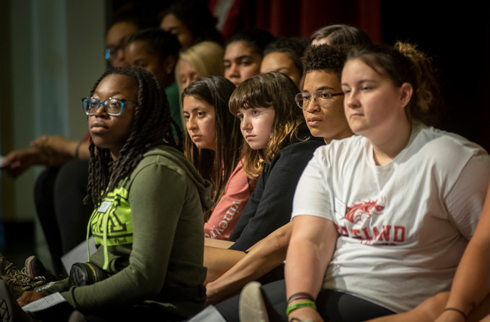 SUNY Cortland's Orientation Assistants listen to faculty and staff feedback after previewing skits in Corey Union on June 25. The scenarios are about college life and issues students may face when they arrive on campus and will be performed for first-year students and their guests beginning Tuesday, July 2. Learn more about the 23 2019 Orientation Assistants.
---
In Other News

Suggest a feature story
---
Faculty/Staff Activities
Brian Barrett served as a guest editor and coauthored two articles published in The Curriculum Journal. read more
Lindsey Darvin presented research at the North American Society for Sport Management in June. read more
Eric Edlund and colleagues were awarded a patent for a new concept for a liquid centrifuge. read more
Annette Ernste, Jeremy Pekarek and Jenifer Phelan presented at a June librarian conference. read more
Thomas Hischak has had his book about the jazz age's greatest year, 1927, published. read more
Kathleen A. Lawrence had her poem published in the June issue of Pif Magazine. read more
Jeremy Pekarek made three presentations at two separate conferences in June. read more
Jenifer Phelan and Daniel Harms were presenters at the SUNY Librarian Association's conference in June. read more

Submit your faculty/staff activity