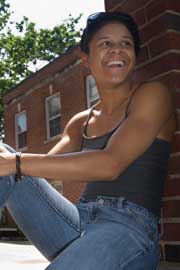 Campus Champion
Boyan Cox tries to get the most out of her college experience and is committed to helping others do the same. The sophomore education major and part-time kettlebell instructor just returned from Colorado, where she was a delegate at the National Association for College and University Residence Halls Conference. Now she's living on campus as a student house counselor for the summer Education Opportunities Program (EOP), and this fall she will be a resident assistant (RA) in Randall Hall. "I am passionate about Residence Life," said Cox. She'd better be. When the EOP program concludes in August, this fitness buff will have a day's rest before starting RA training.

Nominate a Campus Champion
---
Thursday, Aug. 23
President's Opening Meeting: Corey Union Function Room, 8 a.m.; President Bitterbaum will give his State of the College address at 8:30 a.m. Chancellor Nancy L. Zimpher will present updates on "The Power of SUNY" at 11 a.m. A light luncheon will follow.
---
Friday, Aug. 24
Move-in Day for New Students
---
Saturday, Aug. 25-Sunday, Aug. 26
Move-in Days for Returning Students
---
Sunday, Aug. 26
Academic Convocation: Designed for all first-year and new transfer students. Park Center Alumni Arena, 4 p.m.
---
Monday, Aug. 27
Fall Semester Classes Begin
---
---
Chancellor to Address Faculty as School Starts
Nancy L. Zimpher's visit on Aug. 23 highlights a whirlwind week. read more
SUNY Cortland EMS Wins Top State Honor
The student volunteer group is New York state's EMS Agency of the Year. read more
---
Capture the Moment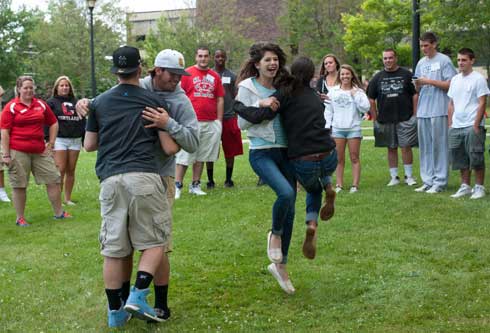 Small group activities were one way to get new students comfortable with each other and with college life during SUNY Cortland's first-year orientation sessions, held between the last week of June and mid-July. About 1,100 first-year students attended the two-day sessions, where they met other new students, faculty and staff members, registered for fall classes and learned about campus life and college resources.
---
In Other News

Suggest a feature story
---
People on the Move
---
Faculty/Staff Activities
Carol Costell Corbin was elected to the board of the New York State Transfer and Articulation Association. read more
Robert Darling recently presented a paper at a conference in Montreal. read more
Emily Quinlan was awarded for her blog, "Transfer Student Blog." read more

Submit your faculty/staff activity