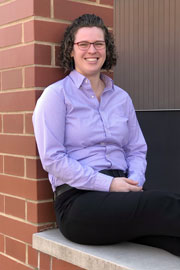 Campus Champion
Erin Morris, assistant professor of sport management, has a message of inclusiveness in saying there's a sport for everybody. In her classes, non-mainstream sports become the norm and she and her invited speakers present examples of adaptive sports across the spectrum. Her research focuses on increasing participation of girls and women in sport. Erin has served on SUNY Cortland's Sexual Orientation, Gender Identity and Expression (SOGIE) Committee for four years and co-chaired for two. She strives to help LGBTQIAP students find their voices and to create a safer, more LGBTQIAP-inclusive learning environment.

Nominate a Campus Champion
---
Tuesday, March 10
Conversation with the Cabinet: Faculty and staff event hosted by the President's Office and the Gender Policies and Initiatives Council, Brockway Hall Jacobus Lounge, 8:30 to 10 a.m.
Gender Inclusive Rock Climbing: "She Can Climb. They Can Climb. You Can Climb!" For women-identified and non-binary climbers, sponsored by Outdoor Pursuits, Student Life Center rock wall, 10 p.m.
Wednesday, March 11
Wellness Wednesday: Safe Spring Break Fair, presented by Substance Abuse Prevention and Education, Student Life Center lobby, noon to 3 p.m.
Women's History Month Sandwich Seminar: "100 Years Since Suffrage: The Current Status of Voter Mobilization in New York State," Brockway Hall Jacobus Lounge, 12:30 p.m.
Debt Series Lecture: "Macro-Financial Stability and Household Debt from the Perspectives of American Post-Keynesian Economics, the Cambridge approach, and the Monetary Circuit School" by Joelle Leclaire from SUNY Buffalo State, Brockway Hall Jacobus Lounge, 5 p.m.
Gospel Choir Spring Tour Preview Concert: Presented by SUNY Cortland Gospel Choir and Africana Studies Department, Saint Mary's Catholic Church, 46 N. Main Street, Cortland, N.Y., 7:15 p.m.
Thursday, March 12
Debt Series Lecture: "The Politics of Care and the Aesthetics of Money" by Scott Ferguson from the University of South Florida, Brockway Hall Jacobus Lounge, 5 p.m.
Monday, March 16 to Friday, March 20
Spring Break
Tuesday, March 24
Women's History Month Exhibit Presentation: "In Pursuit of the Vote: Highlighting Local Suffragettes and Resources," Memorial Library, 2 p.m.
Elected Officials Meet and Greet: County legislators and political party officials will be available for conversation, light refreshments will be served, Old Main Colloquium, 6 to 8 p.m.
Gender Inclusive Rock Climbing: "She Can Climb. They Can Climb. You Can Climb!" For women-identified and non-binary climbers, at the rock wall in the Student Life Center, 10 p.m.
---
---
Important message from President Bitterbaum: novel coronavirus COVID-19
An update from President Bitterbaum regarding SUNY Cortland's response. read more
'Wild' author Cheryl Strayed talk reset
An 1,100-mile hike led the best-selling author from self-destruction and despair to wellness and self-discovery. read more
---
Capture the Moment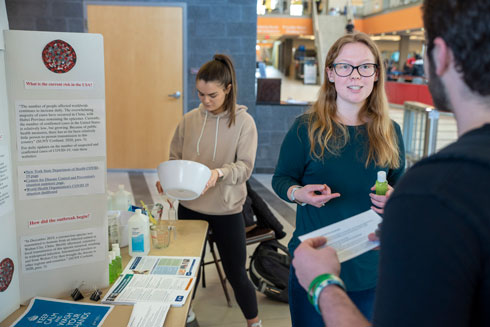 Senior Brittany Jordan, left, mixes a batch of homemade hand sanitizer while sophomore Melissa Safford shares the recipe during an information session hosted by Eta Sigma Gamma, the Health Department's chapter of the national honor society. Held March 9 to inform students about coronavirus COVID-19, using hand sanitizer is one of several recommendations people can follow to protect themselves. SUNY Cortland will continue to post updates along with important health links on its Novel Coronavirus (COVID-19) Resources and Updates webpage.
---
In Other News

Suggest a feature story
---
Faculty/Staff Activities
David Kilpatrick was named managing editor of a new journal, The Reading League Journal. read more
Rhiannon Maton had a book review published in the journal Teachers College Record. read more
Janet Ochs, Jennifer Parker and Jeremy Pekarek had their bibliographic essay, "Resources on Women in STEM," published in Choice Magazine. read more
Katie Silvestri was elected to serve as secretary for an American Education Research Association Special Interest Group. read more

Submit your faculty/staff activity