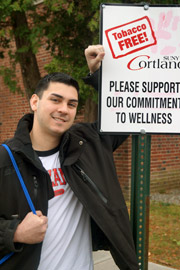 Campus Champion
There's no better day to give up tobacco than the Great American SmokeOut, which takes place Thursday, Nov. 20. Make it happen by signing a pledge on Wednesday, from 10 a.m. to 2 p.m. in Corey Union. For support, ask Jesse Lavalle about kicking the habit. The Health Promotion Office intern, a communication studies major who aspires to land a public relations job in the healthcare industry, is a former smoker who found the strength to quit after SUNY Cortland went tobacco free in 2013. He's walking proof that quitting is possible. "It's great," Jesse says. "I don't walk up the hill out of breath anymore."

Nominate a Campus Champion
---
Tuesday, Nov. 18
Film Screening: "The Third Man," as part of the Rubble Films: Classics of Post-1945 European Cinema — A Year Long Series sponsored by SUNY Cortland's Project for Central and Eastern Europe, Sperry Center, Room 104, 7 p.m.
Concert: SUNY Cortland College-Community Orchestra presents "Tell Me A Story: Music by Faure, Handel, Sibelius and Verdi," Ubaldo Valli, conductor, Dowd Fine Arts Theater, 8 p.m.
Wednesday, Nov. 19

Wellness Wednesday: "Great American SmokeOut" Health promotion interns will take pledges to quit smoking for the day on Thursday, Corey Union first floor, 11 a.m.-2 p.m.
Unity Celebration Reception: Corey Union Function Room, 4:30 p.m.
Sandwich Seminar: "The People's Congress of Colombia: Voices at the Table," by Marylen Serna, national spokesperson for El Congreso de Los Pueblos, Colombia, Brockway Hall Jacobus Lounge, 12:30-1:30 p.m.
Thursday, Nov. 20

Lecture: "1989-2014. Berlin Wall to Ukraine. From Cold War to Cold War," Moffett Center, Room 2125, 4:30 p.m.
A Cappella Concert: Corey Union Function Room, 6:30 p.m.
College Singers Concert: Dowd Fine Arts Theatre, 8 p.m.
Friday, Nov. 21

Lecture: "Working as an International Diplomat," by Ionut Lacusta from Harvard University, Old Main, Room 230, 12:45-1:45 p.m.
SGA Winter Formal: Ramada Inn, River Street, 7 p.m.-midnight.
Cortland Nites: Bongo Ball, Corey Union Function Room, 8 p.m.- midnight
Saturday, Nov. 22

Performance: Richter Uzur Duo, combining elements of classical music, rock, and Eastern European folk, Corey Union Exhibition Lounge, 7 p.m.
Sunday, Nov. 23

Turkey Trot 5K Road Race: Stadium Complex, registration begins at 10:30, race begins at 11 a.m.
Monday, Nov. 24

Panel Discussion: "Bringing the World to Cortland and Cortland to the World: An International and Study Abroad Student Panel," Old Main Colloquium, 4:30 p.m.
Wednesday, Nov. 26

Thanksgiving Break begins
Monday, Dec. 1

Classes Resume
Wednesday, Dec. 3

Poster Symposium: End-of-semester event showcasing the work COR 101 Teaching Assistants, Brockway Hall Jacobus Lounge, 11:30 a.m.-4:30 p.m.
---
---
Chancellor Launches Education Innovation Center at Cortland
SUNY Chancellor Nancy L. Zimpher Friday unveiled the initiative at SUNY Cortland read more
Local Bagel Business Booms for Young Grad
An entrepreneurship course turned a business dream into reality. read more
---
Capture the Moment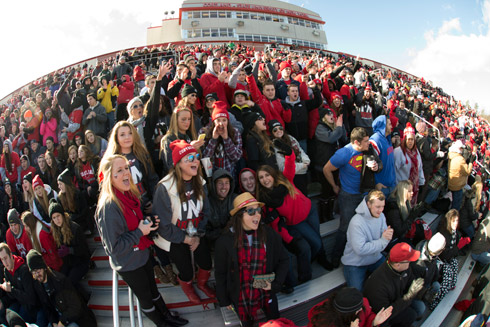 Wild. Improbable. Unforgettable. There are plenty of adjectives to describe SUNY Cortland's thrilling come-from-behind win over Ithaca College in the 56th annual Cortaca Jug football game. A crowd of 8,923 witnessed the Red Dragons claim their fifth straight win in the rivalry, and millions more watched the game's final seconds — a broken-down field goal attempt turned touchdown pass as time expired — on SportsCenter's Top Plays. The ending received national media coverage from Bleacher Report, The Sporting News and several programs on ESPN. It capped a weekend in which students, faculty, staff, alumni and members of the community worked together to take Cortaca back in the wake of last year's unruly behavior.
---
In Other News

Suggest a feature story
---
Faculty/Staff Activities
Ray Cotrufo and Justin Lovich recently earned their Ph.Ds. read more
Timothy Delaune wrote a chapter that was recently published in the book series Studies in Law, Politics and Society. read more
John C. Hartsock spent 10 days in China lecturing on American literary journalism, investigative journalism and media law. read more
Patricia Roiger was a presenter at the New York State La Leche League Conference in November. read more
Tadayuki Suzuki presented on LGBT family-themed picture books in curricula at a conference in Arizona. read more

Submit your faculty/staff activity