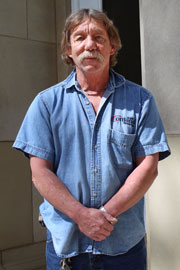 Campus Champion
Bob Orphan joined the SUNY Cortland team the week the New York Jets arrived on campus for training camp in July 2009. He's part of a team of more than 100 cleaning staff responsible for clean and healthy building environments. Enter Moffett Center, follow the music and you'll find Bob hard at work. Admired for his kindness, he listens to staff and student triumphs and tribulations. During summer's deep cleaning, he'll reminisce with alumni and greet prospective students, always sharing a smile and sometimes a home-baked treat. Bob's diligence and devotion to the College's people and places make him a true campus champion.

Nominate a Campus Champion
---
Tuesday, June 6
J.P. Morgan Chase Corporate Challenge: Buses will provide transportation to the event on Onondaga Lake Parkway, Liverpool, N.Y. The 3.5 mile run/walk begins at 6:25 p.m. Pre-registration was required.
Sunday, June 11
4th Annual William Shaut Memorial Color Fun Run and Walk: To benefit the SUNY Cortland Child Care Center, Stadium Complex, 9 a.m.
Monday, June 19
Summer Orientation Sessions Begin: Transfer student sessions begin Monday, June 19 and new student sessions begin Monday, June 26. Sessions continue through July 14.
Monday, June 26
Summer Session II Begins: Continues through Tuesday, Aug. 1
Thursday, July 6-Sunday, July 9
Thursday, Aug. 24
President's Opening Address and Faculty Meetings: Corey Union Function Room, 8 a.m.
Friday, Aug. 25
New Student Orientation and Registration
Sunday, Aug. 27
Academic Convocation: Park Center Alumni Arena, 4 p.m.
Monday, Aug. 28
Fall Semester Classes Begin
---
---
Graduate Students Learn Through Mannequin Classmate
New tool helping speech and hearing science students develop skills. read more
Alumni Reunion 2017 Highlights Athletics
Volleyball and men's and women's soccer are draws for Alumni Reunion 2017. read more
---
Capture the Moment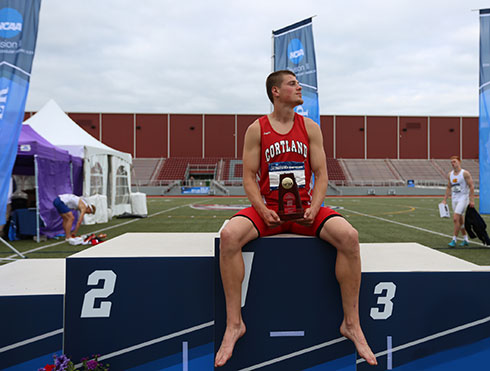 Senior Jack Flood relaxes on the podium after winning the national title in the decathlon at the 2017 NCAA Division III Men's Outdoor Track and Field Championships on May 26 in Geneva, Ohio. The decathlon combines 10 running, jumping and throwing events in a grueling test of an athlete's abilities. The physical education major also won the national title in the heptathlon during the indoor season, making this Cortland's 16th men's national track and field individual championship. Read more about how the Cortland men tied for fifth nationally in the final team standings.
---
In Other News

Suggest a feature story
---
Faculty/Staff Activities
Susan Barnett helped evaluate the best staycation spots for an article posted on WalletHub. read more
Carolyn Bershad announces that the Counseling Center earns re-accreditation by the International Association of Counseling Services. read more
Diane Craft is presenting at state conferences nationwide, sharing ideas for promoting physical activity among preschoolers. read more
Janet Duncan presented lectures in Romania addressing human rights for persons with disabilities. read more
John C. Hartsock will have one of his books translated and published in Mandarin later this year. read more
Mary McGuire gave two presentations on New York State Constitution Convention processes and history. read more
Maaike Oldemans and Jennifer Kronenbitter presented "Technical Metamorphosis by Design" at a recent librarians conference. read more
Larissa True had her article published in the Journal of Motor Learning and Development. read more

Submit your faculty/staff activity