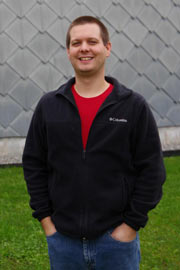 Campus Champion
Sean Nolan '11, M '12 is an educator at heart. With bachelor's and master's of science degrees in adolescence education: physics and mathematics, he now supervises student teachers in SUNY Cortland's program. He has had numerous duties since joining the Physics Department as a full-time lecturer in 2014, the same year the new Bowers Hall Planetarium opened. The technical training he received on the system's software earned him title of planetarium director. Sean's planetarium shows educate and entertain about the wonders of our Universe. He presented four shows during Family Weekend and will host Red Dragons and students from area elementary and high schools throughout the school year.

Nominate a Campus Champion
---
Tuesday, Oct. 11
Latine History Month Event: Homophobia in the Black and Latino Communities, Corey Union Fireplace Lounge, 6 p.m. Hosted by La Familia Latina, Black Student Union and PRIDE.
Alumni Speaker Series: Careers in Health, panel discussion with former Red Dragons working as professionals in health related fields, register on Handshake, online and in person at the Student Life Center, Room 1104, 6:30 p.m.
Wednesday, Oct. 12
Sandwich Seminar: National Coming Out Day, "Queering the Closet," presented by Kristine Newhall, Kinesiology Department, Old Main Colloquium, 12:30 to 1:30 p.m.
Latine History Month Event: Letters to My Son, Lastenia Larriva de Llona, Corey Union Fireplace Lounge, 5 to 6 p.m. Presented by Odalis Patricia Hidalgo, instructor, Modern Languages Department.
Wellness Wednesday: "They, She, He, Ze and More," presented by SOGIE committee members, Corey Union Exhibition Lounge, 6 to 6:30 p.m.
Thursday, Oct. 13:
Latine History Month Sandwich Seminar: Latin Jazz and the Big Bands, Corey Union, Room 209, noon to 1 p.m. Presented by Lewis Rosengarten, director of the Educational Opportunity Program.
Lecture: From Equity Talk to Equity Walk, presented by Tia Brown McNair, Corey Union Function Room, 1:30 p.m.
Friday, Oct. 14
Flu and COVID-19 Booster Clinic: Corey Union Exhibition Lounge, 9 a.m. to 12:45 p.m.
Monday, Oct. 17 and Tuesday, Oct. 18
Fall Break
Wednesday, Oct. 19
UUP Part-Time Service Recognition Luncheon: Corey Union Function Room, 11 a.m. to 1 p.m.
UUP Part-Time Members' Scholarly Showcase: Corey Union Fireplace Lounge, 4 to 7 p.m.
Workshop: The Ethics of Mandated Reporting: Geared for preservice teachers, register for campus location using this online form, 7 p.m.
Lecture: "Perspectives on Graduate School and a Career in Psychology From a Cortland Alum," Sperry Center, Room 307, 7 to 9 p.m.
Sunday, Oct. 23
28th annual CROP Walk: Begins at Grace and Holy Spirit Church on 13 Court St. Registration at 1 p.m. and the walk starts at 1:30 p.m., rain or shine.
Monday, Oct. 24
Lecture: "Pollinator declines: What we know and what YOU can do," presented by Dr. Scott McArt, Cornell University, online via Zoom, 4 p.m.
Blackout for Justice March: Hosted by Black Student Union, meet at Corey Union steps, 6 to 8 p.m.
---
---
Cortaca Jug to be broadcast by YES Network
The annual football rivalry game between SUNY Cortland and Ithaca College to kick off at noon. read more
Students put anthropology into action
SUNY Cortland students set up their own agency, CULTURE Society, to improve people's lives. read more
---
Capture the Moment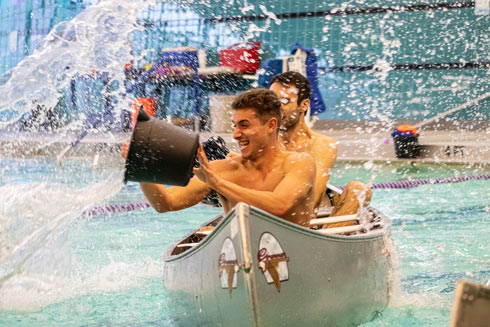 Students were invited to channel their inner child at the Student Life Center pool on Sunday, Oct. 9. They did just that playing Canoe Battleship. The Recreational Sports Special Events Series - SUNY Cortland continues all semester with events including mini golf, ping pong, badminton and more.
---
In Other News

Suggest a feature story
---
Faculty/Staff Activities
Brittany Adams and Nance Wilson had an article published in the Journal of Literacy Innovation. read more
Willnide Lindor was accepted as a member of the RaceB4Race Mentorship Network. read more
Samantha Moss had an article published in the International Journal of Environmental Research and Public Health. read more
Hilary Wong, Katherine Hicks and Dave Kornreich had a bibliographic essay on books by BIPOC scientists published. read more
Tiantian Zheng had her ethnography titled Violent Intimacy: Family Harmony, State Stability, and Intimate Partner Violence in Postsocialist China published in July. read more

Submit your faculty/staff activity