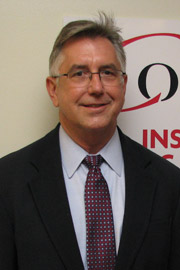 Campus Champion
Participate in public life. That's been the charge led by Richard Kendrick for the past dozen years, since he helped create an outlet for service-oriented student work through the Institute for Civic Engagement. At SUNY Cortland, topics such as "community service" and "applied learning" are synonymous with his name. Likewise, countless programs focused on politics, health and business development owe thanks to the retiring professor of sociology/anthropology, who served the College for nearly a quarter century in total. A strong bridge exists between the campus and the community. Richard, no doubt, is one of the lead architects to credit.

Nominate a Campus Champion
---
Wednesday, May 20
Summer Session I begins
Sunday, June 7
2nd Annual William Shaut Memorial 5k Fun Run & Walk: To benefit the SUNY Cortland Child Care Center, 9 a.m.
Tuesday, June 9
J.P. Morgan Chase Corporate Challenge: Buses will provide transportation to the event on Onondaga Lake Parkway, Liverpool, N.Y. The 3.5 mile run/walk begins at 6:25 p.m. Registration deadline is Wednesday, May 20.
Monday, June 29
Summer Session II begins
Thursday, July 9-Sunday, July 12
Alumni Reunion 2015: Campus-wide events
---
---
College Earns a "Green" Gold Star
SUNY Cortland earns a coveted "gold" rating in a national sustainability program read more
College to Mark 50 Years for Antlers, Hoxie Gorge
Celebrations are planned in July for Hoxie Gorge and August for Antlers. read more
---
Capture the Moment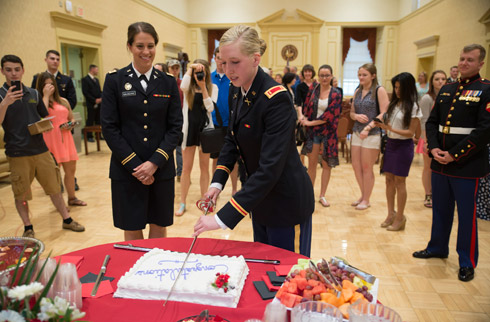 Rebecca Saldecke, left, and Jessica Zdrowak take turns cutting the cake with a ceremonial sword following their U.S. Army Reserve Officer Training Corps (ROTC) Commissioning Ceremony in Brockway Hall Friday afternoon. The College's ROTC cadets were commissioned as second lieutenants with their families and friends looking on. Later that evening, the College held the first of its four Commencement ceremonies.
---
In Other News

Suggest a feature story
---
People on the Move
---
Faculty/Staff Activities
JoEllen Bailey presented on field experience at a national conference in April. read more
Diane Craft delivered a keynote address at the Young Child Expo in April. read more
Peter Ducey served as a judge in the area of ecology and environmental biology for the Scientific Research Society's Student Research Showcase. read more
Christopher Gascón was invited to contribute to publisher Gale Cengage's Drama Criticism series. read more
Melissa A. Morris gave an invited talk at Cornell University in April. read more
Mechthild Nagel presented at the Max Planck Institute in Germany as part of her scholar-in-residence commitment. read more
Jennifer Olin was recognized for her work by New York state's STOP-DWI Foundation and Mothers Against Drunk Driving. read more
Brice Smith was recognized by Sustainable Tompkins County for promoting renewable energy. read more
John Suarez will have a service-learning section included in the SUNY Faculty Senate's report on service-learning. read more

Submit your faculty/staff activity