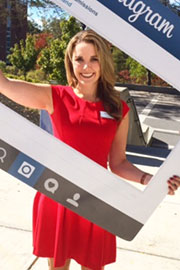 Campus Champion
Admissions-led groups of prospective students and families maneuver campus throughout the fall and at the controls is Jessica Zito '11, senior admissions advisor. She masterminds daily information sessions and campus tour schedules with SUNY Cortland's 120 volunteer ambassadors and 35 student tour guides. Then she turns her attention to department showcases, mini open house programs and open house events. Recent open houses drew hundreds of people to tour campus within a couple hours. First impressions are important. Her first visit sold Jessica on Cortland. "I couldn't do this job if I didn't love Cortland and everything it stands for," she says.

Nominate a Campus Champion
---
Wednesday, Nov. 23
Thanksgiving Break begins: 8 a.m.
Monday, Nov. 28
Classes resume: 8 a.m.
Tuesday, Nov. 29
Post-Election Debate: Sponsored by Young Americans for Liberty, Sperry Center, Room 307, 6-7 p.m.
Open Mic Night: Link Sync Battle, Corey Union Function Room, 7 p.m.
College-Community Orchestra Concert: "Around the World in Eighty Minutes," music of Cimarosa, Copland, Dvorak and Sibelius, conducted by Ubaldo Valli, Performing Arts Department, Dowd Fine Arts Theatre, 8 p.m.
Student Government Association Senate: Corey Union Exhibition Lounge, 7 p.m.
Wednesday, Nov. 30
Sandwich Seminar: "'Lock Her Up,' 'Build the Wall,' and 'the Radical Fringe'": The Politics of Language Post-Election," by Karla Awles, English Department, Brockway Hall Jacobus Lounge, 12:30-1:30 p.m.
Lecture: "Soviet Russia's Engagement in Africa: Revisiting the Personal and the Political," Brockway Hall Jacobus Lounge, 4:30 p.m.
Thursday, Dec. 1
2016 Dr. Peter Di Nardo '68 and Judith Waring Outstanding Achievement in Research Award Lecture: "The Making of Vitamin C: A Story in Two Acts," by Patricia L. Conklin, Biological Sciences Department, Bowers Hall, Room 1129, 4:30-5:30 p.m.
World AIDS Day Film Event: "Eagle Scout: The Story of Henry Nicols," Old Main Brown Auditorium, 7 p.m. A reception will follow in the Old Main Fowler '52 Grand Entrance Hall.
Saturday, Dec. 3
Cortland Nites: Pinterest Party, Corey Union Function Room, 9-10:30 p.m.
Sunday, Dec. 4
SGA Holiday Party: Events and activities for children and their families, Moffett Center Gym, noon-2 p.m. RSVP requested to sga@cortland.edu
Tuesday, Dec. 6
Student Government Association Senate: Corey Union Function Room, 7 p.m.
Choral Union Concert: "'Soraidh leat, mo Choisir-chiuil' A Choral Retrospective," conducted by Stephen B. Wilson, Department of Performing Arts, Dowd Fine Arts Theatre, 8 p.m.
---
---
Professor's AIDS Day Film Event Honors Activist Brother
Documentary will showcase the bravery of Professor Jena Curtis' late brother read more
Non-traditional Students Tell Their Stories
Five scholars were among those honored during SUNY Cortland's annual Non-Trad Week Nov. 11 to 18. read more
---
Capture the Moment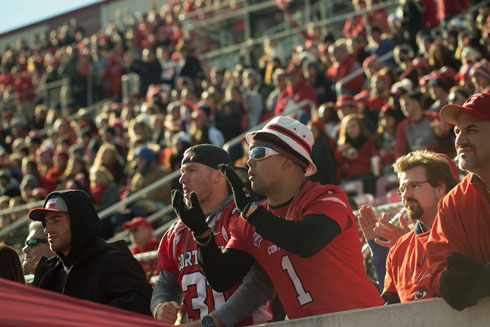 The Red Dragons defeated the Ithaca Bombers, 28-16, to win their seventh straight Cortaca Jug rivalry game in front of an estimated 10,000 fans at the Cortland Stadium Complex on Nov. 12. Billed as "the biggest little game in the nation" by Sports Illustrated, the annual Cortland-Ithaca football contest has been one of the top draws in NCAA Division III football for decades and a SUNY Cortland tradition for more than half a century.
---
In Other News

Suggest a feature story
---
Faculty/Staff Activities
Seth N. Asumah was recognized as an Alumni of Distinction by SUNY Oneonta in September. read more
Diane Craft presented two lectures at the China Research Center on Sports for Persons with Disabilities Forum. read more
Jena Nicols Curtis was named coordinator for the Women, Gender and Sexuality Studies Program. read more
Kevin Dames co-authored an article that was accepted for publication in the Journal of Applied Biomechanics. read more
Ryan Fiddler, Erik Lind, James Hokanson and Phil Buckenmeyer attended the American College of Sports Medicine regional conference. read more
James Hokanson was senior investigator on a recognized research study with kinesiology undergraduate Allison Schumann. read more
Erin Morris was a presenter at the North American Sociology of Sport Conference in Tampa, Fla. read more
Melissa Morris was an invited speaker at the Earth and Life Science Institute, a part of the Tokyo Institute of Technology in Japan. read more
Robert Spitzer authored an article titled "Guns Return to American Elections." read more
Tadayuki Suzuki was a presenter at the New York State Reading Association Conference in November. read more
Dennis L.C. Weng was interviewed by Taiwan media to discuss the U.S. presidential election read more
Tiantian Zheng discussed her book, Sex Trafficking, Human Rights, and Social Justice at the University of Chicago. read more

Submit your faculty/staff activity