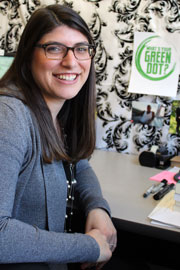 Campus Champion
"The Green Dot initiative is so important for SUNY Cortland," says Lauren Herman '12, M'14, who spent the last year planning details for the reduction of power-based personal violence. Now it's time to spread the message and leading us forward is SUNY Cortland's health educator, a physical education grad who then earned her master's in health education. Lauren is one of a handful now trained to lead the culture change on campus, transforming us into active bystanders. It's so important as a part of our wellness wheel, says Lauren, whose daily focus is a campus community that is happy and healthy.

Nominate a Campus Champion
---
Tuesday, March 7
Open Mic Night: Share your talent, free refreshments, Corey Union Exhibition Lounge, 7 p.m.
Panel Discussion: Gender Issues Around the World: A panel discussion with Humphrey Fellows, Corey Union Fireplace Lounge, 4:30 p.m.
Wednesday, March 8

Wellness Wednesday Series: Safe Spring Break Fair, Student Life Center lobby, noon-3 p.m.
Sandwich Seminar: "A Potpourri of Poems," presented by Noralyn Masselink, English Department, Brockway Hall Jacobus Lounge, 12:30-1:30 p.m.
Panel Discussion: "U.K. MAY "Brexit" the European Union," Corey Union Fireplace Lounge, 12:30 p.m.
Dowd Gallery Opening Reception: Faculty Biennial 2017, Dowd Gallery, 4-5:30 p.m.
Brooks Museum Lecture Series: "The De/Reconstruction of the Middle East," by Mehrzad Boroujerdi, Syracuse University political science professor, who will discuss the series of conflicts that began late 2010 in the Middle East and North Africa — known as the "Arab Spring" as part of the year-long theme of "De(Recon)struction: Culture and the Biosphere." Moffett Center, Room 2125, 4:30 p.m. A reception will be held in the Brooks Museum, Moffett Center, Room 2126, beginning at 4 p.m.
Women's History Month Documentary: "The Hunting Ground," a startling expose of sexual assault on U.S. campuses, Sperry Center, Room 105, 7 p.m.
Saturday, March 11

Writing Matters Conference: "The Work of Writing," designed for teachers at all levels and of all subject areas, Corey Union, 8:30 a.m.-3 p.m. writingmattersconference.com
Monday, March 13
Spring Break begins
Monday, March 20
Classes resume
---
---
New Hall of Champions Celebrates Athletic Excellence
SUNY Cortland's national champions are displayed outside Corey Gymnasium. read more
College Ranks High for Special Education Degrees
SUNY Cortland's inclusive childhood education major ranked No. 23 nationally. read more
---
Capture the Moment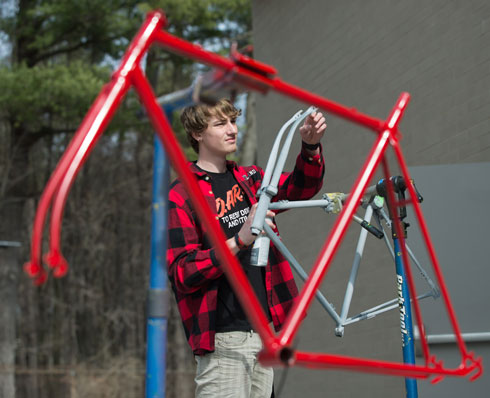 All over campus, yellow bikes are disappearing. Don't worry, the innovative Community Bike Project that has dotted SUNY Cortland with refurbished, yellow bicycles since 2003 isn't going away. It's just – quite literally – in the red. Outdoor Pursuits Bike Technician Tom Epp, pictured above, began painting the bikes bright Cortland red during some warm days in early March. Now known as the Cortland Bike Project, the program allows members of the College community to check out bikes for free for one week at a time during selected dates in the spring and fall. Learn more on the OP Community Bike Program web page.
---
In Other News

Suggest a feature story
---
Faculty/Staff Activities
Richard Hunter has been appointed a contributing editor to the Handbook of Latin American Studies. read more
Kathleen Lawrence had two poems published in February and three poems were accepted for April publication. read more
Emily Quinlan and Susan Stiner presented at the Western New York Advising Conference in February. read more
Robert Spitzer authored a chapter in the new book, The George W. Bush Presidency. read more
Tiantian Zheng learned her book, Tongzhi Living, was named Outstanding Academic Title by Choice. read more

Submit your faculty/staff activity