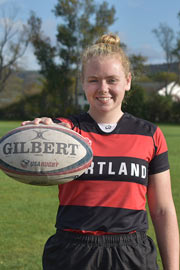 Campus Champion
Lindsey Quinn, president of SUNY Cortland's women's rugby club, the Peace Frogs, has helped lead the team to the national semifinals. Next week, 20 members and two coaches will fly to Knoxville, Tennessee to play in the National Collegiate Rugby (NCR) Small College national playoffs on Saturday, Dec. 4 and Sunday, Dec. 5. Lindsey, a senior physical education major and a member of the Reserve Officers' Training Corps (ROTC), says playing with the Peace Frogs was great training for a career, maybe as an athletic director. Whatever dream she chases, rugby club sharpened her leadership and coaching skills and taught her love for the game. Follow the team on Instagram and if you want to tune in, the games will be broadcast live on Facebook.

Nominate a Campus Champion
---
Wednesday, Nov. 24
Thanksgiving Break Begins: 8 a.m.
---
Wednesday, Dec. 1
Study Abroad 101: Online in the IPO Remote Advising Room, 3 to 4 p.m.
Life After Cortland: Are You Career Ready? Online via Handshake, 4 to 5 p.m.
Pizza and Papers: Get writing and research done with support from the librarians and the Writing Center, then leave with pizza. Please register. Memorial Library, 6 to 8 p.m.
---
Thursday, Dec. 2
Dowd Gallery Talk: "Brutalism and Sophistication," Vladimir Kulić, associate professor from the Department of Architecture, College of Design, Iowa State University, virtual via Webex, 5 p.m.
Learning About Physical Therapy: With Guest Speaker Greg Streblow, sponsored by Fit Club, Professional Studies Building, Room 1166, 5 to 6 p.m.
---
Friday, Dec. 3
Dowd Gallery First Friday: Organized by the Cultural Council of Cortland County, virtual and in-person event, Dowd Gallery, 5:30 to 8 p.m.
---
Saturday, Dec. 4
French Club Movie Night: Featuring the film "A Bout de Souffle" (Breathless), a French crime drama released in 1960, pizza, popcorn and soda. Corey Union Fireplace Lounge, 6 p.m.
A Capella Concert: SUNY Cortland's three A Capella groups will showcase what they have been working on throughout this semester. Old Main Brown Auditorium, 7 to 9 p.m.
---
Sunday, Dec. 5
Holiday Movie Night: Hosted by the Student Government Association, RSVP on Cortland Connect, Corey Union Function Room, 7 to 9 p.m.
---
Monday, Dec. 6
End of Semester Party: Hosted by the History Club, Old Main, 7 to 8 p.m.
---
Tuesday, Dec. 7
Open Mic Night: Corey Union, 7 to 8 p.m.
---
Wednesday, Dec. 8
UUP Holiday Food and Gift Drive: Continues through Wednesday, Dec. 8, and will benefit Catholic Charities of Cortland County. Boxes located in campus buildings.
---
---
Campus planning interactive garden
On Nov. 19, people discussed the forest ecosystem project to be built by spring. read more
Orchestra plans holiday concert
The Dec. 7 concert "It's About Time" explores a musical approach that's worked through the ages. read more
---
Capture the Moment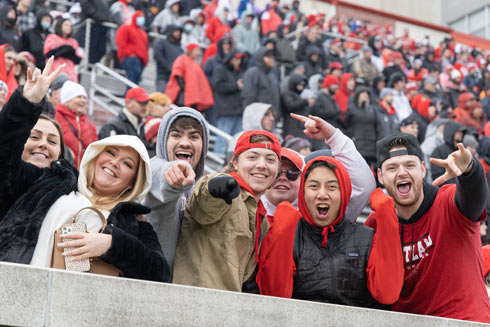 SUNY Cortland students, alumni and friends gathered at the Stadium Complex on Nov. 13 to see the Red Dragons defeat Ithaca College, 28-27, in the annual Cortaca Jug football game. The team plays in the second round of the NCAA Division III tournament at noon on Saturday, Nov. 27 at the Stadium Complex. See more photos from Cortaca Jug on Flickr.
---
In Other News

Suggest a feature story
---
Faculty/Staff Activities
Kati Ahern had an article published in Postdigital Science and Education. read more
Adam Ferguson M '12 presented his paper at the 2021 Conference of the Semiotic Society of America. read more
Tadayuki Suzuki presented at the 2021 National Council of Teachers of English on Nov. 21 in Kentucky. read more

Submit your faculty/staff activity