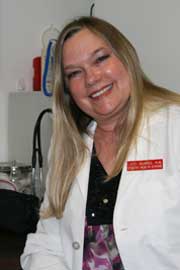 Campus Champion
It's no surprise that Lori Burns was highlighted as an inspiring person in the weekly series "Take a Second to Celebrate Tuesdays" campaign sponsored by Power 620 AM and CNY & Syracuse FunFlicks (Owned by Timothy A Bennett '07). The registered nurse has been touching the hearts of SUNY Cortland students for 14 years. "These are children away from home for the first time so I put myself in their shoes, show them kindness, take time to listen and help them mature into confident adults." Passionate about her work at Student Health Service and compassionate for others, Lori is a champion for every student she meets.

Nominate a Campus Champion
---
Wednesday, May 21
Summer Session I begins. Continues through Wednesday, June 25.
Tuesday, June 3
Red Cross Blood Drive: Corey Union Exhibition Lounge, 9 a.m.-2 p.m. Visit redcrossblood.org or call 1-800-RED-CROSS to make an appointment.
Sunday, June 8
SUNY Cortland Child Care Center 5K: Fun run and walk. Pre-registration encouraged. SUNY Cortland Stadium Complex, 9 a.m. Registration begins at 7:30 a.m.
Monday, June 30
Summer Session II begins. Continues through Thursday, July 31.
July 10-13
Alumni Reunion 2014
---
---
Alumni Association Names Distinguished Alumni
Three graduates will be honored on July 12 during Alumni Reunion 2014. read more
EMS Scholarship Named for Marley Barduhn
The award recognizes a deserving member and honors Barduhn's 36-year commitment. read more
---
Capture the Moment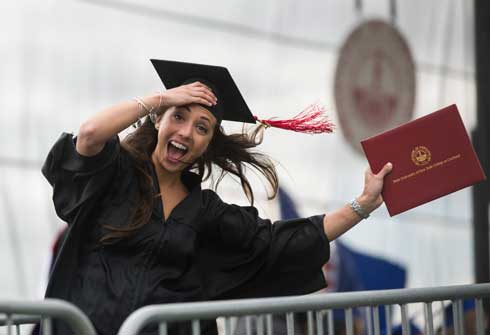 Joanna Dodaro of Peekskill, N.Y., was one of nearly 1,500 students who heard their names called on Saturday during two Undergraduate Commencement ceremonies, making the Class of 2014 the largest in SUNY Cortland history. Under sunny skies and a cool breeze, the events were held outdoors at the Stadium Complex.
---
In Other News

Suggest a feature story
---
Faculty/Staff Activities
Andrew Fitz-Gibbon recently led two workshops on stress and meditation and presented at the SUNY Faculty Senate. read more
Rev. Vicki Johnson coordinated worship and music at a recent conference. read more

Submit your faculty/staff activity