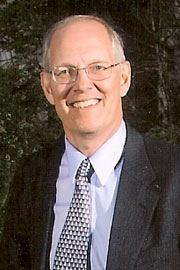 Campus Champion
Perhaps what's most remarkable about Peter Koryzno, director of public relations at SUNY Cortland since 1992, is how over the years he has nimbly sidestepped the limelight while serving as a driving force behind the prominence to which SUNY Cortland has risen. For this 2003 recipient of the SUNY Chancellor's Award for Excellence in Professional Service, it's all in a day's work and whatever accolades that brings to him personally is secondary. The 29-year employee now hopes to slip quietly into retirement. Before Koryzno returns to his native hometown of Muskegon, Mich., the entire campus community acknowledges his contributions and sends this campus champion on his way with best wishes.

Nominate a Campus Champion
---
Tuesday, Nov. 30
Choral Union Concert: Dowd Fine Arts Theatre, 8 p.m.
---
Wednesday, Dec. 1
Sandwich Seminar: "Teaching in a Flat World: An Interdisciplinary Proposal for Easing K-12 Educators into the 21st Century," Cynthia Sarver, English, Brockway Hall Jacobus Lounge, 12:30 p.m.
---
Thursday, Dec. 2
Community Roundtable: "The Future of the News Media," Evan Geibel, Cortland Standard; David Hollenback, Communications Studies Department; and Bob Lloyd, S. I. Newhouse School of Public Communications, Syracuse University, Park Center Hall of Fame Room, 8-9 a.m.
---
Wednesday, Nov. 24
Thanksgiving Break begins – 8 a.m.
---
Thursday, Nov. 25
Thanksgiving Day
---
Tuesday, Nov. 30
Red Cross Blood Drive: Corey Union Exhibition Lounge, noon-5 p.m.
---
Tuesday, Nov. 30
Open Mic Night: Corey Union Exhibition Lounge, 8 p.m.
---
Tuesday, Nov. 30
Faculty Senate Meeting: Brockway Hall Jacobus Lounge, 1:15 p.m.
---
---
College Honors Longtime Classified Staff Members
SUNY Cortland will formally honor five 30-year employees on Friday, Dec. 3, in the Corey Union Function Room during the 41st Annual Service Recognition Ceremony sponsored by the College's Human Resources Office. read more
Relay for Life Set for Dec. 4
Alaina Repetto of Hopewell Junction, N.Y., will chair the sixth annual Relay for Life from Saturday, Dec. 4, until Sunday, Dec. 5, at Lusk Field House. read more
---
Capture the Moment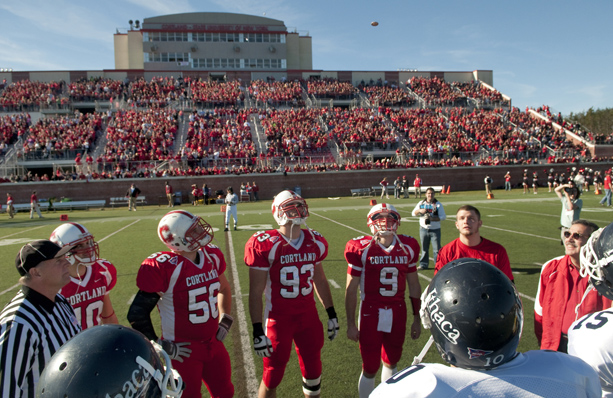 The referee's pre-game coin toss momentarily freezes the SUNY Cortland and Ithaca college football team captains, presidents and student government leaders, all awaiting the outcome of "heads or tails" and the right to kick or receive the football. More than 10,000 fans, the majority clad in red, watched the host Red Dragons come from behind to defeat Ithaca 20-17 in the 52nd Annual Cortaca Jug football classic on Nov. 13 at the Stadium Complex.
---
In Other News

Suggest a feature story
---
People on the Move
---
Faculty/Staff Activities
Irena Vincent presented a poster session at the 2010 American Speech-Language-Hearing Association Convention. read more
Tiantian Zheng serves on the executive boards of the New York Association of Asian Studies and the Chinese Society of Women's Studies. read more
Beth Shiner Klein participated in the North American Association for Environmental Education annual conference. read more
Eileen Gravani, Jacqueline Meyer and Deborah Wilson presented a poster session at the American Speech-Language-Hearing Association Convention. read more
Mary Emm presented a poster session at the 2010 American Speech-Language-Hearing Association Convention in Philadelphia. read more
Jeremiah Donovan was invited to exhibit his recent ceramic artwork. read more

Submit your faculty/staff activity