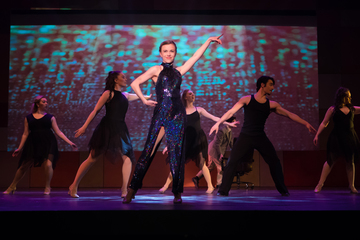 06/01/2018

Audiences at the Dowd Fine Arts Center have known it for years. Red Dragons can act, sing and dance with the best of them.
Now, SUNY Cortland's musical theatre major is getting national attention.
OnStageBlog.com recently named SUNY Cortland as one of "The 5 Most Underrated Theatre Colleges" for the Northeast, lauding the College for its contemporary training standards, facilities and past performances.
In addition to the quality of its faculty and its productions, the musical theatre major at SUNY Cortland is growing. The fall 2018 freshman class, with 23 students, is the largest in the College's history.
"This class coming in is the largest since the creation of the musical theatre major," said Department Chair and Associate Professor Deena Conley. "Our classes have been steadily increasing for the last three years. Every year has built upon the other."
Those students will have opportunities to perform on-stage and behind-the-scenes in a variety of productions during their time on campus. The 2017-18 season featured two musicals, "Little Women" and "9 to 5" and two non-musical plays, "Kindertransport" and "Top Girls." A theme of women's perspectives throughout history linked those shows.
"We are very interested in exposing the students to all different genres of musical theatre as well as non-musical theatre," Conley said. "We'll do a show like "Top Girls" that hasn't necessarily been a commercially successful play but is definitely a play that is respected within the theatre world."
SUNY Cortland's Performing Arts Department sets itself apart by offering musical theatre as its only degree. Students focus on acting, dance and voice and all are able to audition for a part in the cast for productions, whether it is a musical or a non-musical play.
"We are teaching them to pursue a career in musical theatre," Conley said. "If a student attends an institution that includes another performance focus such as acting or directing, many times those students will receive priority in casting for non-musical productions. At Cortland, that is not the case."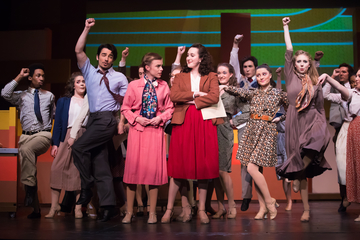 The faculty in the Performing Arts Department are experts in their fields and have connections with other industry professionals. Those relationships have led to numerous campus visits from significant voices in the musical theatre industry, including Jonalyn Saxer, part of the cast of "Mean Girls" on Broadway, and Jeff Whiting, artistic director and founder of the Open Jar Institute in New York City.
"We do have faculty who are working in their respective fields," Conley said. "Not only are they teaching it, but they go out and work professionally or act professionally or are performing in some sort of venue and keeping their chops up."
SUNY Cortland also holds a showcase in New York City for recent graduates to display their skills in front of industry professionals after Commencement. It's a significant opportunity for actors who are looking to work in the performing arts field.
The Performing Arts Department's social media accounts — Facebook, Twitter and Instagram — share the successful outcomes that its students and alumni have enjoyed on Broadway and around the world.
OnStageBlog.com's Northeast Region included the New England states as well as New York, New Jersey, Pennsylvania and Delaware. Other colleges to make the list included Clark University, the Hartt School at the University of Hartford, Rider University and Susquehanna University.
Visit the Performing Arts Department online for more information.
---