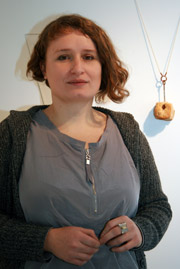 Campus Champion
Switching gears is all in a day's work for Jaroslava Prihodova, a member of the Art and Art History Department and installation preparer at Dowd Gallery. Along with handling, framing, archiving and building fixtures for the artwork featured in up to six exhibitions a year, her own work is on display in the "2015 Art and Art History Faculty Biennial." In 2000, the young artist from the Czech Republic was invited to SUNY Cortland for a one-month residency. In 2012, she returned to live permanently, continue her studies and multitask her way through the day at the College's highly regarded cultural resource.

Nominate a Campus Champion
---
Tuesday, Jan. 27
Performing Arts Department Auditions: Open call for performers aged 16 and older for the spring production of the musical "Legally Blonde," Dowd Fine Arts Center, Room 217, 7 p.m. A sign-up sheet is posted at the office.
Thursday, Jan. 29
Sandwich Seminar: "Army ROTC, It's Not Just About Joining the Army," Kevin Swab, Military Science, Army ROTC, Brockway Hall Jacobus Lounge, noon-1 p.m.
Dowd Gallery Opening Reception: "Faculty Biennial 2015" exhibition highlights recent work in a range of media by members of the Art and Art History Department, Dowd Gallery, 4-6 p.m. Refreshments will be served. The exhibition runs through Friday, Feb. 20.
Friday, Jan. 30
Red Cross Blood Drive: Corey Union Function Room, noon-6 p.m. Schedule at 1-800-REDCROSS or visit www.redcrossblood.org. Walk-ins as space is available. All presenting donors will receive a $5 Dunkin Donuts gift card.
Tuesday, Feb. 3
Faculty Senate Meeting: Park Center Hall of Fame Room, 1:15-2:30 p.m. Open to the campus; all are encouraged to get involved in faculty governance.
Open Mic Night: Corey Union Exhibition Lounge, 7 p.m.
Wednesday, Feb. 4
Dowd Gallery Artist's Talk: Five of the 10 members of the Art and Art History Department exhibition, "Faculty Biennial 2015," will present their work in this first of two events, Dowd Gallery, 5 p.m.
Wellness Wednesday Series: "An Intro to Yoga," Louise Mahar, Recreational Sports for Fitness. Experience a beginner level yoga class. Come dressed in loose clothing and bring a mat or towel, Corey Union Exhibition Lounge, 7 p.m.
Thursday, Feb. 5
Black History Month Sandwich Seminar: "Swimming with Sharks: The Perils and Pleasures of Self-Publishing," Sam Kelley, Africana Studies and Communication Studies, Brockway Hall Jacobus Lounge, noon.
Performance: "Life Lessons from the Divas: a Celebration of Song and Dance," performed by professional actress, singer and storyteller Joanna Maddox, who will pay tribute to Diana Ross, Tina Turner and Whitney Houston, Old Main Brown Auditorium, 7 p.m. Presented by the Campus Artist and Lecture Series (CALS) as part of the College's Black History Month series of events
Saturday, Feb. 7

Country Music Concert: Artist RaeLynn, presented by the College's Student Activities Board, Corey Union Function Room, 9 p.m. Doors will open at 8 p.m. Tickets go on sale at noon Wednesday, Jan. 28, at the Corey Union Information Desk.
---
---
New Student Life Center to Open Feb. 16
Although the recreation wing is delayed, the new dining hall opened on time read more
Opening Considers Hot Topics in Higher Ed
The Opening of School Meeting considered national issues shaping higher education. read more
---
Capture the Moment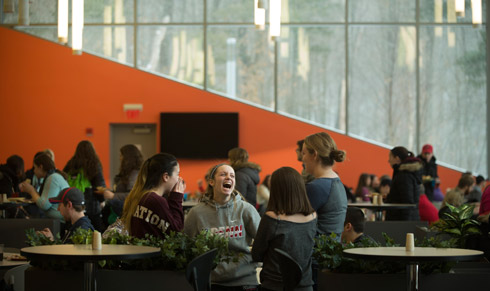 Campus community members will discover longer hours, healthy meal options and plenty of social space in the Bistro Off Broadway, located in SUNY Cortland's Student Life Center. The College's new dining facility fed more than 2,000 students on the first day of classes Monday, including, from left, sophomores Marissa Cabrera, Amanda Moore, Mackenzie Meldrim and Hannah Fleming. The Bistro stays open weekdays from 10 a.m. to 11 p.m. and from 11 a.m. to 11 p.m. on weekends.
---
In Other News

Suggest a feature story
---
People on the Move
---
Faculty/Staff Activities
Mark Dodds co-authored an article that was published in Sport Marketing Quarterly. read more
Mark Dodds and Ray Cotrufo had their article published in the Journal of Physical Education, Recreation and Dance. read more
Karen Downey and senior Josh Eller presented results of their research at the Northeast Regional Meeting of the American Chemical Society. read more
Regina B. Grantham and graduate student Kelli Carsten presented a poster at the American Speech and Hearing Association Convention in November. read more
Bonni C. Hodges serves on the Society for Public Health Education's Community College Task Force. read more
Lin Lin presented at the National Council for the Social Studies annual convention in November. read more
Jo-Ann Maclean recently completed the 25-hour Administrative Skills Certificate Program. read more
Melissa A. Morris gave an invited talk at Cornell University in December before heading to Utah, Arizona and Seattle for training and conferences. read more
Mechthild Nagel and Karin Howe '06 presented papers at the Central New York Peace Studies Consortium in November. read more
Robert Spitzer authored the newly published sixth edition of his book, "The Politics of Gun Control," first published 20 years ago., read more
Tadayuki Suzuki presented at the National Council of Teachers of English Annual Convention in November. read more

Submit your faculty/staff activity