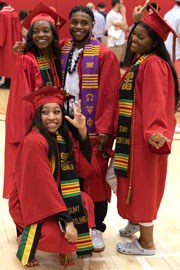 Campus Champion
Members of the Class of 2020 returned to campus on Sunday, May 15 for a "Welcome Back" Commencement Celebration. Their ceremony was postponed two years because of the pandemic - but it was worth the wait for the many who came back. They enjoyed catching up with classmates, faculty and staff and got to walk across the stage in Alumni Arena. SUNY Cortland thanks these students for their patience and admires them for their talents, their toughness and their Red Dragon spirit. Welcome home!

Nominate a Campus Champion
---
Wednesday, May 18
Summer Session begins and includes multiple terms, most courses are 5 weeks long.
Thursday, May 19 through Sunday, May 22
Blackbird Film Festival: Old Main Brown Auditorium with additional VIP events at downtown locations such as BRU64, the Lynne Parks '68 SUNY Cortland Alumni House and Hollywood Restaurant. Thursday beginning at 3 p.m. through an award ceremony and reception on Sunday from 6:30 to 8 p.m. Read more.
Friday, May 20 through Sunday, May 22
2022 Division III Baseball Championship: SUNY Cortland will host the Four-Team NCAA Baseball Regional, Wallace Field.
Friday, May 20
Professional Faculty Recognition Luncheon: Hosted by United University Professions (UUP), Corey Union Function Room, 11:30 a.m. to 1 p.m.
Tuesday, June 7 to Thursday, June 9
Summer Institute for Diversity, Equity, Inclusion, and Social Justice: Open to faculty, staff and administrators, Moffett Center, Room 209, 9 a.m. to 3 p.m. each day, breakfast and lunch will be provided. Registration is now open.
---
Summer Hours
SUNY Cortland Cupboard: Monday through Friday, 10 a.m. to 4 p.m., located at the Interfaith Center, 7 Calvert St. Students, bring Cortland ID card for swipe in access. Students who cannot visit during the hours above can email to schedule an appointment.
Student Life Center will be closed through Memorial Day, Monday, May 30, for a deep cleaning
and floor resurfacing. The center will open at 6 a.m. Tuesday, May 31.
Student Life Center summer hours of operation from Tuesday, May 31 through Thursday, Aug. 25
Main Facility
Monday through Friday: 6 a.m. to 6 p.m.
Saturday and Sunday: 7 a.m. to noon.
Student Life Center Pool
Monday through Friday:
6 to 8 a.m.

11:30 a.m. to 1:30 p.m.

4 to 6 p.m.
Saturday and Sunday:
*Note, pool hours are subject to change based on staff availability.
Outdoor Pursuits: by appointment only (607-753-5810)
Climbing Wall: closed
Visit the Recreational Sports Student Life Center page for the most up-to-date hours of operation.
---
The Bulletin Publication Dates
The Bulletin will be published four times during Summer Session, as follows:
Bulletin #17
Tuesday, May 17
Bulletin #18
Tuesday, June 7
Bulletin #19
Tuesday, June 28
Bulletin #20
Tuesday, July 19
---
---
SUNY Cortland employees honored by SUNY
Seven university faculty and staff members received a SUNY Chancellor's Award for Excellence. read more
SUNY promotes physical education professor to 'Distinguished'
Lynn Couturier MacDonald was elevated for her campus, state and national service in her field. read more
---
Capture the Moment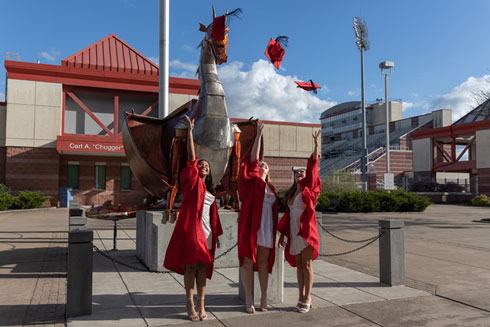 A group of recent graduates threw their caps in the air and posed for a photo in front of the Red Dragon statue at the Stadium Complex on Friday, May 13. SUNY Cortland hosted five Commencement ceremonies this past weekend, celebrating the achievements of this year's graduate students, undergraduates and the Class of 2020. More photos from the undergraduate Commencement ceremonies are available on Facebook.
---
In Other News

Suggest a feature story
---
Faculty/Staff Activities
Lisa Czirr, Jennifer Parker and Jenifer Phelan presented at the Eastern New York Association of College & Research Libraries conference. read more
Lauren deLaubell had her book review published in the journal College & Research Libraries.  read more
Dominick Fantacone presented a paper at the American Educational Research Association's annual meeting. read more
Steven Gabriel had an article published in April in the journal Substance Use & Misuse.  read more
Christopher Gascón presented a paper at a conference at Hobart and William Smith Colleges on April 30.  read more
Kimberly Rombach, Krystal Barber and Kim Wieczorek had their article published in the journal Multicultural Perspectives. read more

Submit your faculty/staff activity
In Memoriam
Andrew (Andy) Brown, former assistant baseball coach, died on May 4.