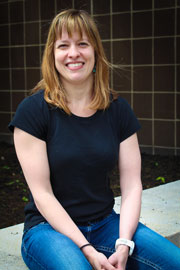 Campus Champion
SUNY Cortland has long provided opportunities for young people with disabilities to participate in physical activity. After joining SUNY Cortland six years ago, Cathy MacDonald, associate professor of physical education, saw that adults with disabilities had limited opportunities to be physically active once they aged out of our programs, so she created a Wednesday night fitness program aimed at adults. The successful collaboration between the College and community was recognized when Cathy was presented with a Franziska Racker Centers Special Friend Award in May for supporting people with disabilities. Presently, Cathy is championing goalball as an adapted physical education community program. Read more about the College's two national champion goalball teams.

Nominate a Campus Champion
---
Wednesday, June 6
J.P. Morgan Chase Corporate Challenge: The 3.5 mile run/walk begins at 6:25 p.m. at Onondaga Lake Parkway, Liverpool, N.Y. Registered employees will participate on the SUNY Cortland team.
Monday, June 18
Summer Orientation Sessions Begin: Transfer student sessions begin Monday, June 18 and first-year student sessions begin Monday, June 25. Sessions continue through Friday, July 13.
Sunday, June 24
5th Annual William Shaut Memorial Color Fun Run, Walk and Stroll: To benefit the SUNY Cortland Child Care Center, Park Center Stadium Complex, 9 a.m.
Monday, June 25
Summer Session II Begins: Read full schedule
Thursday, July 12 to Sunday, July 15
---
---
Students Earn National Gilman Scholarships
The prestigious award supports a student's expenses to study abroad. read more
SUNY Cortland Adds New Major in Healthcare Management
The degree prepares students for roles in finance, human resources or business management across various healthcare settings. read more
---
Capture the Moment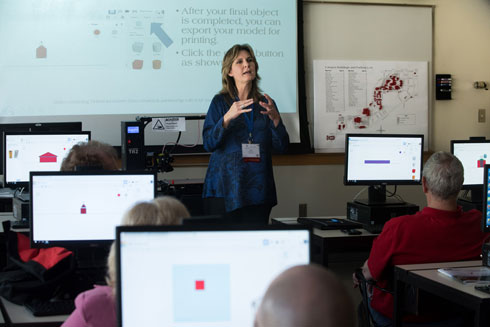 Janet Ochs, computer applications program instructor and senior assistant librarian, presents "Create, Innovate and Problem-Solve Using 3D Modeling Software and a 3D Printer" at the Conference on Instruction and Technology held on campus from May 22-25. Ochs showed how to use the Tinkercad application to build a 3D model and create a printable file. As advisor to the Cortland Technology Club, Ochs has worked with SUNY Cortland students on the various applications of 3D printers as well.
---
In Other News

Suggest a feature story
---
Faculty/Staff Activities
Kevin Dames co-authored a manuscript that was recently accepted for publication in the Journal of Biomechanics. read more
Li Jin had two papers published about the impacts of climate change on river systems in India and Africa. read more
Rhiannon Maton co-presented her research on teacher politicization at the Education Reform, Communities and Social Justice conference. read more
Jaroslava Prihodova will serve on the Evaluation Committee at a Czech Republic art and design school. read more

Submit your faculty/staff activity