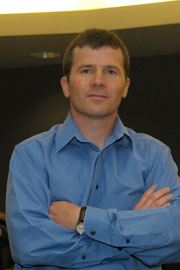 Campus Champion
Brad Snyder works behind the scenes as the associate director of classroom media services, helping people on the SUNY Cortland campus accomplish their technological goals. When Brad first came to campus in 1998, there were only 10 technology-infused classrooms. Today, there are more than 60 spots with advanced media capabilities. The successful growth of campus technology is the result of hard work from Brad and the rest of the Information Resources staff. Whether it's a long-term construction project or a last-minute classroom request, Brad's grateful colleagues credit him and his staff with tightening the technological nuts and bolts of the College.

Nominate a Campus Champion
---
---
Association Names Distinguished Alumni
The SUNY Cortland Alumni Association will present its most prestigious honor, the Distinguished Alumni Award, on Saturday, July 16. read more
Alumni Reunion 2011 Set for July 14-17
Nearly 600 alumni and friends are expected to enjoy class get-togethers, parties and other activities on campus from July 14-17 during Alumni Reunion 2011. read more
---
Capture the Moment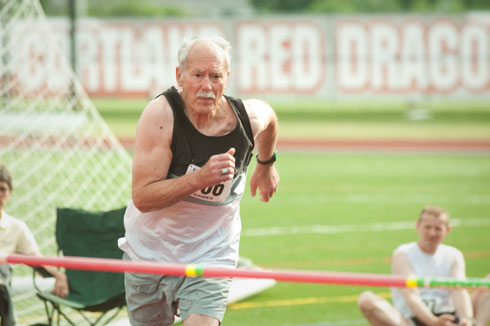 Don Lehrman approaches the bar during the high jump competition at the 2011 Empire State Senior Games track and field event. The games, which drew more than 1,100 participants and their friends and families, were held June 7-12 at SUNY Cortland and other locations in the Cortland area. See the story below.
---
In Other News

Suggest a feature story
---
People on the Move
---
Faculty/Staff Activities
Michael Bersani won a scholarship to attend the SUNY Council for University Advancement (SUNYCUAD) conference. read more
Robert Darling presented his paper "Breccia-filled Fractures on Western Adirondack Summits: Relicts of an Ordovician Paleosurface?" read more
Moataz Emam edited and co-authored an e-book titled, "Are We There Yet? The Search for a Theory of Everything." read more
Gayle Gleason co-presented a paper at the regional meeting of the Geological Society of America. read more
Chris McRoberts was a co-presenter at the Geological Society of America's regional meeting in Pittsburgh. read more
Robert Ponterio was a presenter at the International Conference on Language Teacher Education. read more

Submit your faculty/staff activity