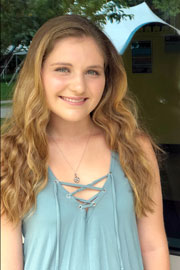 Campus Champion
Junior psychology major Natalie Lipari was on campus for eight weeks this summer as the Undergraduate Research Council's David F. Berger Summer Research Fellow. Her work with Psychology Department Chair Joshua Peck measured the effects of exposing female adolescent rats to an enriched environment on alcohol consumption. The research raised further questions about female adolescent alcohol consumption, so Natalie has reconnected with Peck to continue her research on this growing problem on college campuses. And she's pursuing research projects with other professors. "Our professors are such a great resource," Natalie said. All important steps on her journey toward a doctorate in clinical neuroscience.

Nominate a Campus Champion
---
Tuesday, Sept. 11
Lecture: "Images of SUNY Cortland in a Foreign Book," sponsored by Clark Center for Global Engagement, Sperry Center, Room 0106, 4:30 to 6 p.m.
Open Mic Night and 9/11 Remembrance: Corey Union Exhibition Lounge, 7 to 9 p.m.
Wednesday, Sept. 12
Wellness Wednesday: A "Farmers Market" will be held in the Student Life Center lobby, noon to 3 p.m.
Artist's talk: Heather Ramsdale '97 will discuss her solo exhibition "Form and Forever," Dowd Gallery critique area, 5 to 6:30 p.m.
Wellness Wednesday: Magician Brian Miller will present "Magically Connect with Anyone," Corey Union Function Room, 7 p.m.
Thursday, Sept. 13
Sandwich Seminar: "The SUNY Cortland Cupboard," presented by members of the board of directors, Brockway Hall Jacobus Lounge, noon to 1 p.m.
Friday, Sept. 14
Performance: Eric Byrd Trio, Old Main Brown Auditorium, 7 to 9 p.m.
Monday, Sept. 17
Lecture: "Measuring Misconceptions: Students' Understandings of Multiple Representations in Chemistry," by Stacey Lowery Bretz, science education expert, Bowers Hall, Room 1129, 3 p.m.
Constitution Day Event: Part 1 is a 20-minute presentation, "Freedom of Speech on the College Campus," by Tim Delaune, Political Science Department. Part 2 is a 100-minute Deliberative Dialogue that follows up on that presentation. Corey Union Fireplace Lounge, 4:30 to 6:30 p.m.
Wednesday, Sept. 19
Lecture: "An Entrance into Maya Women's Symbolic World," by Crystal Sheedy '08, Moffett Center, Room 2125, 3 p.m., followed by 4 p.m. meeting with students interested in graduate school.
Lecture: "History of Global Engagement at SUNY Cortland," Brockway Hall Jacobus Lounge, 4:30 to 6 p.m.
Wellness Wednesday: "Real Talk and the Right Mix: Alcohol and Drugs," by national presenter Bobby Gordon, Corey Union Function Room, 7 p.m.
Comedian DeAnne Smith: Old Main Brown Auditorium, 8:30 p.m.
Saturday, Sept. 22
Cortland Nites Event: "Novelty Night," Corey Union Function Room, 9 p.m.
Monday, Sept. 24
Lecture: "Fashioning Identities: Media, Gender Play, and Youth Cultures in Japan and Beyond," by Isaac Gagné, German Institute for Japanese Studies in Tokyo, Japan. Old Main Brown Auditorium, 11:40 a.m.
Tuesday, Sept. 25
National Voter Registration Day: Institute for Civic Engagement representatives will be in Old Main and Corey Union from 10 a.m. to 5 p.m.
Open Mic Night: Corey Union Exhibition Lounge, 7 to 9 p.m.
---
---
Cortland Football Player to Represent All SUNY Students at Chancellor's Inauguration
Kyle Richard's story of leadership and courage to serve as an inspiration to all. read more
NSF Grant Supports Pollutant-Digesting Bacteria Research for Undergraduates
The project also includes outreach to middle school-aged girls interested in STEM. read more
---
Capture the Moment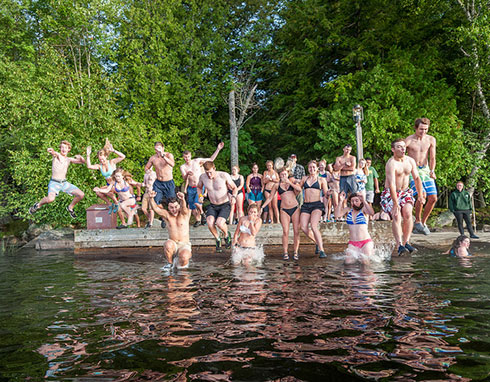 Some students' most memorable SUNY Cortland experiences take place in the heart of the Adirondack Mountains at the William H. Parks Family Center for Environmental and Outdoor Education at Raquette Lake. Participants of the Adirondack Trail Blazers program, pictured above, recently enjoyed a mass launch off the dock at Huntington Memorial Camp. Members of the History Department, baseball team and Peer2Peer Mentor Program also shared team-building activities, experiential learning and outdoor fun during the early weeks of the semester.
---
In Other News

Suggest a feature story
---
People on the Move
---
Faculty/Staff Activities
Timothy J. Baroni presented a poster at the 11th International Mycological Congress meetings held in July in San Juan, Puerto Rico. read more
Amy DiRenzo will speak at the Empire Longevity Symposium on Sept. 29 at the Center 4 the Arts in Homer, N.Y. read more
John C. Hartsock participated in a panel discussion at the International Association for Literary Journalism conference in Vienna, Austria. read more
Michael Hough had an article about new Geum hybrids published in the August issue of Phytoneuron. read more
Ben Lovett co-authored an article with Lindsey Carter '18 that was accepted for publication in the Journal of Psychoeducational Assessment. read more
Mechthild Nagel participated in plenary session in July at the Economic Science Association World Conference in Berlin. read more
Robert Spitzer and Brian Williams recently participated in activities at the annual meeting of the American Political Science Association in Boston. read more
John Suarez had his workshop accepted for the SUNY Applied Learning Conference. read more

Submit your faculty/staff activity