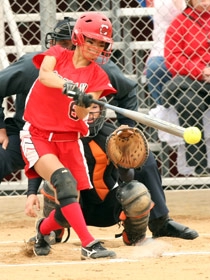 Campus Champion
Consistency takes its shape in Donnalyn Cross, a senior second baseman on SUNY Cortland's softball team. Throughout her career, the Binghamton, N.Y. native has consistently rewritten the softball record book. The program's career leader in hits, triples and stolen bases, Cross owns three SUNYAC Player of the Year honors to go along with two first-team All-America selections. On May 9, she was named the C-Club Female Senior Athlete of the Year. SUNY Cortland's current 39-3-1 mark is the result of solid play across the diamond. Cross, a team captain, is simply the team's toughest out.

Nominate a Campus Champion
---
Monday, May 23
Diversity Institute: "Summer Institute for Infusing Diversity and Multiculturalism into the Curriculum and Professional Service," Old Main, Room G-12. Runs through Wednesday, May 25.
---
Wednesday, May 25
Summer Session classes begin
---
---
College Earns Distinction for Community Service
SUNY Cortland recently won special recognition for its community engagement from the President's Higher Education Community Service Honor Roll by being named to the Honor Roll with Distinction for the first time. read more
University Officers Honored for Heroic Rescue
Two university police officers will be recognized with a national award for administering CPR to a non-responsive person. read more
---
Capture the Moment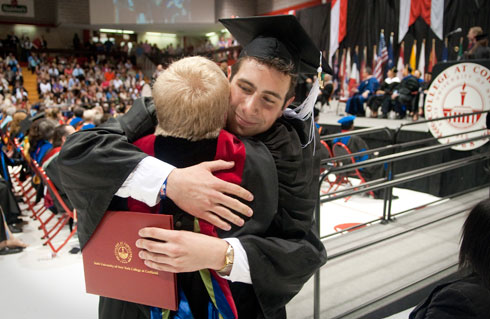 Ron Pleban, a sociology major from Oneonta, N.Y., hugs the Rev. Vicki Johnson, chaplain of SUNY Cortland's Interfaith Center, during the morning session of the College's 2011 Commencement. Approximately 1,300 graduating seniors received their degrees during two separate ceremonies held on Saturday, May 21, at Park Center Alumni Arena.
---
In Other News

Suggest a feature story
---
People on the Move
---
Faculty/Staff Activities
Ji-Ryun Kim and John Foley had their research published in the Korean Journal of Special Education. read more

Submit your faculty/staff activity