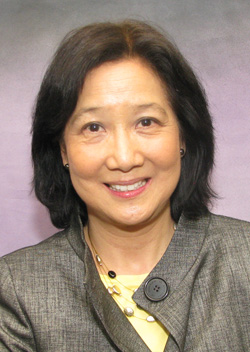 05/23/2011

Sheila Dai, who served SUNY Cortland's Counseling Center for 35 years, retired Dec. 31. She has been designated assistant director emerita of counseling.
In 1991, she was honored with the SUNY Chancellor's Award for Excellence in Professional Service, an award that recognized local, state and national contributions to her field.
Dai joined the College's Counseling Center staff in 1976. She served as the assistant director and a senior counselor at the Counseling Center in addition to a stint as interim director from 2007-09.
Dai provided personal and educational counseling to members of the College community during her tenure. She was a frequent presenter at regional and statewide workshops on solutions to psychological and health-related problems on college campuses.
She spearheaded SUNY Cortland's efforts to provide access to College programs and services for students with disabilities and she oversaw compliance with Section 504 of the Rehabilitation Act. Her work advanced the development in women's health and rehabilitation on campus.
Dai wrote published articles and delivered several presentations during her career. The topics of her work included accommodations for disability services, career development of two-year students and sexual harassment in industry.
Elected president of the SUNY Disability Services Council in 1995, she served as supervisor or chair of several counseling-related boards. In 1977, Dai co-wrote a $300,000 grant for a college community job search program for the regionally unemployed.
She sat on more than a dozen committees at SUNY Cortland, including the Rehabilitation Advisory Committee, the University Council for Career Services and the Health Service Committee.
Dai received a counselor's certification from the National Board of Certified Counselors in 1984 and a human resources development program certificate from the Industrial and Labor Relations School at Cornell University in 1985. The New York State Education Department awarded Dai a mental health counselor license in 2006. She was named a New York State Personnel and Guidance Association fellow in 1974.
Dai earned a Bachelor of Arts in Psychology from SUNY Potsdam in 1973 and a Master of Science in Rehabilitation Counseling from Syracuse University in 1975. In addition, she performed doctoral work in counselor education at Syracuse University. During her studies, she worked at the Veterans Administration Hospital, Hutchings Psychiatric Center and the Neighborhood Health Center in Syracuse, N.Y.
Dai will reside in Cortland.
---