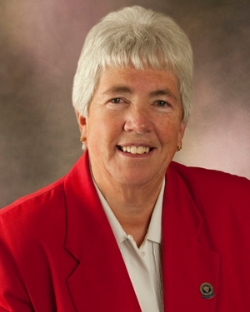 05/23/2011

Mary Ware, who served SUNY Cortland for 41 years, retired on Dec. 31. She has been designated as professor emerita of foundations and social advocacy.
Ware assumed interim dean and associate dean duties three times since 1989. She served as interim dean of graduate studies from 1989-91, interim associate dean of professional studies from 1995-96 and interim associate dean of education from 2005-06. Ware also chaired the Education Department, now the Childhood/Early Childhood Education Department, from 1997-98.
Hired as an instructor in the Education Department in 1970, she was promoted from an instructor to assistant professor of education in 1973. Ware was appointed associate professor of education in 1978 and professor of education in 1983. In 2002, she joined the Foundations and Social Advocacy Department faculty. Over three decades, she helped shape the curriculum of her departments by creating new courses like Gender Issues in Education and pioneering new teaching formats such as the "block" format for childhood education majors.
Ware proved vital to SUNY Cortland's move to personal computers. She taught teachers how to use audiovisual materials like projectors and film early in her career. In the early 1980s, Ware's area of expertise turned to computers and she oversaw numerous workshops for faculty.
A member of the Computer Advisory Committee, which managed personal computing in its infancy at SUNY Cortland, she ran an on-campus computer camp for children and coordinated the computer applications minor during its early years.
In the 1970s, Ware was elected to the University Faculty Senate, which provides faculty governance for the State University of New York. She served as SUNY Cortland's senator for parts of the next three decades, including a stint as vice president of the state-wide organization in 1997-99.
Ware was a member of several College and statewide committees during her tenure, including the Provost's Council, the Teacher Education Council and many department curriculum and personnel committees. She published numerous articles, book chapters and papers on a range of topics that include education, gender and computer technology.
Ware was elected to the Homer Central School District Board of Education in 1990 and served for nine years. She presented at three National School Board Association meetings during her tenure and received a Distinguished School Board Member Award from Onondaga-Cortland-Madison BOCES during her last term. The district created the Dr. Mary Ware Conscience of the Board Award in her honor.
Ware and her partner, Mary F. Stuck, a professor of sociology and the assistant dean of arts and sciences at SUNY Oswego, reside in Homer, N.Y.
---