College Earns Distinction for Community Service
05/23/2011
SUNY Cortland recently won special recognition for its community engagement from the President's Higher Education Community Service Honor Roll by being named to the Honor Roll with Distinction for the first time.
The 2010 Honor Roll marked the fifth consecutive year SUNY Cortland won national recognition for its civic engagement, but it was the first time the College received the elite "with Distinction" designation.
Since 2006, the Corporation for National and Community Service (CNCS), a federal agency that fosters civic engagement through service and volunteering, has presented the annual honor to colleges and universities to recognize exemplary community service. The corporation administers programs that include Senior Corps, AmeriCorps and Learn and Serve America.
Of the 641 schools recognized as honor roll members, 114 received distinction honors, including three other SUNY institutions. The full honor list is available from the CNCS.
"Every member of our SUNY Cortland campus community and our many community partners should feel very proud of being listed with distinction on this year's President's Higher Education Community Service Honor Roll," said Richard Kendrick, director of the College's Institute for Civic Engagement and a professor of sociology/anthropology. "This is an institutional achievement, and every school and division of the College contributed to this year's award."
Honorees for the award were chosen based on a series of selection factors including scope and innovativeness of service projects, percentage of student participation in service activities, incentives for service and offerings of academic service-learning courses.
In total, more than 3,000 students from the College contributed 142,292 community service hours during the 2009-10 academic year. About 1,000 of those students contributed at least 20 hours of volunteer work, according to Kendrick.
"This award validates our College's position as a national leader in the area of civic engagement and it demonstrates the many ways that we practice the stewardship of place that President (Erik) Bitterbaum promotes," Kendrick said.
The College's honor roll application highlighted six particular SUNY Cortland service programs:
· The SUNY Cortland AmeriCorps program, which completed its second year in 2009-10, served 13 community agencies. through an assessment process dubbed "Cortland Counts." As part of our AmeriCorps program, AmeriCorps members recruited more than 400 students who offered 7,528 hours of their time to agencies that included the YWCA, the Cortland Downtown Partnership, the Lime Hollow Center for Environment and Culture and the Seven Valleys Health Coalition. One of only three SUNY institutions to run an AmeriCorps program, the College and its community partners helped develop the local Cortland community through volunteer recruitment, infrastructure improvement and the development of websites and promotional materials for community agencies.
· More than 16,000 meals were served as part of a partnership between the Central New York Food Bank and the Cortland Migrant Education Outreach Program (MEOP), which is housed at the College and administered through its School of Education. MEOP staff offers General Education Diploma (GED) preparation and tutors migrant families in language and math courses. SUNY Cortland health majors taught lessons in nutrition, childhood/early childhood majors supervised children and physical education majors led weekend activities.
· Students and faculty from the Physical Education Department devoted nearly 7,000 hours to helping about 200 community members through 13 adapted exercise and mentorship programs. Volunteers from the College taught physical skills, developed the self-confidence of participants and built appreciation for civic engagement. Organizations like the local Board of Cooperative Educational Services, the McDonald Sports Complex and the Cortland and Homer Central School Districts aided SUNY Cortland volunteers.
· Future teachers tutored and mentored 500 students from the Syracuse (N.Y.) City School District through Cortland's Urban Recruitment of Educators (C.U.R.E.) program. The group seeks to improve urban education by developing teachers who are proficient at dealing with conditions in high-needs schools. In 2009-10, pairs of college students helped teachers individualize instruction through tutoring sessions in a variety of subjects.
· SUNY Cortland students and faculty from the Recreation, Parks and Leisure Studies Department helped Cortland Junior/Senior High School in creating the "League 56 Academy," an after school program that combats the effects of bullying. College students and faculty led two cooperative activities using a benefits-based programming model to promote resiliency and academic performance. The survey responses of program participants showed a decrease in aggressive behavior and a heightened perception of resiliency.
· Three youth assist programs of Family Counseling Services — in one-on-one mentoring, group mentoring and homework help — received more than 2,000 volunteer hours from SUNY Cortland students. The programs were designed to build confidence and develop appropriate social, communication and decision-making skills through interaction with positive role models. Nearly 100 middle and high school students participated in the programs. Students raised their grades from an average of 73 to an average of 80, according to survey results.
During the 2009-10 academic year, SUNY Cortland obtained a $100,000 grant from Bringing Theory to Practice in order to initiate a major research project investigating the link between service learning practices and student growth. The College also initiated the President's Leadership Coalition for Student Engagement to coordinate student engagement activities.
"This work is not possible without the extensive collaborations the College has formed with its community partners, and this award recognizes the best that our faculty, staff, student and community members have to offer," Kendrick said. "I know we don't do this work for recognition.
"We do it because it is important work to do."
The honor roll is jointly sponsored by the CNCS, through its Learn and Serve America program, and the Department of Education, the Department of Housing and Urban Development and the President's Council on Service and Civic Participation. For more information, visit the CNCS website.
University Officers Honored for Heroic Rescue
05/20/2011
Two SUNY Cortland university police officers will receive national recognition for successfully administering CPR to a visiting parent who had stopped breathing and had no pulse.
Officers David Coakley and Adam Koehler '07 will be awarded the 2011 International Association of Campus Law Enforcement Administrators (IACLEA) Award for Merit Thursday, June 17, at the IACLEA 53rd Annual Conference and Exposition in Charlotte, N.C.
The Award for Merit is one of three major honors presented at the conference. It recognizes campus public safety, police or security officers "who each day display professionalism and excellence in performing their duties or whose actions and attitude bring credit to the campus law enforcement community," according to an awards description.
David Coakley
"Having officer David Coakley and officer Adam Koehler selected to be the recipients of the award is an honor," said Steven Dangler, chief of police at SUNY Cortland. "The professionalism and excellence in performance of duty exhibited by both officers is reflective of all New York state university police officers."
The SUNY Cortland police officers responded with quick-thinking heroics on May 2, 2010.
In the late afternoon, the father of a prospective student was reported non-responsive near the entrance of the Horak Training Facility adjacent to the Stadium Complex, according to the officers' nomination. The victim, who had a pre-existing heart condition and a pacemaker, was not breathing and had no pulse when the officers showed up.
Coakley and Koehler performed cardio-pulmonary resuscitation (CPR) on the man until an ambulance arrived. While he was being transported, the man started to show signs of movement and his pulse returned.
"It is very likely that he would not have had as positive an outcome without the intervention of the officers," Dangler stated in the nomination.
Adam Koehler
Coakley, from Cazenovia, N.Y., arrived at SUNY Cortland's University Police Department in 2003, after he graduated from the Central New York Police Academy in Syracuse, N.Y. A 2002 graduate of SUNY Potsdam, Coakley is assigned to the dayshift and serves as one the College's field training officers.
Koehler, a native of Cortland, began working for the University Police Department in 2010. A 2007 SUNY Cortland graduate, Koehler attended the Broome County Police Academy in Binghamton, N.Y. He is currently assigned to the department's nightshift.
Earlier this year, SUNY Cortland's University Police Department earned first-time accreditation from the New York State Law Enforcement Accreditation Council. The College's sworn officers, with arrest powers, and civilian staff members serve on the 191-acre main campus and branch campuses.
The current student enrollment at SUNY Cortland is more than 7,000, with approximately 3,000 students residing in on-campus housing. Faculty and staff make up an additional 1,000 people who fall under the department's jurisdiction while on campus.
In the course of their duties, university police officers conduct foot, bike and vehicular patrols and operate a dispatch desk 24 hours a day, 365 days a year. When necessary, they work closely with other police agencies in Cortland County and New York state.
---
Capture the Moment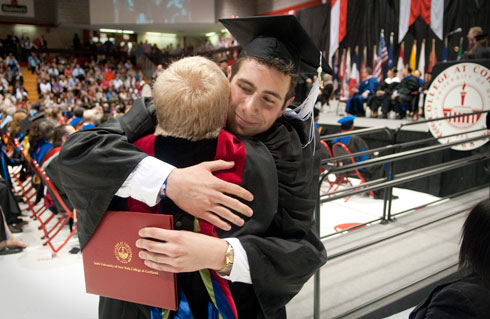 Ron Pleban, a sociology major from Oneonta, N.Y., hugs the Rev. Vicki Johnson, chaplain of SUNY Cortland's Interfaith Center, during the morning session of the College's 2011 Commencement. Approximately 1,300 graduating seniors received their degrees during two separate ceremonies held on Saturday, May 21, at Park Center Alumni Arena.
---
In Other News
Half-Century Grads Walk at Commencement
05/23/2011
The last time Carole Wilsey Phillips wore a cap and gown for SUNY Cortland's Commencement, the Marshall Plan was just getting underway, Israel and North Korea had just declared themselves independent nations and gasoline cost 16 cents a gallon.
It was a different world. But Phillips, who graduated in 1948, remained involved with her alma mater as the decades ticked by. And on May 21 - 63 years after Phillips graduated from Cortland with an education degree - she and seven other proud members of SUNY Cortland's Half Century Club once again walked in the College's most important ceremony, dressed in full commencement regalia.
It's the first time the College had honored members of the Half Century Club, which consists of alumni who graduated 50 years or more ago, by asking them to participate in Commencement.
Club members include 14 distinguished alumni, 77 C-Club Hall of Fame members, nearly 3,000 donors and are some of the institution's best alumni volunteers. They have defended our nation, educated our country's children and become leaders in our towns, states and nation. They represent Cortland's long tradition of excellence and exemplify many of the principles espoused by our College today.
Attending the 2011 Undergraduate Commencement were, from the left: Carole Wilsey Phillips '48, Rosemarie Luppino Kleinspehn '49, Kathryn Fenton Saunders '61, Arnold Rist '47, Henry Veix '60, George Breen '56 and Ed Sliva '59. Dorothea Kreig Fowler '52 was seated with the platform party.
Half Century Club alumni returning from World War II in 1945-47, along with our dedicated alumnae, built up SUNY Cortland's physical education and athletic programs. These alumni helped the College become one of the leading physical education schools in the nation as well as an athletic powerhouse. Alumni from the '50s and '60s ushered in a fresh wave of community outreach and Cortland spirit that created strong bonds to one another and to Cortland. To this day, these alumni are loyal, dedicated and passionate supporters of their alma mater.
The eight who walked during the Saturday afternoon Undergraduate Commencement were:
George Breen '56
An Olympic swimmer who earned one silver and two bronze medals, he is a member of the C-Club Hall of Fame. Breen, a physical education major, coached championship swimming teams for the University of Pennsylvania as well as a variety of swim clubs. He lives in Sewall, N.J.
Dorothea Kreig Fowler '52
Fowler taught in the Cortland and Homer public schools for 21 years. She also is the former owner and retired CEO of R.H. Fowler, Inc., a petroleum refining company. She is a member of the Cortland College Foundation Board and a former member of the College Council. Fowler received the College-Community Appreciation Award last year for her philanthropy and the entrance hall of Old Main was dedicated to her in October.
Rosemarie Luppino Kleinspehn '49
She is a former elementary school teacher who retired after 31 years in the Addison and Fillmore central school districts in New York. Kleinspehn is also a partner in Seneca Trails and Travel Service. She was named a SUNY Cortland Distinguished Alumna in 1992 and has been the driving force behind the Alumni Association's popular post World War II Reunion.
Carole Wilsey Phillips '48
She is a retired teacher from the Chenango Valley School system and lives in Binghamton, N.Y. Phillips was among the first recipients of the President's Philanthropy Medal in 2002.
"Pudgie," as her sorority sisters from Alpha Sigma Alpha know her, was also a valued member of the Cortland College Alumni Association for many years.
Arnold Rist '47
Rist is a former teacher, coach and school administrator, is founder, owner and president of Rockland Educational Services in Nanuet, N.Y., which offers reading, learning and test-preparation courses to students in grades 8 through 12. He is a member of the C-Club Hall of Fame and a long-time member of the Cortland College Alumni Association. Rist earned a doctorate in education and developed programs for both under-achieving and gifted students in several school districts. A veteran of World War II, Rist was among the U.S. soldiers who tore down the gates of the Nazi concentration camp in Dachau and was a driving force behind the installation of a plaque commemorating the 20th Armored Division's role in the camp's liberation.
Kathryn Fenton Saunders '61
An elementary education major, Saunders is a retired third-grade teacher from the Caledonia-Mumford School District in Caledonia, N.Y. An alumna of the Sigma Delta Phi, Saunders helped organize her sorority's first reunion in 2010. She currently resides in West Henrietta, N.Y.
Ed Sliva '59
A retired New York City teacher and coach, Sliva, an elementary education major, is currently an advocate for the United Federation of Teachers. He is also an actor and a playwright and a member of the Dramatists Guild of America.
Henry Veix '60
Veix, who earned a doctorate in education, retired as a physical education instructor for the United States Military Academy at West Point after a 30-year career. After retirement, he supervised student teachers in physical education for SUNY Cortland. The Portsmouth, R.I., resident was named to the National Association of Underwater Instructors Hall of Fame in 2009.
ASC Dinner Wins Top National Honor
05/20/2011
When the Auxiliary Services Corporation (ASC), SUNY Cortland's campus-based, not-for-profit dining service provider, decided to pursue a national award for its food service, it highlighted with an exotic African dinner held during Black History Month in February.
"A Taste of Africa," the special dinner presented Feb. 22 in Neubig Hall, featured dishes like Zanzibar duck and Ethiopian lamb stew.
The quality and creativity of the presentation won the ASC a gold award in the 2011 National Association of College and University Food Services (NACUFS) Loyal E. Horton Dining Awards Contest. This represented the residential dining special event award for a medium-size institution. It was the sixth Loyal E. Horton award won by SUNY Cortland since 2006 and the College's second gold award for a residential theme dinner.
SUNY Cortland is still in competition with SUNY Alfred and Virginia Tech for the overall national gold medal, to be announced in July.
William McNamara, director of ASC Dining Services, said even he was surprised at his staff's ability to pull off the memorable dinner event.
"It was simple food," McNamara said. "But it was by far the most flavorful, best-tasting stuff I've ever had. I was shocked."
About 800 people attended the dinner to sample foods that included South African hot rice salad and East African sweet pea soup to go along with the Zanzibar duck and Ethiopian lamb stew. ASC worked with SUNY Cortland's Africana Studies Department to develop an authentic menu and choose appropriate decorations.
When it came to dessert, the dining service provider came up with its own creations in mango banana sundaes and pineapple smoothies.
"You want to give students something they might not have had before but something they're still going to enjoy," McNamara said.
ASC went so far as to recreate a tribal setting for the dinner. Its staff hung drapes, vines and stuffed animals to set a jungle scene. When dinner guests entered Neubig Hall, they were greeted by sound effects of chattering monkeys and roaring lions. As they approached the cashier's station, African tribal music set in.
Two elaborate special event dinners are prepared annually in Neubig Hall at no extra cost to students. McNamara said the meals are a way to take students "out of the box" and to thank the SUNY Cortland community.
ASC submitted a digital scrapbook for the NACUFS competition. Judging was based on four criteria: menu selection, theme development, marketing of the event and overall impressions.
The College's five previous Loyal E. Horton awards include: silver awards for residential theme dinners in 2006 and 2007; a gold award for a catering special event in 2007; a gold award for a residential theme dinner in 2008; and a bronze award for a residential theme dinner in 2010.
Founded more than 50 years ago, ASC also provides vending, campus stores, student ID cards and other essential services to the campus community.
The NACUFS has more than 1,000 institutional and industry members. Based in Okemos, Mich., the national association is dedicated to promoting the highest quality of food service on college and university campuses.
A before (left) and after shot of the entrance hallway of Neubig Hall for the award-winning "A Taste of Africa" dinner.
Students Trade Governments
05/20/2011
Students often go far from home to secure an internship with the New York State Assembly.
But they don't usually travel 3,000 miles.
Last semester, three college students from Great Britain traveled to Albany to experience the state legislature first hand as part of a unique international exchange program involving SUNY Cortland. Three Cortland students, meanwhile, spent the semester studying at Manchester Metropolitan University in Great Britain as part of the Atlantis Scholarship program.
"I am learning so much different stuff," said Mellissa Houlding, a junior at Manchester Metropolitan who worked with, Sen. Deborah Glick, a Democrat from New York City. "I didn't know a lot about politics, or even about New York for that matter, but now I know more about how the government works here than I do about it works back home. There is so much information, I don't know what to do with it."
Houlding and two other British students spent the spring gaining experience through the New York State Assembly Internship Program.
The four-year Atlantis Mobility Project grant provides 48 students, 12 per year, with scholarships to study public administration and public policy abroad. The project brings together four institutions in a partnership. In America, they are, SUNY Cortland and SUNY Buffalo, which are supported by the U.S. Department of Education and the Fund for the Improvement of Postsecondary Education (FIPSE).
The European school partners, who are funded by the European Union Commission in Brussels, are Manchester Metropolitan University in Great Britain and Babes-Bolyai University in Cluj, Romania.
As part of the Atlantis grant agreement, three SUNY Cortland students: Grace Mellen, Andrea Forward and William Jamal Scott, studied abroad last semester. They took public services courses at Manchester Metropolitan University and hoped to find an internship or an overseas working opportunity for the summer.
"I'm already learning so much about how the British welfare system works," said Mellen, a senior political science major. "With the coalition government in place, I get to hear all about their proposed changes with the big society. I am also taking British law classes which are very interesting because they do not have written constitution, like we do."
Melissa Houlding, at right, worked as an intern for
New York State Assemblywoman Deborah Glick, left,
through the Atlantis Scholarship program.
The Atlantis grant enables European and American students preparing for careers in public service with an opportunity to study in subject areas that will strengthen their ability to work effectively in transatlantic public administration.
"It has been a life-changing experience, "said Michelle Boylett, a sophomore at Manchester Metropolitan who worked for Assemblywoman Michelle Schimel, a Democrat representing Great Neck, N.Y. "In today's world you need a degree, but you need experience more … It is a good stepping stone to living on your own and maturing as a person."
The internship offers college students a chance to participate in state government and the legislative process. The Assembly Intern Committee awards a $4,140 stipend to each intern to help cover some of the expenses.
"We use this money to pay rent and bills," said John Singh-Green, a student from Manchester Metropolitan who worked with Ron Canestrari, the Assembly's Democratic majority leader, from Cohoes, N.Y. "Whatever is leftover we use for food. Most of our other expenses – like having a good time and exploring the country – are out of pocket."
The assembly offers this opportunity to 150 college students, encouraging them to get involved in state government and gain a firsthand knowledge of the legislative process.
In order to be eligible for the internship, applicants must be juniors or seniors matriculated in a public service college degree program. The interns are expected to spend a minimum of 30 hours at the capital each week and must keep up with assembly assignments.
Interns are assigned to the offices of assembly members, and assume a variety of responsibilities. The academic course is designed to complement the internship experience in the Assembly offices. The Interns are assigned required readings and their progress is monitored.
"Academics are a lot harder in America," Boylett said. "There is a lot more reading then we get back in England. The papers students have to write here are a lot longer than the ones we have write back home. I have never had to write more than 10 pages for an assignment before."
Each intern has a hectic course load and must attend numerous orientations, issues forums and mock sessions that represent a culmination of the learning experience. The opportunity is designed to explore how politics influences policy in New York state legislative processes. The interns have been working on bills that involve issues like animal rights, financial aid, budget cuts and same-sex marriage.
"One of the best parts about working in the assembly is being a part of something important," Houlding said. "It's a great learning opportunity where you get to fight for issues bigger then yourself that you can believe in."
Summer Session I Classes Begin May 25 on Campus
The first day of classes for Summer Session I is Wednesday, May 25. Classes begin at 8 a.m.
Walk-in Registration and Drop/Add
Walk-in registration and drop/add will be held from 8 a.m.-4 p.m. on Wednesday, May 25. All summer class registrations will take place in the Registrar's Office, temporarily located in Brockway Hall Jacobus Lounge, located upstairs of Hilltop restaurant.
For more information, call (607) 753-4702.
Students must be prepared to pay all fees at the time of registration in the Student Accounts Office, which is also temporarily located in Brockway Hall Jacobus Lounge.
For more information on accounts, call (607) 753-2313.
Student Health Service Hours
The Student Health Service, located in Van Hoesen Hall, Room B-26, will be open during both summer sessions. Clinical hours are Monday-Friday from 9 a.m.-11 a.m. for walk-in service for those with acute problems and from 1-3 p.m. for those with appointments.
For more information, call (607) 753-4811.
College Temporarily Relocates Miller Building Offices
Offices located in the Miller Building will be temporarily relocated while the building undergoes maintenance over the summer.
The first phase will require people in the building to relocate for about six weeks, with everyone relocated by Wednesday, June 1.
Phones and emails will remain the same.
The offices below have moved to the following locations:
| Office | Temporary Location | Returns to Miller |
| --- | --- | --- |
| Academic Affairs Office | Dowd Fine Arts Center, Room 209 | July 25 |
| Accounts Payable Office | Professional Studies Building, Room 1145 | August 4 and 5 |
| Admissions Office | Sperry Center, Room 103 | July 21 |
| Budget Office | Professional Studies Building, Room 1145 | August 4 and 5 |
| Business Office | Professional Studies Building, Room 1145 | August 4 and 5 |
| Center for Environmental and Outdoor Education | Sperry Center, Room 326 | |
| EAP Office | Professional Studies Building, Room 2205 | August 3 |
| Enrollment Management and Marketing Office | Dowd Fine Arts Center, Room 209 | August 4 and 5 |
| Financial Aid Office | Dowd Fine Arts Center, Room 242 | July 22 |
| Graduate Admissions Office | Sperry Center, Room 103 | July 21 |
| Human Resources Office | Professional Studies Building, Room 1142 | August 3 |
| Information Resources Office | Sperry Center, Room 326 | July 21 |
| Institutional Research and Assessment Office | Old Main Mezzanine | July 25 |
| Payroll Office | Professional Studies Building, Room 1143 | August 4 and 5 |
| President's Office | Professional Studies Building, Room 2101 | August 2 |
| Provost and Vice President for Academic Affairs Office | Professional Studies Building, Room 2225 | August 2 |
| Purchasing Office | Professional Studies Building, Room 1145 | August 4 and 5 |
| Registrar's Office | Brockway Hall Jacobus Lounge | July 26 |
| Research and Sponsored Programs Office | Professional Studies Building, Room 1111 | August 2 |
| Research Foundation | Professional Studies Building, Room 1143 | August 4 and 5 |
| School Systems Change Project | Professional Studies Building, Room 1115 | |
| Student Accounts Office | Brockway Hall Jacobus Lounge | August 1 |
| Vice President for Finance and Management Office | Professional Studies Building, Room 1144-C | August 2 |
For more information, contact Lynda K. Shute or Bill Albert in the Facilities Planning, Design and Construction Office at (607) 753-2214.

Suggest a feature story
---
People on the Move
Sheila Dai Retires from Counseling Center
05/23/2011
Sheila Dai, who served SUNY Cortland's Counseling Center for 35 years, retired Dec. 31. She has been designated assistant director emerita of counseling.
In 1991, she was honored with the SUNY Chancellor's Award for Excellence in Professional Service, an award that recognized local, state and national contributions to her field.
Dai joined the College's Counseling Center staff in 1976. She served as the assistant director and a senior counselor at the Counseling Center in addition to a stint as interim director from 2007-09.
Dai provided personal and educational counseling to members of the College community during her tenure. She was a frequent presenter at regional and statewide workshops on solutions to psychological and health-related problems on college campuses.
She spearheaded SUNY Cortland's efforts to provide access to College programs and services for students with disabilities and she oversaw compliance with Section 504 of the Rehabilitation Act. Her work advanced the development in women's health and rehabilitation on campus.
Dai wrote published articles and delivered several presentations during her career. The topics of her work included accommodations for disability services, career development of two-year students and sexual harassment in industry.
Elected president of the SUNY Disability Services Council in 1995, she served as supervisor or chair of several counseling-related boards. In 1977, Dai co-wrote a $300,000 grant for a college community job search program for the regionally unemployed.
She sat on more than a dozen committees at SUNY Cortland, including the Rehabilitation Advisory Committee, the University Council for Career Services and the Health Service Committee.
Dai received a counselor's certification from the National Board of Certified Counselors in 1984 and a human resources development program certificate from the Industrial and Labor Relations School at Cornell University in 1985. The New York State Education Department awarded Dai a mental health counselor license in 2006. She was named a New York State Personnel and Guidance Association fellow in 1974.
Dai earned a Bachelor of Arts in Psychology from SUNY Potsdam in 1973 and a Master of Science in Rehabilitation Counseling from Syracuse University in 1975. In addition, she performed doctoral work in counselor education at Syracuse University. During her studies, she worked at the Veterans Administration Hospital, Hutchings Psychiatric Center and the Neighborhood Health Center in Syracuse, N.Y.
Dai will reside in Cortland.
Mary Ware to Retire from College
05/23/2011
Mary Ware, who served SUNY Cortland for 41 years, retired on Dec. 31. She has been designated as professor emerita of foundations and social advocacy.
Ware assumed interim dean and associate dean duties three times since 1989. She served as interim dean of graduate studies from 1989-91, interim associate dean of professional studies from 1995-96 and interim associate dean of education from 2005-06. Ware also chaired the Education Department, now the Childhood/Early Childhood Education Department, from 1997-98.
Hired as an instructor in the Education Department in 1970, she was promoted from an instructor to assistant professor of education in 1973. Ware was appointed associate professor of education in 1978 and professor of education in 1983. In 2002, she joined the Foundations and Social Advocacy Department faculty. Over three decades, she helped shape the curriculum of her departments by creating new courses like Gender Issues in Education and pioneering new teaching formats such as the "block" format for childhood education majors.
Ware proved vital to SUNY Cortland's move to personal computers. She taught teachers how to use audiovisual materials like projectors and film early in her career. In the early 1980s, Ware's area of expertise turned to computers and she oversaw numerous workshops for faculty.
A member of the Computer Advisory Committee, which managed personal computing in its infancy at SUNY Cortland, she ran an on-campus computer camp for children and coordinated the computer applications minor during its early years.
In the 1970s, Ware was elected to the University Faculty Senate, which provides faculty governance for the State University of New York. She served as SUNY Cortland's senator for parts of the next three decades, including a stint as vice president of the state-wide organization in 1997-99.
Ware was a member of several College and statewide committees during her tenure, including the Provost's Council, the Teacher Education Council and many department curriculum and personnel committees. She published numerous articles, book chapters and papers on a range of topics that include education, gender and computer technology.
Ware was elected to the Homer Central School District Board of Education in 1990 and served for nine years. She presented at three National School Board Association meetings during her tenure and received a Distinguished School Board Member Award from Onondaga-Cortland-Madison BOCES during her last term. The district created the Dr. Mary Ware Conscience of the Board Award in her honor.
Ware and her partner, Mary F. Stuck, a professor of sociology and the assistant dean of arts and sciences at SUNY Oswego, reside in Homer, N.Y.
---
Faculty/Staff Activities
Ji-Ryun Kim and John Foley
Ji-Ryun Kim, Foundations and Social Advocacy Department, and John Foley, Physical Education Department, recently had their research published in the Korean Journal of Special Education. The title of their article is "Stability of Students' IEP Status and Related Factors: Analyses of the Early Childhood Longitudinal Study - Kindergarten Cohort."

Submit your faculty/staff activity