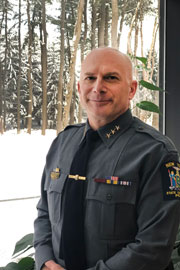 Campus Champion
University Police Department Chief Mark DePaull continues to demonstrate he'll go the extra mile to serve our campus community. Over the Thanksgiving holiday he prepared students and staff for a safe return despite unfavorable weather conditions. Emergency preparedness is one of his many responsibilities. For 30 years at SUNY Cortland he has been a leader, problem solver, recruiter and partner on programs including It's On Us, R.A.D. System, campus crime reporting, safety training and student deployment team recruiting. Each December, UPD coordinates the local Toys for Tots campaign. Donate by Sunday, Dec. 8 at the UPD lobby in Whitaker Hall.

Nominate a Campus Champion
---
Tuesday, Dec. 3
College-Community Orchestra Concert: Cosponsored by SUNY Cortland and the Dan & Rose McNeill Foundation, Old Main Brown Auditorium, 8 p.m.
Wednesday, Dec. 4
Teaching Assistant Poster Symposium: Featuring 2019 COR 101 and sponsored by Advisement and Transition, Memorial Library, 11:30 a.m. to 4:30 p.m. This year's event will take place on the second floor of Memorial Library.
Sandwich Seminar: The 2020 Cortland County Complete Census Count Committee, Brockway Hall Jacobus Lounge, 12:30 to 1:30 p.m.
Reading Performance: A Christmas Carol by Charles Dickens, Brockway Hall Jacobus Lounge, 5:30 p.m.
SUNY Cortland Gospel Choir Holiday Concert: Hosted by the Africana Studies Department and the SUNY Cortland Gospel Choir at Faith Baptist Church, 1731 Route 13, Cortland, 7:15 p.m. A shuttle bus will leave the Corey Union steps at 6:30 p.m. and 7 p.m. and return to campus at the conclusion of the concert.
Thursday, Dec. 5
Sandwich Seminar: I Learned By Doing, presented by the Institute for Civic Engagement's Action Team of interns, Brockway Hall Jacobus Lounge, noon to 1 p.m.
SUNY Cortland Choral Union Concert: "Christmas: Sacred and Secular" at Rose Hall at 19 Church St., Cortland, 7 p.m.
Friday, Dec. 6
Portfolio Development Workshop: Old Main Colloquium (Room 220), 9 to 10 a.m.
Service Awards Ceremony: Corey Union Function Room, 11:30 a.m. RSVP required.
College Singers Concert: "Thoughts and Prayers," Brockway Hall Jacobus Lounge, 7 p.m.
A Capella Concert: Old Main Brown Auditorium, 8 p.m. A fee of $2 will be collected at the door, with all proceeds going toward The Colon Cancer Foundation.
Saturday, Dec. 7
Study Days: Continue through Sunday, Dec. 8
Monday, Dec. 9 through Friday, Dec. 13
Final exams
Monday, Dec. 9
Midnight Breakfast: Neubig Dining Hall, 10 p.m. to midnight, faculty and staff volunteers needed to cook, serve food and service the dining areas from 9:30 p.m. to 12:45 a.m., email Chris Kuretich or Kerry Mincher by Friday, Dec. 6
Tuesday, Dec. 17
Women's Leadership - Equity Mountain II: Brockway Hall Jacobus Lounge, noon to 4 p.m.
---
This is the last issue of The Bulletin for the fall semester. The next issue of The Bulletin will be published on Tuesday, Jan 28.
Spring 2020 Publication Dates
Bulletin #9 Tuesday, Jan. 28
Bulletin #10 Tuesday, Feb. 11
Bulletin #11 Tuesday, Feb. 25
Bulletin #12 Tuesday, March 10
Bulletin #13 Tuesday, March 24
Bulletin #14 Tuesday, April 7
Bulletin #15 Tuesday, April 21
Bulletin #16 Tuesday, May 5
---
---
Deadline nears to volunteer for portraits
Planned diversity posters around campus will share the rich variety of university life. read more
Cortland's musical groups holding fall concerts
Five groups will perform at sites on campus and around town this week. read more
---
Capture the Moment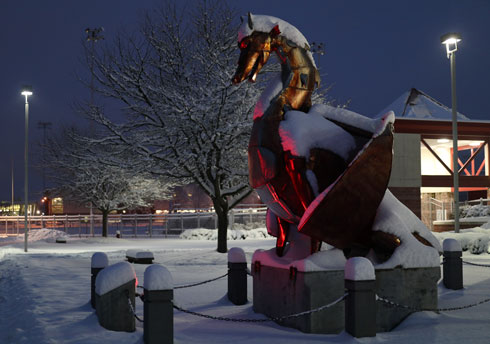 The Red Dragon sculpture in front of the SUNY Cortland Stadium Complex was covered in snow on Monday evening. A storm dropped 12.9" of snow on Cortland over two days and forced the cancelation of classes on Monday.
---
In Other News

Suggest a feature story
---
Faculty/Staff Activities
Jacqueline Augustine was an invited speaker at the Mid-Atlantic Regional American College of Sports Medicine Conference in November. read more
Lindsey Darvin discussed the NCAA NIL changes with SB Nation and the impact they may have on women student-athletes. read more
Jeremiah Donovan presented on Maya pottery practices at a higher education conference in Cuba. read more
Bonni C. Hodges represented the Society for Public Health Education at a workshop in Washington, D.C. read more
Nancy Kane had her first edition of History and Philosophy of P. E. and Sport published. read more
Kathleen A. Lawrence had her poem nominated for a Pushcart Prize. read more
Rhiannon Maton co-presented with four students at the National Council of Teachers of English conference. read more
Danica Savonick had an article published in November in Radical Teacher. read more
Tadayuki Suzuki presented at the 2019 National Council of Teachers of English in November. read more
Tiantian Zheng authored an article the was posted on The Contemporary China Centre. read more

Submit your faculty/staff activity