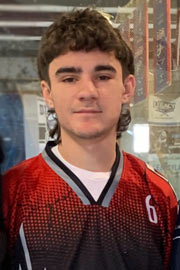 Campus Champion
Eight SUNY Cortland skaters, a goalie and two alumni coaches just returned from the National Collegiate Roller Hockey Association championships in Kalamazoo, Michigan. First-year Michael Luzopone scored three goals in the Division III national championship game, a 6-4 loss to the Ohio State University. Despite the final result, it was a worthwhile and memorable trip for the team. Michael, a business economics major from Queens who has played hockey and roller hockey all his life, credits the team's great chemistry for beating some of the biggest schools in the country on the way to the national final. Men's Club Roller Hockey is the latest sport club team making SUNY Cortland proud on a national stage.

Nominate a Campus Champion
---
Tuesday, April 19
Gearing-up for Grad School: Online via Handshake, 5 to 6 p.m.
Wednesday, April 20
Master Class with Poet Donna Masini: Old Main Colloquium, Room 220, 3 to 4 p.m.
Distinguished Voices in Literature: A poetry reading, conversation and book signing with poet Donna Masini, Sperry Center, Room 105, 5 p.m.
Wellness Wednesday: Cannabis and the Legal Consequences: "DWHigh: Beyond the Legal Consequences," Corey Union Exhibition Lounge, 6 to 6:30 p.m.
Thursday, April 21
Sandwich Seminar: I Learned by Doing, featuring the Institute for Civic Engagement's Action Team interns, online via WebEx, noon to 1 p.m.
Friday, April 22
Trip to NYC Museum of Modern Art: Buses depart SUNY Cortland at 7 a.m., leaving New York City at 6 p.m. and returning to campus around 10:30 p.m.
National Day of Silence: Gay, Lesbian and Straight Education Network (GLSEN) is a national student-led demonstration where LGBTQ+ students and allies all around the world take a vow of silence to protest the harmful effects of harassment and discrimination of LGBTQ+ people in schools. To participate, note cards will be available in the Corey Union Voice Office, Room 225, and a national online Breaking the Silence rally will be held at 7 p.m. on GLSEN Instagram page.
College Singers Concert: Dowd Fine Arts Center performance studio, Room 110, 7 p.m.
Cortland Nites: Paint and Sip, Corey Union Function Room, 8 p.m.
Saturday, April 23
Color Run: Run across campus. Wear a white t-shirt and finish the race covered in a rainbow of colors. Prospect Terrace next to Dowd Fine Arts Center, 11 a.m.
2022 Honors Convocation: Park Center Alumni Arena, 5 p.m.
Sunday, April 24
Ukraine Fundraiser: Pie a Student Government Association cabinet member, Corey Union front steps, 11 a.m. to 1 p.m., only $2 per pie.
Monday, April 25
Pizza and Papers: Get writing and research done with support from the librarians and the Writing Center, and refuel with pizza. Registration is required. Memorial Library, 6 to 8 p.m.
Tuesday, April 26
Re-Thinking Abilities Workshop: Corey Union Fireplace Lounge, 4 to 6 p.m.
Holocaust Remembrance Week Lecture: "Jewish Identity in the US and Beyond: What Do Antisemitism, the Holocaust, and Zionism Have to Do with It? And Why Should You Care?" Online via Webex, 4:30 p.m.
Movie: "PRIDE," 2014. An informal discussion will follow the movie, Sperry Center, Room 104, 6 p.m.
Break-a-board Fundraiser: Hosted by the Tae Kwon Do Club, Student Life Center lawn, 6 to 7:30 p.m. Rain date is Monday, May 2.
College-Community Orchestra Concert: Old Main Brown Auditorium, 7 p.m.
Cortland Nites Trivia: Corey Union Exhibition Lounge, 9 p.m.
Wednesday, April 27
Wellness Wednesday: "Grow Your Own Vegetable Plant" when you stop by Corey Union steps between noon and 3 p.m.
Interview Essentials Workshop: Online via Handshake, 4 to 5 p.m.
Lecture: "Water-Land-Health Nexus in Sub-Saharan Africa," online via Webex, 4:30 p.m.
Holocaust Remembrance Week Lecture: "Sala's Gift: My Mother's Holocaust Story," Sperry Center, Room 106, 7 p.m.
Thursday, April 28
Spring Fling Outdoor Recreation Festival: Student Life Center front lawn, 1 to 4 p.m.
Holocaust Remembrance Week Lecture: "What Hungarian Politics Reveal About Our Times," online via Webex, 4:30 p.m.
Friday, April 29
Transformations: A Student Research and Creativity Conference, Bowers Hall, 10:20 a.m. to 4:15 p.m.
Saturday, April 30
Spring Fling Carnival: Food, games, activities, Moffett Center front lawn, 11 a.m. to 3 p.m.
Performance: "Letter to Sala," a play drawn from Ann Kirschner's memoir, Old Main Brown Auditorium, 2 p.m.
Spring Fling Concert: Sleepy Hallow with pop artist Tinashe, and opening DJ Spencer, Park Center Alumni Arena, 8 p.m.
Sunday, May 1
Mental Health Fair: "Fresh Check Day," Corey Union Function Room, 1 to 3 p.m.
Choral Union Concert: Rose Hall, 19 Church St., Cortland, 3 p.m.
Wednesday, May 4
Sandwich Seminar: "Leveraging Informal Writing," panel presentation, online via Zoom, 12:30 to 1:30 p.m.
Friday, May 6
SUNY Cortland Works! Join the walks that begins at the Professional Studies Building, Smith Tower and Moffett Center bus shelter and meet at Corey Union for a photo, music and food, 1:40 to 3 p.m.
---
---
Sleepy Hallow to headline Spring Fling
The platinum-certified rapper will be the main Spring Fling act on Saturday, April 30, with pop artist Tinashe serving as the supporting artist. read more
Cortland Danceworks earns national title
Competing at their sport's biggest event, the popular dance team won the NDA National Championship in Division III Hip Hop. read more
---
Capture the Moment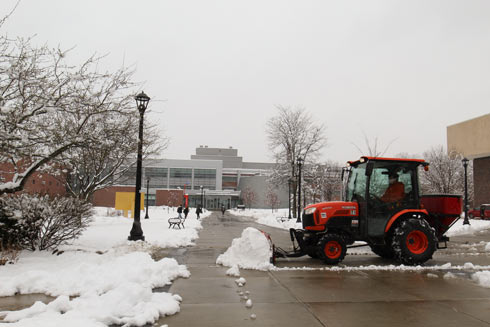 SUNY Cortland's Buildings and Grounds Services staff started working at 3 a.m. Tuesday, April 19, after a late semester storm dumped several inches of heavy snow during the early morning hours. Morning classes on campus were canceled, but the main walkway between Memorial Library and Bowers Hall was cleared by the time classes resumed at 11:40 a.m.
---
In Other News

Suggest a feature story
---
Faculty/Staff Activities
Karen Downey and Eric Edlund presented wind tunnel demonstrations to seven classes of third graders at Smith Intermediate School in March. read more
Eileen Gilroy has announced that the Communication Disorders and Sciences Department received a training grant from the Parkinson Voice Project. read more
Christina Knopf presented at the Eastern Communication Association conference and earned recognition as A Top Paper in Political Communication. read more
Mechthild Nagel substantially revised the entry on "Feminist Perspectives on Class and Work." read more
Jeffrey Radloff and Dominick Fantacone presented at the NARST 2022 Annual International Conference on March 30 in Vancouver, British Columbia. read more
Tiantian Zheng chaired a panel on "Queer Asias: Exploring the Intersections of Queer and Asian Studies" and presented at the Association of Asian Studies annual conference. read more

Submit your faculty/staff activity
In Memoriam
Distinguished Teaching Professor Judith Best died on Tuesday, April 12.