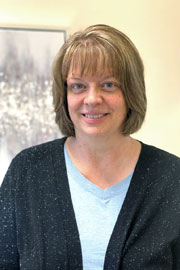 Campus Champion
Barbara Barton, associate professor of health, volunteered for a job in which there was no blueprint. The clinical nurse with a master's degree in public health and a Ph.D. in health studies established a system to help SUNY Cortland report its COVID-19 cases. Seven days a week since March, she compiles and reports this data, easing the load on Student Health Services. And she's still coordinating student field placements, connecting with her graduate and undergraduate classes, processing research on student food insecurity and reaching out as a weekend community health volunteer nurse. "If I can offer my skills, this is not a time to sit back."

Nominate a Campus Champion
---
Tuesday, Dec. 8
COR 101 TA Poster Symposium: View the hard work of our Teaching Assistant student leaders in COR 101: The Cortland Experience for the Fall 2020 TA Poster Symposium. On view through Friday, Dec. 11.
Wednesday, Dec. 9
Virtual Town Hall: Student Government Association wants to hear from SUNY Cortland students regarding the Spring 2021 calendar, WebEx link, 7 p.m.
Student Alumni Association: Student Appreciation Trivia Night. Via WebEx, 7 p.m.
Thursday, Dec. 10
Panel Discussion: Dark Houses and Eerie Cityscapes, sponsored by Dowd Gallery, 4:30 to 6 p.m.
Tuesday, Dec. 15
Online Book Discussion: Join an ongoing discussion of Ibram X. Kendi's Stamped from the Beginning: The Definitive History of Racist Ideas in America. Currently reviewing chapters 13 and 14. An audio version of the book is available on Spotify, open to the campus community every Tuesday via Webex, 8 to 9 p.m. RSVP to Evan Faulkenbury, associate professor of history.
Tuesday, Dec. 22
Winter Session I begins: Continues through Tuesday, Jan. 19.
Tuesday, Jan. 5
Winter Session II: Continues through Tuesday, Jan. 19
Thursday, Jan. 28
Spring 2021 Opening of School Meeting: Hosted virtually by the President's Office, online via Webex
Monday, Feb. 1
Spring Semester First Day of Classes: Read the president's message on 2021 academic calendar.
---
This is the last issue of The Bulletin for the fall semester. The next issue of The Bulletin will be published on Tuesday, Jan. 26.
Spring 2021 Publication Dates
Bulletin #9 Tuesday, Jan. 26
Bulletin #10 Tuesday, Feb. 9
Bulletin #11 Tuesday, Feb. 23
Bulletin #12 Tuesday, March 9
Bulletin #13 Tuesday, March 23
Bulletin #14 Tuesday, April 6
Bulletin #15 Tuesday, April 20
Bulletin #16 Tuesday, May 4
---
---
Multicultural Life director awarded
AnnaMaria Cirrincione was named a Hispanic Leadership Institute Fellow read more
Laura Davies named chief of staff
This leadership role serves as a key advisor to the university president. read more
---
Capture the Moment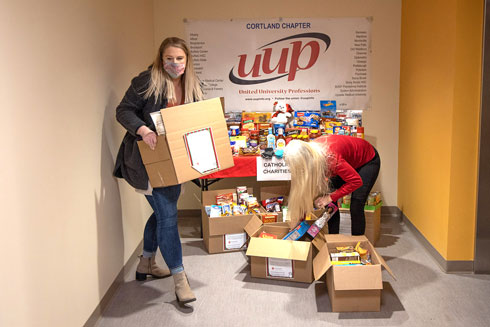 Katie Dalton, left, emergency housing coordinator for Catholic Charities of Cortland County, picked up donations from UUP's 2020 Holiday Food and Gift Drive on Friday, Dec. 4. Toni Murray, Cortland's UUP chapter assistant, right, helped organize the hygiene items, non-perishable food and unwrapped gifts that will go to people in need in the greater Cortland community.
---
In Other News

Suggest a feature story
---
Faculty/Staff Activities
Celeste McNamara had her book, The Bishop's Burden: Reforming the Catholic Church in Early Modern Italy, published in November. read more
Madeline Orr was recognized by Forbes as one of the top 30 under 30 in the sports category. read more

Submit your faculty/staff activity