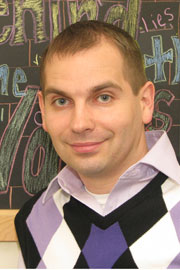 Campus Champion
Anthony Nocella, a part-time lecturer in sociology/anthropology, co-founded the "Save the Kids" re-entry program to keep at-risk youth away from violence and to connect college students with kids in juvenile detention centers. As a result, more than 800 SUNY Cortland students have volunteered at Hillbrook Juvenile Detention Center in Syracuse, N.Y. for a program that won a $70,000 grant from National Grid in December. Kids gain an understanding of role models and college students appreciate civic engagement through Anthony, who advises three clubs and instructs for four different departments on campus. An advocate of service-learning, Anthony has turned social justice into a hands-on experience for his students.

Nominate a Campus Champion
---
Monday, May 16
Health Fair: "Paws for Stress Relief," Corey Union Function Room, 10 a.m.-4 p.m.
---
Wednesday, May 18
Luncheon: United University Professions (UUP) Professionals Recognition Luncheon, Corey Union Function Room, 11:30 a.m.–1 p.m.
---
Friday, May 20
2011 Graduate Commencement: Park Center Alumni Arena, 7 p.m.
---
Friday, May 20
Kente Graduation Ceremony: Corey Union Function Room, 7 p.m.
---
Saturday, May 21
2011 Undergraduate Commencement: Park Center Alumni Arena, 9:30 a.m. and 2:30 p.m.
---
ASC Closing and Summer Hours Posted
Auxiliary Services Corporation has announced special closing hours and summer hours for campus dining facilities and the College Store. View the hours on a PDF or on their website.
---
---
Professor Awarded State's Highest Academic Rank
Michael D. Berzonsky, an internationally respected SUNY Cortland psychology professor whose work redefined commonly accepted thinking about how young people gain an identity, has been appointed a Distinguished Professor, the highest academic rank in the SUNY system. read more
Five to Receive Chancellor's Awards
Five SUNY Cortland faculty and administrators will receive the prestigious State University of New York Chancellor's Award for Excellence during the 2011 Undergraduate Commencement on May 21 in the Park Center. read more
---
Capture the Moment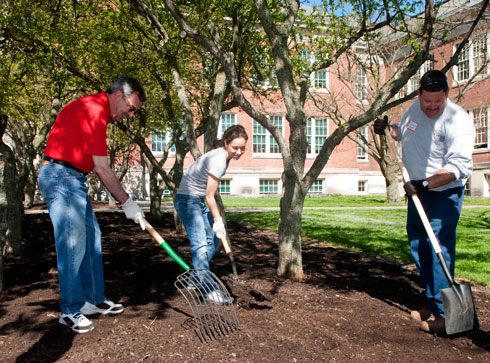 Volunteers grabbed rakes, shovels and gardening gloves and headed outside for the College's Make-A-Difference Day on Wednesday, May 11. President Erik J. Bitterbaum, left, worked alongside political science major Amanda Ephraim and Dan Narsasian, a senior grounds worker, to spread mulch between the Miller Building and Old Main.
---
In Other News

Suggest a feature story
---
Faculty/Staff Activities
JoEllen Bailey presented at the National Student Teaching and Supervision Conference. read more
Christopher Gascón presented a paper at the annual conference of the Association for Hispanic Classical Theater. read more
Jennifer Janes learned The Cortland Fund won a Best in Category award from SUNYCUAD. read more
Greg Phelan conducted chemistry experiments with a pre-K class as part of the NSF-funded Noyce Project. read more
Tracy Rammacher, Tony DeRado and Michelle Cryan have earned two Awards for Excellence from SUNYCUAD. read more
Gregg Weatherby had three of his poems featured on WSKG Public Broadcasting. read more

Submit your faculty/staff activity