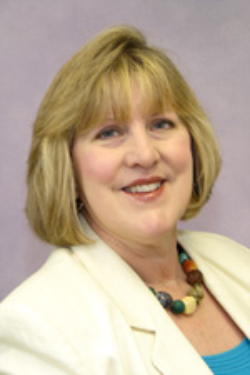 05/13/2011

Five SUNY Cortland faculty and administrators will receive the prestigious State University of New York Chancellor's Award for Excellence during the 2011 Undergraduate Commencement on May 21 in the Park Center.
The honorees are:
• Cynthia Benton, professor of childhood and early childhood education — Chancellor's Award for Excellence in Teaching;
• Deborah Dintino, secretary for political science and Africana studies departments — Chancellor's Award for Excellence in Classified Service;
• J. Richard Kendrick, professor of sociology/anthropology — Chancellor's Award for Excellence in Faculty Service;
• Virginia Levine, executive assistant to the president — Chancellor's Award for Excellence in Professional Service; and
• Christopher McRoberts, professor of geology — Chancellor's Award for Excellence in Scholarship and Creative Activities.
The Chancellor's Awards are conferred to provide system-wide recognition for consistently superior professional achievement and to encourage the ongoing pursuit of excellence at all 64 SUNY campuses. Each campus president submits nominations, which are reviewed by the SUNY Committee on Awards.
Cynthia Benton
Benton (shown on the upper left), who joined the College in 1998, becomes the 53rd SUNY Cortland recipient of the Chancellor's Award for Excellence in Teaching.
She received high praise in classroom observations, student-written course evaluations and letters from former students and colleagues.
"Cynthia Benton exemplifies teaching excellence," noted the Nominating Committee. "She sets high standards, utilizes theoretically based teaching practices, pursues a rigorous scholarly agenda and establishes connections with students that motivate them to be master teachers in early childhood and childhood classrooms throughout New York State."
In April, Benton delivered the keynote address at SUNY Cortland's annual Honors Convocation.
As a professor in the Childhood/Early Childhood Education Department, she teaches graduate research methods, undergraduate fine arts and instructional methods. She also coaches master's projects in the department.
Her research interests include the study of male elementary teachers' career paths, teachers as researchers, and faculty communication and career development. Benton is the author of several book chapters and a course text on cross-cultural humanities.
Benton chaired the Department of Education during her first four years at the College. From 2003-07, she served as chair of the Department of Childhood/Early Childhood Education. She was promoted to professor in 2005.
Prior to her time at SUNY Cortland, Benton taught as an associate professor in the Masters of Education Program at Le Moyne College, serving from 1994-98. From 1989-92, she was the chair of education and associate dean for educational planning at Grove City College in Pennsylvania. Her teaching resume also includes six years of music education in New Castle, Pa.
Benton received a doctoral degree in higher education from the University of California at Los Angeles (UCLA), where she taught for five years and was an assistant director of the Teacher Education Laboratory.
She earned a master's degree in counseling from Westminster College and an undergraduate degree in music education from Geneva College in Pennsylvania.
Deborah Dintino
Deborah Dintino
Dintino, a secretary I in the Political Science and Africana Studies departments and a SUNY Cortland employee for the past 29 years, was honored with the Chancellor's Award for Excellence in Classified Service.
She becomes the third SUNY Cortland recipient of the classified service honor, created by SUNY in 2009 and presented in recognition of outstanding job performance, flexibility and creativity on campus, and demonstration of exemplary customer service.
"Deborah Dintino's demeanor is always friendly, approachable and helpful," said College President Erik J. Bitterbaum. "In short, she is a consummate professional and a role model for the campus."
Dintino came to SUNY Cortland in 1982 as a word processing intern. She moved into a full-time position as the word processing operator in the College's Admissions Office in the same year. In 1993, she was promoted to secretary I in the Admissions Office, where she served until 1996, when she assumed her current role.
Dintino's work ethic and superior organizational skills caught the attention of the Nominating Committee.
"She discharges wide-ranging and burdensome responsibilities with professionalism, efficiency and a very high level of performance in terms of office management, supervision of student workers, dealing with faculty and productivity," the committee stated. "Her work is marked by integrity, discretion and excellent service for students and visitors."
Throughout her career, Dintino has welcomed new technological initiatives, which include Banner computer system training, online degree audits and a web content management system. She also eased the transition of her departments to paperless practices.
Outside of her regular job responsibilities, Dintino acted as a founding member of the Phi Beta Delta International Honorary Chapter. She routinely works on the group's annual induction ceremonies.
Dintino fosters diversity on the SUNY Cortland campus with her work for the Africana Studies Department and the Clark Center for International Education. For more than a decade, she has organized all of the College's programming for Black History Month. She has coordinated several international travel arrangements for students, faculty and campus visitors, including oversight of two grants that once brought 35 visitors from Europe.
The Nominating Committee described Dintino as an accommodating person who provides "superior customer service" to every person she encounters.
"The sheer variety of tasks Deborah Dintino performs underscores not only her value to vigorous programs, but to the superb manner in which she engages in her work," the committee commented.
She obtained her associate's degree with honors from Tompkins Cortland Community College in secretarial science and word processing.
Dintino and her husband, Michael, reside in Cortland. They have two children.
Richard Kendrick
Richard Kendrick
Kendrick becomes the eighth SUNY Cortland recipient of the Chancellor's Award for Excellence in Faculty Service, which recognizes his extensive College service and leadership, as well as his specific contributions in the area of civic engagement since his appointment to the Sociology/Anthropology Department faculty in 1991.
He joined the College as a lecturer and was promoted to assistant professor in 1992. He became an associate professor in 1998 and a professor in 2005. Kendrick served as chair of his department while teaching and directing the Institute for Civic Engagement. He also has coordinated the All-College Honors Program.
A longtime proponent of community-based research, he has worked tirelessly with the City of Cortland on projects that include VISTA, AmeriCorps and the Cortland Community Assessment Team.
In 2003, he was appointed coordinator of the American Democracy Project. His dedication to the area of civic engagement resulted in his appointment as director of the Institute for Civic Engagement. In that role, he led the College's successful effort to become the first SUNY school to achieve the prestigious Carnegie Community Engagement Classification. He also was instrumental in having the College named to the President's Higher Education Community Service Honor Roll for four consecutive years. Some of his campus-wide initiatives promote student voting during elections.
His external grants bring in significant funding for town-gown collaborative projects. Most recent is a Bringing Theory to Practice grant for $100,000 over two years. This project, done in partnership with the American Association of Colleges and Universities, will serve as a national model that will establish the critical connection between civic engagement and student well being.
A frequent presenter and consultant at meetings of the Rotary Club and the New York State campus Compact chapters, he has served as a volunteer mediator for New Justice Conflict Resolution Services and a volunteer for Syracuse Habitat for Humanity. Within his profession, he is a reviewer for Michigan Journal of Community and Service Learning.
He holds a B.A. in politics from Wake Forest University and an M.P.A. from University of Georgia. Kendrick earned a Ph.D. in social science as well as a Certificate in Achievement in Conflict Analysis and Resolution from Syracuse University's Maxwell School of Citizenship and Public Affairs.
Virginia Levine
Virginia Levine
Levine, who joined SUNY Cortland in 1988, is the 23rd staff member to receive the Chancellor's Award for Excellence in Professional Service.
The honor recognizes her consistently superior professional service within and beyond her position description. During her 23 years in the campus community, she has grown in respect among the students, alumni, colleagues and community partners for her passion, professionalism and "can do" attitude.
Levine, of Cortland, N.Y., joined the College as an assistant professor in the International Communications and Culture Department. She was promoted to associate professor in 1993. In 1998, the College named her associate dean of the School of Arts and Sciences. Levine has also filled the role of Associate Dean of Teacher Certification and Accreditation. In her current role, which she has held since 2004, she continues to be an effective leader in accreditation activities, diversity programming, long-range planning, gender equity issues, international programming and events management.
Levine's influence extends beyond the campus. She is actively engaged in numerous community initiatives and has been a leader in creating partnerships. Levine was a major contributor to the Foreign Languages in the Elementary School initiative, the University in High School program, Goals 2000, the Onondaga Nation Partnership and Hillary Clinton's Raquette Lake Partnership with the Franklin-Essex-Hamilton BOCES to provide valuable environmental learning opportunities for students in New York state.
She was a driving force behind the creation and growth of the New York State Association of Colleges of Teacher Education (NYACTE)/New York, the State Association of Teacher Educators (NYSATE) and the New York State Association of Foreign Language Teachers (NYSAFLT). The NYSAFLT honored her with its President's Award and its Ruth E. Wasley Distinguished Teacher Award, which is presented to an outstanding post-secondary foreign language educator in New York state.
Previously, Levine was an assistant professor at SUNY Geneseo, where she taught Spanish and French. From 1979 to 1982, she taught Spanish and related subjects as an assistant professor, first at Hiram College and then at the University of Miami (Fla.) in Coral Gables. She was a visiting lecturer at the University of Texas at San Antonio in 1978.
She earned a bachelor's degree in Spanish, with honors, from SUNY Albany. Her master's degree and Ph.D., both in Spanish, are from Pennsylvania State University.
Christopher McRoberts
Christopher McRoberts
McRoberts becomes the 10th SUNY Cortland faculty member to receive the Chancellor's Award for Excellence in Scholarship and Creative Activities, which recognizes his prominent, international stature in scholarship on the Triassic Period and on biostratigraphy, which focuses on correlating and assigning relative ages of rock strata by using the fossil assemblages contained within them.
McRoberts joined SUNY Cortland in 1997 as an assistant professor in the Geology Department. He was promoted to associate professor in 2003 and to professor in 2006.
He has conducted fieldwork in China, Italy, Canada, Austria and Hungary.
A prolific researcher, his findings have been published in many scientific journals, including Science, Journal of Paleontology, Geology and Palaeogeography, Palaeoclimatology, Palaeoecology. He has written seven published book chapters, four monographs and a number of governmental scientific reports.
McRoberts is a frequent guest lecturer and presenter at university and international symposia in his field throughout the U.S. and worldwide. Because of his expertise and international reputation in the field, McRoberts has been appointed to several prestigious positions in his discipline, including as a research associate at the American Museum of Natural History in New York, secretary general for the International Union of Geological Sciences Commission on Triassic Stratigraphy, co-leader of an international Geologic Correlation Project, and chair of the Northeast Section of the Paleontological Society. McRoberts was a 1995-96 Alexander von Humboldt Research Fellow at the Institute for Paleontology, University of Wurzburg in Germany and received many research awards and honors.
McRoberts' research has been supported by grants he obtained from the national Science Foundation, Petroleum Research Fund of the American Chemical Society, UNESCO, International Geological Correlation Programme and the Alaska Division of Geology and Natural Resources.
In 2009, "Animal Planet" interviewed him for a segment on dinosaurs.
Previously, he served as a research associate at SUNY Binghamton.
He earned his bachelor's of science, master's of science and doctoral degrees in geology from University of Wyoming, University of Montana and Syracuse University, respectively.
---