Professor Awarded State's Highest Academic Rank
05/13/2011
Michael D. Berzonsky, an internationally respected SUNY Cortland psychology professor whose work redefined commonly accepted thinking about how young people gain an identity, has been appointed a Distinguished Professor, the highest academic rank in the SUNY system.
Berzonsky was one of only 12 faculty members throughout SUNY, the nation's largest public higher education system, to be elevated to the Distinguished Professor rank by the SUNY Board of Trustees this week. The promotion became effective May 10.
SUNY Cortland was the only comprehensive state school to have a faculty member on the list. All other newly appointed Distinguished Professors were from one of SUNY's four research universities or a teaching hospital.
The Distinguished Professorship is conferred upon individuals at SUNY's state-operated campuses who have achieved national or international prominence and a distinguished reputation within their chosen field. Berzonsky is the sixth Distinguished Professor in SUNY Cortland's history.
During his 40-year career at SUNY Cortland, Berzonsky has gained international recognition as a dedicated researcher and prolific scholar in the fields of cognitive psychology and identity styles. He has written more than 70 articles published in peer-reviewed journals in his field, authored two books and edited two others. He serves on seven editorial boards and presents frequently at international and national conferences.
"All told, Dr. Berzonsky embodies all the qualities of someone holding the rank of Distinguished Professor at SUNY," said Mark Prus, provost and vice president for academic affairs at SUNY Cortland, in recommending Berzonsky. "He is a dedicated teacher, a leading-edge scholar, a good citizen in his discipline and a mentor to colleagues and students."
Many of Berzonsky's professional peers consider him to be a pioneer in the field of cognitive psychology. His ideas about what influences people in developing psychological identities, and the impact that has both positive and negative behavior were precedent-setting, and are now widely accepted. His Identity Style Inventory — a method for determining which of three processes an adolescent uses to help develop an identity — has been adopted world-wide and has been translated into a host of non-English languages. The methodology has been published in 21 countries, including Iran, Pakistan, India, China and Turkey.
As Michael Chandler, a psychology professor with the University of British Columbia, put it when recommending Berzonsky for the honor: "The entire discipline of identity development research has been converted to his once-radical views. The growth edge of research into the identity-formation process has followed his lead."
In 2006, Berzonsky's work was highlighted at a major conference in the Netherlands, "European Conference on the Theory and Measurement of Identity Style." In 2009, he was the invited to be the keynote speaker for the 18th Conference of Developmental Psychologists, in Wroclaw, Poland.
Berzonsky received the Chancellor's Award for Excellence in Scholarship and Creative Activities in 2008, as well as the College at Cortland's Outstanding Achievement in Research Award (2008).
At SUNY Cortland, which has a longstanding reputation as a teaching College, Berzonsky demonstrates an ability to balance an intensive research agenda with superior teaching. He has served on many campus committees and currently serves on the SUNY Cortland Institutional Research Board.
A native of Phillipsburg, Pa., Berzonsky received a bachelor's degree in psychology from Indiana University of Pennsylvania, a master's degree in educational research from Bucknell University, and a Ph.D. in applied psychology from the University of Toronto. He began teaching at SUNY Cortland in 1971 and became a full professor at the College in 1982. He lives in Homer, N.Y.
Two other current members of SUNY Cortland's faculty are Distinguished Professors: Timothy Baroni, a biological sciences professor who is an international expert in mushrooms and fungi, and Terrance Fitzgerald, a biological sciences professor who is an expert on social caterpillars. The other three professors are emeritus: Steven Barbash, art emeritus; Van Akin Burd, English emeritus; and John Corso, psychology emeritus.
Five to Receive Chancellor's Awards
05/13/2011
Five SUNY Cortland faculty and administrators will receive the prestigious State University of New York Chancellor's Award for Excellence during the 2011 Undergraduate Commencement on May 21 in the Park Center.
The honorees are:
• Cynthia Benton, professor of childhood and early childhood education — Chancellor's Award for Excellence in Teaching;
• Deborah Dintino, secretary for political science and Africana studies departments — Chancellor's Award for Excellence in Classified Service;
• J. Richard Kendrick, professor of sociology/anthropology — Chancellor's Award for Excellence in Faculty Service;
• Virginia Levine, executive assistant to the president — Chancellor's Award for Excellence in Professional Service; and
• Christopher McRoberts, professor of geology — Chancellor's Award for Excellence in Scholarship and Creative Activities.
The Chancellor's Awards are conferred to provide system-wide recognition for consistently superior professional achievement and to encourage the ongoing pursuit of excellence at all 64 SUNY campuses. Each campus president submits nominations, which are reviewed by the SUNY Committee on Awards.
Cynthia Benton
Benton (shown on the upper left), who joined the College in 1998, becomes the 53rd SUNY Cortland recipient of the Chancellor's Award for Excellence in Teaching.
She received high praise in classroom observations, student-written course evaluations and letters from former students and colleagues.
"Cynthia Benton exemplifies teaching excellence," noted the Nominating Committee. "She sets high standards, utilizes theoretically based teaching practices, pursues a rigorous scholarly agenda and establishes connections with students that motivate them to be master teachers in early childhood and childhood classrooms throughout New York State."
In April, Benton delivered the keynote address at SUNY Cortland's annual Honors Convocation.
As a professor in the Childhood/Early Childhood Education Department, she teaches graduate research methods, undergraduate fine arts and instructional methods. She also coaches master's projects in the department.
Her research interests include the study of male elementary teachers' career paths, teachers as researchers, and faculty communication and career development. Benton is the author of several book chapters and a course text on cross-cultural humanities.
Benton chaired the Department of Education during her first four years at the College. From 2003-07, she served as chair of the Department of Childhood/Early Childhood Education. She was promoted to professor in 2005.
Prior to her time at SUNY Cortland, Benton taught as an associate professor in the Masters of Education Program at Le Moyne College, serving from 1994-98. From 1989-92, she was the chair of education and associate dean for educational planning at Grove City College in Pennsylvania. Her teaching resume also includes six years of music education in New Castle, Pa.
Benton received a doctoral degree in higher education from the University of California at Los Angeles (UCLA), where she taught for five years and was an assistant director of the Teacher Education Laboratory.
She earned a master's degree in counseling from Westminster College and an undergraduate degree in music education from Geneva College in Pennsylvania.
Deborah Dintino
Deborah Dintino
Dintino, a secretary I in the Political Science and Africana Studies departments and a SUNY Cortland employee for the past 29 years, was honored with the Chancellor's Award for Excellence in Classified Service.
She becomes the third SUNY Cortland recipient of the classified service honor, created by SUNY in 2009 and presented in recognition of outstanding job performance, flexibility and creativity on campus, and demonstration of exemplary customer service.
"Deborah Dintino's demeanor is always friendly, approachable and helpful," said College President Erik J. Bitterbaum. "In short, she is a consummate professional and a role model for the campus."
Dintino came to SUNY Cortland in 1982 as a word processing intern. She moved into a full-time position as the word processing operator in the College's Admissions Office in the same year. In 1993, she was promoted to secretary I in the Admissions Office, where she served until 1996, when she assumed her current role.
Dintino's work ethic and superior organizational skills caught the attention of the Nominating Committee.
"She discharges wide-ranging and burdensome responsibilities with professionalism, efficiency and a very high level of performance in terms of office management, supervision of student workers, dealing with faculty and productivity," the committee stated. "Her work is marked by integrity, discretion and excellent service for students and visitors."
Throughout her career, Dintino has welcomed new technological initiatives, which include Banner computer system training, online degree audits and a web content management system. She also eased the transition of her departments to paperless practices.
Outside of her regular job responsibilities, Dintino acted as a founding member of the Phi Beta Delta International Honorary Chapter. She routinely works on the group's annual induction ceremonies.
Dintino fosters diversity on the SUNY Cortland campus with her work for the Africana Studies Department and the Clark Center for International Education. For more than a decade, she has organized all of the College's programming for Black History Month. She has coordinated several international travel arrangements for students, faculty and campus visitors, including oversight of two grants that once brought 35 visitors from Europe.
The Nominating Committee described Dintino as an accommodating person who provides "superior customer service" to every person she encounters.
"The sheer variety of tasks Deborah Dintino performs underscores not only her value to vigorous programs, but to the superb manner in which she engages in her work," the committee commented.
She obtained her associate's degree with honors from Tompkins Cortland Community College in secretarial science and word processing.
Dintino and her husband, Michael, reside in Cortland. They have two children.
Richard Kendrick
Richard Kendrick
Kendrick becomes the eighth SUNY Cortland recipient of the Chancellor's Award for Excellence in Faculty Service, which recognizes his extensive College service and leadership, as well as his specific contributions in the area of civic engagement since his appointment to the Sociology/Anthropology Department faculty in 1991.
He joined the College as a lecturer and was promoted to assistant professor in 1992. He became an associate professor in 1998 and a professor in 2005. Kendrick served as chair of his department while teaching and directing the Institute for Civic Engagement. He also has coordinated the All-College Honors Program.
A longtime proponent of community-based research, he has worked tirelessly with the City of Cortland on projects that include VISTA, AmeriCorps and the Cortland Community Assessment Team.
In 2003, he was appointed coordinator of the American Democracy Project. His dedication to the area of civic engagement resulted in his appointment as director of the Institute for Civic Engagement. In that role, he led the College's successful effort to become the first SUNY school to achieve the prestigious Carnegie Community Engagement Classification. He also was instrumental in having the College named to the President's Higher Education Community Service Honor Roll for four consecutive years. Some of his campus-wide initiatives promote student voting during elections.
His external grants bring in significant funding for town-gown collaborative projects. Most recent is a Bringing Theory to Practice grant for $100,000 over two years. This project, done in partnership with the American Association of Colleges and Universities, will serve as a national model that will establish the critical connection between civic engagement and student well being.
A frequent presenter and consultant at meetings of the Rotary Club and the New York State campus Compact chapters, he has served as a volunteer mediator for New Justice Conflict Resolution Services and a volunteer for Syracuse Habitat for Humanity. Within his profession, he is a reviewer for Michigan Journal of Community and Service Learning.
He holds a B.A. in politics from Wake Forest University and an M.P.A. from University of Georgia. Kendrick earned a Ph.D. in social science as well as a Certificate in Achievement in Conflict Analysis and Resolution from Syracuse University's Maxwell School of Citizenship and Public Affairs.
Virginia Levine
Virginia Levine
Levine, who joined SUNY Cortland in 1988, is the 23rd staff member to receive the Chancellor's Award for Excellence in Professional Service.
The honor recognizes her consistently superior professional service within and beyond her position description. During her 23 years in the campus community, she has grown in respect among the students, alumni, colleagues and community partners for her passion, professionalism and "can do" attitude.
Levine, of Cortland, N.Y., joined the College as an assistant professor in the International Communications and Culture Department. She was promoted to associate professor in 1993. In 1998, the College named her associate dean of the School of Arts and Sciences. Levine has also filled the role of Associate Dean of Teacher Certification and Accreditation. In her current role, which she has held since 2004, she continues to be an effective leader in accreditation activities, diversity programming, long-range planning, gender equity issues, international programming and events management.
Levine's influence extends beyond the campus. She is actively engaged in numerous community initiatives and has been a leader in creating partnerships. Levine was a major contributor to the Foreign Languages in the Elementary School initiative, the University in High School program, Goals 2000, the Onondaga Nation Partnership and Hillary Clinton's Raquette Lake Partnership with the Franklin-Essex-Hamilton BOCES to provide valuable environmental learning opportunities for students in New York state.
She was a driving force behind the creation and growth of the New York State Association of Colleges of Teacher Education (NYACTE)/New York, the State Association of Teacher Educators (NYSATE) and the New York State Association of Foreign Language Teachers (NYSAFLT). The NYSAFLT honored her with its President's Award and its Ruth E. Wasley Distinguished Teacher Award, which is presented to an outstanding post-secondary foreign language educator in New York state.
Previously, Levine was an assistant professor at SUNY Geneseo, where she taught Spanish and French. From 1979 to 1982, she taught Spanish and related subjects as an assistant professor, first at Hiram College and then at the University of Miami (Fla.) in Coral Gables. She was a visiting lecturer at the University of Texas at San Antonio in 1978.
She earned a bachelor's degree in Spanish, with honors, from SUNY Albany. Her master's degree and Ph.D., both in Spanish, are from Pennsylvania State University.
Christopher McRoberts
Christopher McRoberts
McRoberts becomes the 10th SUNY Cortland faculty member to receive the Chancellor's Award for Excellence in Scholarship and Creative Activities, which recognizes his prominent, international stature in scholarship on the Triassic Period and on biostratigraphy, which focuses on correlating and assigning relative ages of rock strata by using the fossil assemblages contained within them.
McRoberts joined SUNY Cortland in 1997 as an assistant professor in the Geology Department. He was promoted to associate professor in 2003 and to professor in 2006.
He has conducted fieldwork in China, Italy, Canada, Austria and Hungary.
A prolific researcher, his findings have been published in many scientific journals, including Science, Journal of Paleontology, Geology and Palaeogeography, Palaeoclimatology, Palaeoecology. He has written seven published book chapters, four monographs and a number of governmental scientific reports.
McRoberts is a frequent guest lecturer and presenter at university and international symposia in his field throughout the U.S. and worldwide. Because of his expertise and international reputation in the field, McRoberts has been appointed to several prestigious positions in his discipline, including as a research associate at the American Museum of Natural History in New York, secretary general for the International Union of Geological Sciences Commission on Triassic Stratigraphy, co-leader of an international Geologic Correlation Project, and chair of the Northeast Section of the Paleontological Society. McRoberts was a 1995-96 Alexander von Humboldt Research Fellow at the Institute for Paleontology, University of Wurzburg in Germany and received many research awards and honors.
McRoberts' research has been supported by grants he obtained from the national Science Foundation, Petroleum Research Fund of the American Chemical Society, UNESCO, International Geological Correlation Programme and the Alaska Division of Geology and Natural Resources.
In 2009, "Animal Planet" interviewed him for a segment on dinosaurs.
Previously, he served as a research associate at SUNY Binghamton.
He earned his bachelor's of science, master's of science and doctoral degrees in geology from University of Wyoming, University of Montana and Syracuse University, respectively.
---
Capture the Moment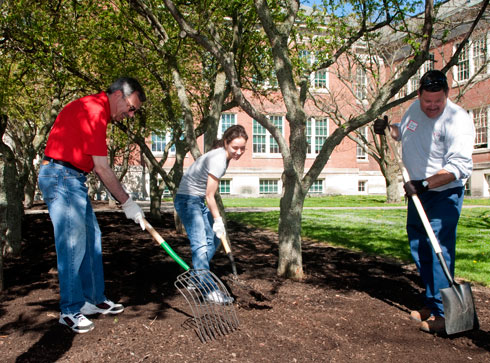 Volunteers grabbed rakes, shovels and gardening gloves and headed outside for the College's Make-A-Difference Day on Wednesday, May 11. President Erik J. Bitterbaum, left, worked alongside political science major Amanda Ephraim and Dan Narsasian, a senior grounds worker, to spread mulch between the Miller Building and Old Main.
---
In Other News
Commencements Set for Friday, Saturday
05/16/2011
SUNY Cortland will conduct its graduate and undergraduate Commencement ceremonies on Friday, May 20, and Saturday, May 21 in the Park Center Alumni Arena.
The graduate ceremony for students earning master's degrees and certificates of advanced study is scheduled for Friday at 7 p.m. Two undergraduate ceremonies – one at 9:30 a.m. and the other at 2:30 p.m. – will be held Saturday.
An estimated 1,517 seniors will receive bachelor's degrees during the undergraduate Commencement exercises, which will be presided over by SUNY Cortland President Erik J. Bitterbaum. The College will award 296 master's degrees and 24 certificates of advanced study at the graduate Commencement.
Two speakers will deliver Commencement addresses at the undergraduate programs. Jan Richards Whitaker '65, a marathon canoe racer whose innovative programs have helped thousands of people with disabilities gain confidence and improved health through adaptive paddling, will address the graduates during the morning ceremony. Margaret Leng Tan, a classically trained pianist who explores alternative forms of music and unconventional instruments, will address the graduates during the afternoon ceremony. The State University of New York will bestow an honorary Doctor of Humane Letters upon Whitaker and an honorary Doctor of Fine Arts upon Tan during Commencement.
President Bitterbaum will welcome the graduates at both undergraduate ceremonies. Mark Prus, provost and vice president for academic affairs, will recognize the honor graduates. The 2009-10 and 2010-11 Student Government Association (SGA) President Jesse Campanaro, a senior business economics major from Monticello, N.Y., will deliver remarks. Joining President Bitterbaum in conferring the degrees will be R. Bruce Mattingly, dean of arts and sciences; and John Cottone, dean of professional studies and interim dean of education.
At the graduate Commencement, Prus will offer a welcome, and Bonnie Jean Harding of Cortland, N.Y., a candidate for Master of Science in Education: Teaching Students with Disabilities, will provide remarks on behalf of the graduates. President Bitterbaum will deliver the charge to the graduates and Mattingly and Cottone will present the degrees and certificates to the graduates.
Nancy Niskin Sorbella '82, the SUNY Cortland Alumni Association president, will officially welcome the graduates at all three ceremonies into the ranks of the College's more than 62,000 alumni.
The Undergraduate Commencement Committee is co-chaired by Virginia B. Levine, executive assistant to the president, and Marley Sweet Barduhn '76, assistant provost for teacher education, academic affairs. The Graduate Commencement Committee is co-chaired by Levine and Hailey Ruoff '98, assistant director of instructional technologies and design services.
This year, both undergraduate Commencement ceremonies will be broadcast live on Time Warner Cable access Channel 17 to viewers in the Cortland area. The ceremonies can also be viewed on campus in any classroom equipped with a television, on channels 2 and 17.
Graduating seniors wishing to acknowledge their multicultural heritage will also participate in a Kente Graduation Ceremony at 7 p.m. on Friday, May 20, in the Corey Union Function Room. The traditional, woven multicolored kente cloth of Ghana, originally worn by royalty, has become an important symbol for many African-Americans to highlight their connection to the African continent.
Kente Graduation Celebrates Students
05/16/2011
Dennis Class predicts he will cry when he is recognized at SUNY Cortland's Kente Graduation Ceremony on Friday, May 20.
Class, 28, a nontraditional student from the Bronx, N.Y., is one of 35 students participating in the event, which is of West African origin and commemorates a rite of passage from higher education. It will take place the day before Undergraduate Commencement, and is traditionally an intimate gathering for all ethnicities.
The event's major symbol is the Kente stole, a rich, multicolored style of cloth that originated in Ghana. Similar to an academic hood, the stole is worn at Commencement to symbolize higher education's pursuits and connections to the African world. (The stole is pictured in the above photo from the 2010 ceremony, in which Ann Cutler of the office of multicultural life and diversity helps a student.)
"Kente is very, very similar to Commencement," said Seth Asumah, a SUNY Distinguished Teaching Professor who chairs the College's Africana Studies Department. "The only difference is that it's a lot closer, a lot more family-oriented."
Class does not have many immediate family members left. His mother, Sonia, died nearly four years ago — on May 27, 2007 — after suffering through an HIV infection. She was a single parent.
Class received his acceptance letter from SUNY Cortland just before his mother's death. Under the circumstances, he was not certain that it was the right time to begin the intellectual pursuit that Kente celebrates.
"I asked her on her death bed and she wasn't able to speak with tubes in her throat," he said. "I asked her if she still wanted me to go to school and, as mothers do, she couldn't speak, but she gave me that look."
Early in his Cortland career, he achieved the academic success that Kente highlights, earning a 3.84 GPA during his first year. But he struggled emotionally and cried himself to sleep every night, he said.
Something changed when he was introduced to Robyn Forster, a senior counselor in the Counseling Center; Noelle Paley, the director of multicultural life and diversity; and Sharon Torres, a woman he met through La Familia Latina and now considers an aunt.
Outside of his grandmother, Nivia Gonzalez, Class was slow to trust most people. But the group of three — Forster, Paley and Torres — shattered his internal barriers. At Friday's ceremony, Forster will bestow Class' Kente stole.
An adolescence education and mathematics major, Class became a recognizable face at the College, participating in seven different clubs, working in Corey Union and serving as the play-by-play announcer for Cortland football on campus television and Internet radio.
The ability to savor educational opportunities on campus is one that Class shares with other Kente participants, including Tiffany Lewars, a communication studies major who worked as a student intern in the Multicultural Life and Diversity Office.
Lewars said she was shy when she arrived in Cortland but grew more assertive through her work with the Caribbean Students Association, her role as lifestyles editor of the Dragon Chronicle and her public relations manager position with Speak Magazine. Through all of her work, she tries to embrace different cultures.
"To have a ceremony that celebrates culture, I wanted to be a part of that," she said.
Regina Morgan, a transfer student and a physical education major from Brooklyn, N.Y., served as the student chairperson of the Kente Graduation Ceremony last year. She understands the work and emotions associated with the event.
The eldest of five children, Morgan looks forward to sharing the celebration with her mother, grandparents and siblings.
"It's not just: 'Here's your diploma,'" said Morgan, who served as president of the Caribbean Student Association and a resident advisor during her time at Cortland. "Kente makes you appreciate more what you've been doing for the last four years.
"My sister, she's 16, and I've been away for five years. She gets to see, this is what my sister has been doing."
Asumah called the Kente Graduation Ceremony a "complete celebration" that marks the transition from an institution of higher learning to the next chapter of a graduate's life.
Next year, as Class student-teaches and coaches football in New York City, as Lewars interns at a television production company and as Morgan pursues a master's degree, they will remember the intellectual growth of their undergraduate years.
"You don't realize (Kente participants) are doing so much until you hear it," said Morgan. "And that's what Kente does.
"It just gives you a greater appreciation for your time here at Cortland."
Professionals, Staff to Attend Diversity Institute
05/06/2011
Campus professionals for the first time will be offered a seat at the table of the College's annual summer institute on educating educators about inclusiveness on campus from Monday, May 23, through Wednesday, May 25.
About half of the 10 who registered for this year's three-day Summer Institute for Infusing Diversity and Multiculturalism into the Curriculum and Professional Service are professionals, organizers said.
Registration closed on May 11.
Participants will meet in Old Main, Room G-12 to discuss and explore ways to reach the goal of becoming an "inclusive excellence educator." The areas of diversity and multiculturalism to be discussed may include race, ethnicity and racism; gender, sex and sexism; class and classism; homosexuality and homophobia; people with disabilities and able-ism; looks and look-ism; age and ageism; and religion and religio-ethnocentrism.
The institute will offer SUNY Cortland faculty and professional staff the chance to become comfortable with diversity and help them work toward the common institutional goal of having a campus of very different people living in harmony with one another, Nagel said.
On college campuses, all employees are educators, including professional staff, according to institute co-facilitators Mecke Nagel, a SUNY Cortland philosophy professor who chairs the College's Center for Gender and Intercultural Studies (CGIS).
"We all need to learn more about the respect for language and cultures," Nagel said. "We gain that through a three-day, intensive discussion with each other, which culminates in a presentation by participants.
"This also is another way of bringing faculty and professional staff together to hear about campus issues as they affect all of us in different ways."
Seth Asumah, who will co-facilitate the upcoming Summer Institute for Infusing Diversity and Multiculturalism into the Curriculum and Professional Service, is shown discussing diversity in the 2009 Diversity Leadership Train the Trainer Institute workshop on the campus.
Nagel's co-facilitator, Seth Asumah, a SUNY Distinguished Teaching Professor of political science who chairs the SUNY Cortland Africana Studies Department, outlined the institute's approach:
"We will utilize the knowledge base and conceptual framework of the diversity wheel, learning wheel, cultural competence, difficult dialogue, white racial framework, Islamophobia framework, and social justice theories," he said. "The aim is to prepare culturally competent transformative teachers and professionals at SUNY Cortland."
Nagel and Asumah have trained more than 100 faculty members on the campus since they began offering the institutes in 2004. In 2009, Nagel and Asumah also began co-directing a three-year project to develop leadership in diversity on three SUNY campuses: Cortland, New Paltz and Oneonta. The Diversity Leadership Train the Trainer Institute (DLTI) project is supported by grants totaling a little more than $40,000 from both the New York State/United University Professions (UUP) Joint Labor-Management Campus Grants Committee and the SUNY Office of Diversity and Educational Equity (ODEE).
In addition to Nagel and Asumah, the presenters will include:
• Janet Duncan, an associate professor of foundations and social advocacy at SUNY Cortland and director of its Institute for Disability Studies.
• Kate Coffey and Aimee Greeley, SUNY Cortland Health Department faculty members who co-chair the Lesbian Gay Bisexual Transexual and Queer or Questioning (LGBRQ) Faculty Committee.
The presentation by Greeley and Coffey will run the gamut — from basic information about the LGBTQ community to suggestions on how to create equity for members of that community.
The Summer Institute is co-sponsored by the Office of the President, Office of the Provost and Vice President for Academic Affairs, CGIS, the Africana Studies Department and the Political Science and Philosophy departments.
For more information, contact either of the two co-facilitators. Seth N. Asumah can be reached at (607) 753-2064. Mecke Nagel is available at (607) 753-2013.
Phi Kappa Phi Scholars Reveal Success Secrets
05/13/2011
What does it take to be a top student at SUNY Cortland? Six high-achieving members of SUNY Cortland's chapter of Phi Kappa Phi, the nation's oldest and largest honor society for all academic disciplines, have the answer to that question.
"I feel as if I live a balanced life, in which everything I do is a representation of myself as a person," said one of the six, Nicholas Mangan of Orangeburg, N.Y., shown above left. "Scheduling and planning plays a big part, but I find a way to balance my school work with time to be active, time to help the community, time to make some money and time to relax with friends and family."
Mangan and the others were recognized as "Scholars of the Year" by Phi Kappa Phi's Cortland chapter on April 16 in the Corey Union Function Room. The scholars also received $50 and were recognized the same day during SUNY Cortland's annual Honors Convocation ceremony in the Park Center Alumni Arena.
The honor was based on their academic accomplishments as well as their leadership and volunteer involvement at the College.
Founded in 1897 at the University of Maine, Phi Kappa Phi annually initiates about 30,000 new members from nearly 300 campuses in the U.S., Puerto Rico and the Philippines.
Nicholas Mangan
A senior physical education major with a concentration in adapted physical education, Mangan has received the 2010 New York State Alliance for Health, Physical Education, Recreation and Dance (AHPERD) Outstanding Major Award and was named the 2010 AHPERD Future Professionals Student Delegate. He was named to the President's List and the Dean's List.
Mangan played on the 2008 men's varsity soccer team, and served as both event coordinator and as vice president for the Alliance of Physical Education Majors. He organized and volunteered at many community events, including YMCA Teen Nights and Relay for Life.
The son of Helen and James Mangan, he is taking additional coursework in order to receive a health education certification.
"Upon graduation, my goal is to obtain a physical education and health position in a high school where I can also coach a variety of sports," Mangan said.
"My goal is to help students live healthier lives and enjoy success on the athletic field."
Kerrie Findlay
Some of the College's most outstanding scholars, including junior Kerrie Findlay of Staatsburg, N.Y., were not always certain of their academic career path.
"I have always been one to set professional goals. Unfortunately, those goals usually have a short duration," said Findlay. "My career aspirations have varied from princess (age 4), to paleontologist (age 8)…, and now finally, at age 20, university professor."
Findlay ultimately declared a dual major in French and Spanish.
"This final choice is the one that I feel the most passionate and excited about," Findlay said. "Now when I imagine my future self it is no longer in an idealized, fantastical sense but in a slightly more concrete one. The realization has finally begun to dawn on me that what I choose now potentially will be what I will be doing for the rest of my life."
Findlay was in the top five percentile of her class during her sophomore and junior years while consistently on the President's List She studied abroad in La Rochelle, France, in Spring 2010, for which she received the College's Kevin Rowell Study Abroad Scholarship.
The daughter of Dorothy and Stuart Findlay, she is an active member of several clubs on campus. Currently the president of the French club, Findlay has found language to be her most notable passion throughout her studies.
Erin Garvey
A senior dual major in childhood education and mathematics from Farmingdale N.Y., Erin Garvey has maintained a 4.01 grade point average (GPA) during her time at Cortland.
Her awards include the Presidential Scholarship for 2009-10. Garvey was consistently named to the Dean's List and the President's List and was ranked in the Top 10 Percentile of her class for all four years.
"I believe that my high academic achievements are in direct relationship with my high involvement with my family, jobs and the community," she said.
The daughter of Beth and Ed Garvey, she is a four-year member of the Honors Program. Garvey has participated in College Singers and played on an intramural soccer team. A two-year member of Colleges Against Cancer, she has joined in Relay for Life annually.
"I grew up learning from some of the best educators I have ever met and will be forever grateful that they have influenced my life the way they did," she said. "I am now passionate about learning and would love to someday ignite that feeling in other children."
Grace McGeoch
A junior musical theatre major, Grace McGeoch has been actively involved in several aspects of Cortland's performing arts department in addition to serving on the staff of Speak Magazine.
Grace McGeoch
She has maintained a 4.08 GPA, making the Dean's and President's lists consistently. McGeoch has been ranked in the top five percentile of her class and received the Sigma Delta Phi Scholarship.
The daughter of Anne and Terry McGeoch, she hopes to have a career in musical theater and use theater as a teaching tool for children.
"Someday, I hope to start theater workshops in schools and communities where it might be harder for people to find opportunities to get involved in the arts," said McGeoch. "I enjoy being involved in all the various aspects of a production and am working to improve my skills in all these areas."
Jenna Lynn Monahan
A senior physical education major, Jenna Lynn Monahan of Holbrook, N.Y., is an active member of the Alliance of Physical Education Majors. She also is the presid
Jenna Monahan
ent of the Running Club and a member of the Alpha Sigma Alpha Sorority. She has participated in several community service projects, including Make-A-Wish Foundation and Relay for Life.
"Through knowing myself, managing my time effectively, and utilizing my resources, I am able to enjoy not only my school work, but also be involved in my community," said Monahan.
She has received various awards, including Team Conference Champions and All-American at Junior National Championships in Columbus, Ohio. In addition, she was awarded three department chair "Target Student" recognition letters at Cortland.
"Upon graduation, I hope to continue my education and earn a Ph.D. in adapted physical education so I can do further research in the field," noted the daughter of Marylee and James Monahan.
"I want to discover new ways to involve students requiring adapted services with non-adapted students through the use of technology in physical education."
Michael Tota
A junior business economics major concentrating in financial management, Michael Tota of Penfield, N.Y., is a very active member of Cortland's campus.
The captain of the varsity lacrosse team, he also serves as a member of the Economics Club and a tutor on campus. He is involved in Relay for Life and Habitat for Humanity.
"Integrating all aspects of my life with high academic achievement also involves professionalism," said Tota, "No matter what activity I am participating in, I try to conduct myself in a professional manner."
With a 4.08 GPA, Tota has made the Dean's and President's lists and is a member of two honor societies. He received the SUNY Cortland Merit Scholarship, in addition to various athletic awards, throughout his time at Cortland.
"My future goals include becoming a financial advisor, an area which I have grown to enjoy," said Tota, the son of Melissa and David Tota. "I hope to make a difference in today's society by using my knowledge to help people make sound financial decisions."
Music Video Backs National Fitness Campaign
05/13/2011
About 50 SUNY Cortland students from two physical education courses took to YouTube recently with a music video parody to promote awareness for First Lady Michelle Obama's "Let's Move" campaign against childhood obesity.
The clip, which features Assistant Professor Stephen Yang's students, is a response to Beyonce's "Move Your Body," a workout video re-written with new words to her hit song "Get Me Bodied." The Grammy award-winning singer released the tune earlier this month to encourage dance exercise among children as part of the First Lady's effort.
Yang saw an opportunity to teach his students, mostly aspiring physical education teachers, in a memorable way. Students performed a choreographed routine similar to Beyonce's, with old dance moves like the Running Man and new ones like the Dougie.
"We can't just talk about current issues," Yang said. "We've got to give students opportunities to create social moments."
Yang's students banded together to form a group dubbed the P.E. Rockstars. All of his students are required to maintain their own blogs related to physical education. Yang has even created an all-inclusive blog of relevant course material.
J. Trenton Jones, a junior from Clifton Springs, N.Y. and a physical education major, volunteered to edit the raw video footage, which was shot from four cameras.
"Dr. Yang gives you the tools and he allows you to teach yourself," said Jones, who knew little about video editing before Yang's class. "He puts you in a situation and you have to work through it."
The production of a music video made sense, given the relevance of the First Lady's fitness campaign and the fact that May is National Physical Fitness and Sports Month.
"This was a great way to move and get people doing cardio," Jones said. "Dancing is lifelong fitness activity and that's pretty much where physical education is heading – lifelong fitness."
Yang said he would like physical education students to create exercise-encouraging music videos every year. SUNY Cortland's Department of Physical Education is one of the largest and most respected in the United States, attracting about 800 students every year.
"Obviously, we're not professional dancers," Yang said. "But this is a baby step towards a much larger goal: to create agents of change."
Dominion Scholars Study To Build a Greener Future
05/09/2011
SUNY Cortland junior Taylor Salsburg of Victor, N.Y., has big dreams about a future in environmental geoscience.
"I want to use the skills I have learned to take on 'big picture' environmental problems, which will make it easier for the general public to understand our serious environmental issues," said Salsburg, a geology major with a concentration in environmental science.
He and another geology major, senior Amie Whitlock of Cortland, N.Y., are getting an affordable college education in the form of an ongoing partnership between the department and a Virginia-based energy company, Dominion Resources (Dominion).
The company awards a scholarship to help undergraduate geology majors pursue research and careers in the environmental geosciences. This year, Salsburg and Whitlock are the 2011 scholarship recipients.
A Dominion Scholarship has given generations of SUNY Cortland students an incentive to pursue the major and begin research by defraying their college costs.
"The scholarship has encouraged me to continue to improve my education here at SUNY Cortland," said Salsburg. "It also allows me to dedicate more time to my schoolwork, instead of spending that time working."
"Receiving a Dominion Scholarship has had a great impact on my success at SUNY Cortland," said Whitlock, also a geology major with a concentration in environmental science. "It has taken a little bit of the financial pressure off, but has also given me a chance to do things I wouldn't have had the chance to do otherwise.
"I have been working with our structural geology professor, Dr. Gayle Gleason, on an experimental study of reactivated shear zones," said Whitlock.
The scholarship arrangement, which was started in 2002 by SUNY Cortland graduate Kevin Zink '77, gives the College annual funding to support the $1,000 per semester scholarship, available to recipients for up to six semesters. Zink directs the Northeastern area operations at Dominion Transmission, Inc., one of the nation's largest producers of energy. Scholarships are arranged through Dominion's foundation.
The Dominion Scholarship is awarded each year to an academically outstanding sophomore, junior or senior geology major, who is interested in the environmental geosciences or is doing related research projects.
To date, 17 students have benefited from this corporate generosity and the company has awarded a total of $45,000 in scholarships to students at the College.
Zink visited the campus during Fall 2010 to present the latest check to Robert Darling, professor and chair of the Geology Department, and meet the most recent Dominion Scholars.
A 2008 Victor High School graduate, Salsburg was involved with environmental research, joined the Environmental Club and was inducted into the Honor Society.
At SUNY Cortland, he is involved with the geology club, club lacrosse, volunteer efforts at the community bike shop and has earned a GPA worthy of the Dean's List for two semesters.
The two Dominion Scholars, Taylor Salsburg and Amie Whitlock, shown center left to right, met with Dominion Resources, Inc., representative Kevin Zink '77, right, and Geology Department chair Robert Darling, left.
Salsburg currently works on a project with the Department of Environmental Conservation and the Geography Department, using geographic information systems technology to map where certain species live in each town of New York state.
"I want to take my geographic information systems skills and apply them to the environmental field," said Salsburg. "I also am very interested in the hydraulic fracturing field and would like to learn more about the effort to make extracting domestic energy safe and free of environmental impacts."
As a senior at Homer Senior High School, Whitlock participated in the New Visions of Environmental Science Careers vocational program.
She transferred from Tompkins-Cortland Community College (TC3) with an Associate of Science in Biotechnology. While at TC3, she was president and founder of Students Acting for a Greener Earth (SAGE).
At SUNY Cortland, Whitlock is an active member in the geology club and is involved in various environmental projects around campus.
The scholarship has given her the opportunity to explore a long list of environmental issues affecting New York state and the rest of the world, she said.
"I am ultimately looking to pursue a career in research," said Whitlock. "My ideal position would be as a professor at a research university."
Writing Program Invites Competitive Applicants
05/03/2011
SUNY Cortland's Seven Valleys Writing Project (SVWP) will accept applications for its 2011 Summer Institute, a workshop seminar for all teachers across the region in all fields of study.
Applications for the competitive program are due Saturday, May 21. The two-week institute will be held at Main Street SUNY Cortland, an extension facility the College operates at 9 Main St. in downtown Cortland, from July 25 to Aug. 5.
Now in its fourth year, the SVWP's Summer Institute refines the learning and writing skills of educators through a "teachers teaching teachers" format, explained Project Director David Franke, a SUNY Cortland professor of English and professional writing.
Program participants will develop personal and professional writing projects and learn small-group leadership skills, he noted. Both novice and experienced teachers who use writing in their disciplines are invited to apply.
Up to 16 applicants will be accepted into the summer session. Three graduate credit hours through SUNY Cortland are available and all books, loaned computers and parking will be provided free of cost. Partial stipends will be available for teachers in need of tuition assistance.
Under-represented groups in teaching, including male elementary school teachers and ethnic minorities, are encouraged to apply.
The Summer Institute emphasizes action research and reflective practice, Franke said.
"Those who apply tend to be creative, pragmatic and solution-oriented," he said. "Together, teachers develop their personal writing, their self-chosen research projects and their leaderships skills."
A matching grant from SUNY Cortland and the National Writing Project (NWP) funds the program.
In 2008, SUNY Cortland was approved for long-term, renewable federal Department of Education funding to start a local branch of the NWP. The SVWP, which claims the Summer Institute as its centerpiece, serves 79 school districts in more than seven counties throughout the region, including Cortland, Madison, Chenango, Broome, Tioga, Tompkins, Cayuga and Onondaga counties.
"The program was transformational for me," said Kathryn Cernera, a teacher at Dewitt Middle School in Ithaca, N.Y., and the associate director of the SVWP. "I learned how to use writing to inquire into my own professional questions and also how to use writing to help students learn in all my classes."
The leaders of one of the largest teacher-education programs in the country, SUNY Cortland faculty members will speak to the importance of professional writing, new media technology, classroom teaching and learning techniques.
For application information, visit the Seven Valleys Writing Project website. For more information, contact Franke at (607) 753-5945.
College's Sustainable Partnership to Power Cars
05/10/2011
Electric cars will be able to power up at Tully (N.Y.) High School using energy generated by the sun and the wind, thanks to a renewable energy project created through SUNY Cortland's Regional Professional Development School program.
The electric car charging station ? believed to be the first of its kind based in a public school will be unveiled at a news conference, scheduled for Thursday, May 12, at 9 a.m. at Tully High School. It will use the renewable power source that was designed and assembled by Tully High School students with the help of SUNY Cortland teacher education students to power the school's main athletic scoreboard.
The scoreboard project, titled "Generating Learning By Generating Power," got started with a $500 mini-grant from the Regional Professional Development School program secured by Katina Sayers-Walker, an assistant professor in the childhood/early childhood education department at SUNY Cortland, and Kevin Sommer, a teacher in the Tully Central School District.
The wind- and solar-powered scoreboard, created with the assistance of Tully resident and engineer Steve Soos, was used for the first time this spring. As an extension of that project, energy generated by the scoreboard's wind turbine and solar panels will be used to power an electric car charging station that has been installed in the high school. Tully school officials believe it is the first charging station ever installed in a public school.
The charging station will offer a hands-on, environmentally friendly learning experience. High school students will use a 2011 Chevrolet Volt provided by Jack McNerney Chevrolet for end-of-the-year driver education courses. The Volt, an electric car that can drive 25 to 50 miles operated by battery, will be charged using the renewable energy source that powers the high school's scoreboard. Power generated by the scoreboard is stored in batteries that are designed to last the duration of any school event.
The Tully Central School District is one of 17 districts that SUNY Cortland collaborates with to establish professional development schools. In those schools, prospective teachers attending SUNY Cortland work with elementary, middle-school and high-school students and teachers on projects involving sustainability, hands-on learning, and other areas of mutual interest.
Susan Wilson Recognized for Connecting with Students
Susan Wilson, associate professor of recreation, parks and leisure studies, received the Student Affairs Connection Award recognizing her positive impact on students outside of the classroom.
The annual award is given to one full-time teaching faculty member who has established and maintained significant connections with students outside of the classroom, established and/or maintained opportunities for student involvement outside of the classroom and demonstrated that they have gone the extra mile in order to serve students.
Wilson is a softball team academic advisor, COR 101 instructor and a staff justice on campus.
Also known as "Doc" by her students, Wilson was nominated by a student, a mother of that student and three faculty and staff members.
Susan Wilson
Wilson was described by one nominator as "an incredible professor, academic advisor, photographer, life coach, but most importantly an amazing friend." A second described her as "one of those admired faculty members whose opinion, support and counsel are frequently sought by students as they deal with the dynamics and pressures of college life and life-planning. Dr. Wilson truly makes a difference wherever she goes, touching the lives of students and colleagues with her humor, caring and selfless giving. Cortland and its students are better because of her."
"Based on the nominations received, it is obvious that Dr. Wilson goes above and beyond what is expected of her to establish excellent relationships with students," said Lisa Allen, assistant director of career services, who served on the award committee. "She also was noted for 'dedicating her life to her students and athletes at SUNY Cortland.'"
Political Science Honorary Inducts Members
Ten students were formally inducted on May 11 into the SUNY Cortland Zeta Delta chapter of Pi Sigma Alpha, the national honors society formed to recognize outstanding achievement in political science.
The inductees include Andrew J. Buckley, John D. Chavez, Christopher D. Koehler, Kyle Martin, Richard A. Morin, Bryan L. Mulcahey, Neilson G. Robles, Rebecca L. Schnirel, Gary Stevens, and Vitaly Yanchuk.
Membership in Pi Sigma Alpha is open to juniors, seniors and graduate students. Undergraduates must be at least juniors who have completed a minimum of 10 credit hours in political science, including at least one upper-division course, with a "B" or higher grade point average (GPA). They must also have achieved an overall GPA placing them in the top one-third of their junior or senior class. They need not be political science majors to qualify for membership.
Robert Spitzer, Political Science Department, advises the Zeta Delta chapter. Formed in 1970, Cortland's chapter was one of the first to be established among political science departments in the SUNY system.

Suggest a feature story
---
Faculty/Staff Activities
JoEllen Bailey
JoEllen Bailey, Physical Education Department, presented "Assisting Teacher Candidates through Professional Puberty," at the National Student Teaching and Supervision Conference on April 28 at Slippery Rock University in Pennsylvania.
Christopher Gascón
Christopher Gascón, Modern Languages Department, presented a paper at the annual conference of the Association for Hispanic Classical Theater (AHCT), held March 3-6 in El Paso, Texas. The paper, "Directors Explore Contemporary Cultural Trauma through Lope's Fuenteovejuna and El caballero de Olmedo," considers two recent productions of Spanish Golden Age plays in the light of sociological theories of cultural trauma. The contemporary traumas addressed in the plays are related to immigration in the U.S. and the exhuming of Spanish Civil War victims buried in mass graves.
Jennifer Janes
Jennifer Janes, The Cortland Fund, recently learned that the office won a SUNY Council for University Advancement (SUNYCUAD) Award for Excellence Best in Category award for the 2010 Faculty and Staff Campaign. The award will be presented during the annual educational conference scheduled for June 8-10 in Saratoga Springs, N.Y.
Greg Phelan
Greg Phelan, Chemistry Department, visited St. Mary's School in Cortland on April 26 as part of the National Science Foundation-funded SUNY Cortland Noyce Project. He conducted chemistry experiments with the pre-K class. Twenty-one four- and five-year-olds participated in hands-on experiments to learn about phases of matter, vinegar and baking soda chemistry and cooking. Afterwards, the children "chewed on" the connection between the experiments and everyday life by eating Irish soda bread, which has visible bubbles and cavities.
Tracy Rammacher, Tony DeRado and Michelle Cryan
Tracy Rammacher, Publications and Electronic Media Office, recently learned that the office won two SUNY Council for University Advancement (SUNYCUAD) Awards for Excellence. The group received a Best of Category award for a photo of Old Main taken by Tony DeRado and a Judges' Citation, for the College's website, to which Michelle Cryan and Rammacher contributed. The awards will be presented during the annual SUNYCUAD conference scheduled for June 8-10 in Saratoga Springs, N.Y.
Gregg Weatherby
Gregg Weatherby, English Department, had three of his poems featured on WSKG Public Broadcasting's "Off the Page" Poetry Month celebration.

Submit your faculty/staff activity