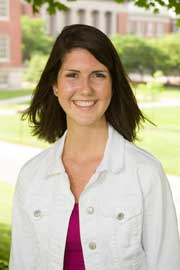 Campus Champion
Two years working as an Orientation Assistant (OA) showed senior Sarah Kelly that social media was an unexplored path to reaching new students and their parents. The trailblazing communication studies and Spanish dual major — working as administrative coordinator for the summer — now guides OA's and manages Orientation's public Twitter account, @cortlandorient. She tweets pictures, answers questions and offers fun facts geared to first-year and transfer students. Sarah will continue to find ways to connect social media to her work with new students in the fall, both as a TA for COR 101 and to promote study abroad programs.

Nominate a Campus Champion
---
Friday, July 4
Independence Day: No classes, offices are closed.
Friday, July 11 – Sunday, July 13

Alumni Reunion 2014: Campus-wide events throughout the weekend.
Thursday, July 24 – Wednesday, Aug. 13

New York Jets Training Camp at SUNY Cortland: 16 practices are scheduled over this three-week period. Fans should call the team's fan line at 973-549-4844 or visit newyorkjets.com/camp for the most up-to-date news regarding practice schedules. Updates are also available on Twitter and Facebook (facebook.com/jets).
Thursday, Aug. 21

President's Opening Meeting: Corey Union Function Room, light refreshments served at 8 a.m.
Sunday, Aug. 24

Academic Convocation: Park Center Alumni Arena, 4 p.m.
---
---
Sorority's Spirit Lives On, Decades After Fire
The College will dedicate a permanent campus memorial during Reunion. read more
Jets to Land in Cortland July 23
The first practice open to the public takes place Thursday, July 24. read more
---
Capture the Moment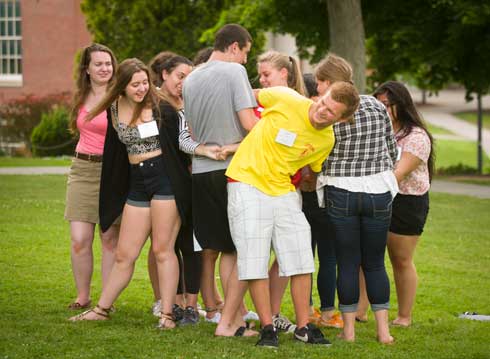 Participants of New Student Orientation are guided to understand strategies for success and their own potential and challenges while interacting with other students. The human knot exercise on Moffett Center lawn on Monday did all that, while helping the incoming freshmen begin to feel connected, confident and excited about their college choice.
---
In Other News

Suggest a feature story
---
People on the Move
---
Faculty/Staff Activities
Tim Delaune recently presented research on pirates in film at an international conference in France. read more
Mark Dodds recently presented two talks at the North American Society for Sport Management Conference. read more
Richard Hunter was appointed to the editorial board of the Journal of Cultural Geography. read more
Samuel Kelley will perform "I Have A Dream" speech on July 9 at Cornell University. read more
Mechthild Nagel recently delivered talks in Germany and in Canada. read more
Joshua Peluso participated in a panel discussion at the SUNY Technology Conference in Lake Placid, N.Y. read more

Submit your faculty/staff activity