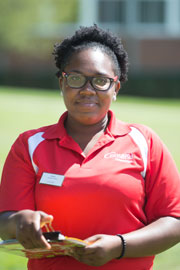 Campus Champion
Gloria Hulede is making changes in the world, beginning at SUNY Cortland. Spending her second summer as an Orientation assistant, Gloria believes in opening conversations early, making connections and offering a sense of belonging. As she maps her future, she knows it will include public health, public policy and a return to her childhood community in Ghana. Gloria is the Student Government Association executive vice president and is majoring in community health with a minor in speech and hearing science. She'll focus her senior year on a new initiative for a stronger Red Dragon community starting with the first-year students – helping them to make friends, build relationships and get involved.

Nominate a Campus Champion
---
Tuesday, July 4
Independence Day
Thursday, July 6-Sunday, July 9
Friday, July 7
Red and White Golf Classic: The captain and crew 18-hole tournament includes giveaways, lunch, golf, cart, prizes and a tee gift. Check in will begin at 9:30 a.m., with a shot gun start at 10:30 a.m. Proceeds will support Cortland Athletics and the SUNY Cortland Alumni Association. Cortland Country Club.
Thursday, Aug. 24
President's Opening Address and Faculty Meetings: Corey Union Function Room, 8 a.m.
Sunday, Aug. 27
Academic Convocation: Park Center Alumni Arena, 4 p.m.
Monday, Aug. 28
Fall Semester Classes Begin
---
---
Dangler Retiring After 40 Years
University Police Department chief Steven Dangler to leave post in July. read more
A Father-Son Bond, Born in Conservation Biology
Brandon Williams '17, the son of a single mother, discovered a life-changing education and a father figure at SUNY Cortland. read more
---
Capture the Moment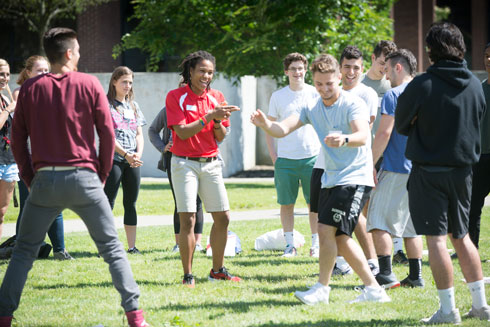 It's not all fun and games at Orientation but having a good time is definitely on the agenda. Raheemah Madany, center, is one of 24 orientation assistants spending several weeks this summer leading transfer and first-year students through two-day sessions that include discussions, ice breakers, name games and informational training as well as registration for fall classes. These steps prepare incoming SUNY Cortland students for success when they arrive on campus in August.
---
In Other News

Suggest a feature story
---
Faculty/Staff Activities
Carol Costell Corbin presented on the topic of transfer students at a recent conference in Lake Placid. read more
John C. Hartsock gave a lecture to the doctoral program in human sciences at the University of Perugia. read more
Thomas Hischak had his book, 1939: Hollywood's Greatest Year, which describes the 510 movies and other events of the year, published. read more
Richard Hunter co-authored an article that appears in the latest issue of Local Environment. read more
Kathleen A. Lawrence had several of her poems published, including "I Was a Carvel Soft Serve Queen" which appeared in a "My First Job" series. read more
Emily Quinlan presented at the New York State Transfer and Articulation Association conference in May. read more
Henry Steck, William Veit, Julia West and John Suarez participated in SUNY Central's Deliberative Democracy Conference on June 22 and 23. read more

Submit your faculty/staff activity