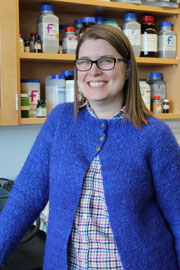 Campus Champion
Christa Chatfield, associate professor of biological sciences, teaches her students about bacteria and research in a Bowers Hall microbiology lab. Along with teaching microbiology lecture and lab classes, Professor Chatfield focuses her undergraduate research students — 17 to date — on research investigating the biology of Legionella pneumophila, the causative agent of Legionnaire's disease. Stepping into the role of moderator to participate in the College's celebration of Women's History Month, Christa has invited colleagues, including an economist, a mathematician and a biologist, to discuss "Women of STEM and Beyond: Stories of Personal Heroes." Join them at 4:30 p.m. on Wednesday, March 7, in Corey Union Fireplace Lounge.

Nominate a Campus Champion
---
Tuesday, March 6
Lecture: "LGBT Historic Spaces: Telling All American Stories," presented by Megan Springate, National Park Services, Sperry Center, Room 105, 4:30 p.m.
Open Mic Night: Corey Union Exhibition Lounge, 7 p.m.
Wednesday, March 7
Panel Discussion: "Women of STEM and Beyond: Stories of Personal Heroes," Corey Union Fireplace Lounge, 4:30 p.m.
Center for Ethics, Peace and Social Justice Annual Lecture: "Shadows, Gray Zones and the Bright Suns of Home: Bridges to Shelter the Homeland," presented by Wendy C. Hamblet, professor of philosophy, North Carolina Agricultural and Technical State University, Sperry Center, Room 205, 4:30 to 6 p.m.
Lecture: "Are We Ready for the Abolition of 'School'?: Lessons on Community Engaged Struggle for Quality Education," presented by David Omotoso Stovall, professor of African American Studies and Educational Policy Studies at the University of Illinois at Chicago and a Chicago-based scholar on the influence of race in urban education, community development and housing, Sperry Center, Room 204, 7 p.m.
Thursday, March 8
Sandwich Seminar: "Fraud Reporting, Whistleblower Act and The Role of Enterprise Risk Management," presented by Risk Management Officer Bill Veit and Institute for Civic Engagement Action Team members, Brockway Hall Jacobus Lounge, noon to 1 p.m.
Opening Reception: "Artists as Innovators – Celebrating three Decades of NYSCA/NYFA Fellowships," Dowd Gallery, 4 to 6 p.m.
Friday, March 9
Friday Films at Four FilmFest: "The Big Sick," (2017), Old Main, Room 223, 4 p.m. Refreshments will be served beginning at 3:50 p.m.
Saturday, March 10
Writing Matters V at SUNY Cortland: "Creating a Culture of Writers," Corey Union, 9 a.m. to 4 p.m. Keynote Speaker Kelly Wissman, SUNY Albany, will present "Cultivating a 'Beloved Community': Collaborative Composing with Words and Images," 9 a.m.
Monday, March 12
Spring Break: Continues through Friday, March 16.
Monday, March 19
Lecture: "She is a Shield to Her People," presented by Brenda Finnicum, detailing the role of Native American Women in the military, Brockway Hall Jacobus Lounge, 4:30 p.m.
Tuesday, March 20
Lecture: "Coming of Age in the Other America" presented by Stefanie DeLuca, the James Coleman Professor of Sociology and Social Policy at Johns Hopkins University, Sperry Center, Room 106, 4:30 p.m.
Open Mic Night: Corey Union Exhibition Lounge, 7 p.m.
---
---
Football Captain, Shot Twice While Stopping Rape, Receives Award
SUNY Cortland junior Kyle Richard will be honored by Kristin's Fund. read more
Students, Faculty Compile 150 Years of SUNY Cortland History
The multimedia timeline is scheduled to launch in July 2018. read more
---
Capture the Moment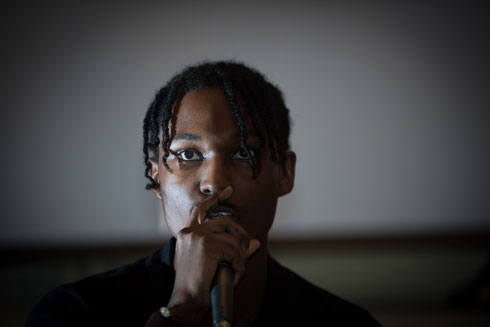 Malik Watts was one of more than two dozen performers at "Afro Essence: A Night of Cultural Celebration," held in Brockway Hall Jacobus Lounge on Feb. 28. Sponsored by Know Your Roots, Africana Studies Association and the Black Student Union, Afro Essence is based upon Afronaissance, the Renaissance of black consciousness, artistry and unity similar to that of the Harlem Renaissance. Open to the campus community, Afro Essence features music, art and poetry that celebrates the achievements and talents of SUNY Cortland's minority students. View a gallery of Afro Essence photos.
---
In Other News

Suggest a feature story
---
People on the Move
---
Faculty/Staff Activities
David Duryea spoke to a U.S. Defense Strategy class at Syracuse University in March. read more
Adem Kaya and Mark Dodds traveled to Turkey to attend the Forum for Reviving Traditional Sport. read more
Denise D. Knight had her article accepted for publication in American Literary Realism. read more
Kathleen A. Lawrence had a poem accepted for publication in Hay(na)ku 15. read more
Deborah Matheron was a presenter at a February conference on motor speech disorders and motor speech control. read more
Melissa Morris and student Matthew Metcalf had their paper accepted for publication in the Astrophysical Journal Letters. read more
Mechthild Nagel presented her official research fellow talk at the Institute of Philosophy - Czech Academy of Sciences in February. read more
Frederic Pierce presented "Making College Great Again: How to Market Higher Education Like Donald Trump" at a conference. read more
Robert Spitzer had his article, written in the aftermath of the Florida high school shooting, published in the Washington Post. read more

Submit your faculty/staff activity