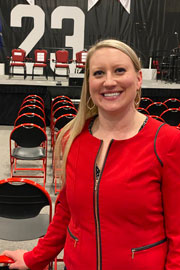 Campus Champion
For nearly a decade, Samantha Howell has done the behind-the-scenes organization and planning that makes Cortland's biggest events so meaningful for students and their families. From the President's Opening Meetings through Convocation and Commencement, Sam guided Special Events for the President as the office evolved and incorporated innovative technology. "It's rewarding to be a part of the work that honors and celebrates the wonderful things this campus does," she said. This week Sam starts a new job managing the COR 101 Program for advisement and transition. "I look forward to working with first-year students — this will be a full-circle experience for me."

Nominate a Campus Champion
---
Wednesday, May 17 to Tuesday, Aug. 1 
Summer Session: Full 10-week session, register via the Alternate Registration Process through noon on Wednesday, May 17. The last day to add a course is the first day of each term. Summer Session I Wednesday, May 17 to Thursday, June 22
---
Thursday, May 18
Academic Affairs Retirement Reception: For retired and retiring faculty and staff, Corey Union Function Room, 2 to 4 p.m., RSVP
---
Friday, May 19
Professional Faculty Recognition Luncheon: Corey Union Exhibition Lounge, 11:30 a.m. to 1 p.m., RSVP by email to uup@cortland.edu
---
Tuesday, May 23
Great Expectations: SUNY Cortland Teaching and Learning Conference, for all SUNY Cortland employees, Greek Peak Mountain Resort, 9 a.m. to 3 p.m.
---
Wednesday, May 31 to Friday, June 2
Summer Institute for Diversity, Equity, Inclusion and Social Justice: Moffett Center, Room 209, 9 a.m. to 3 p.m.
---
Thursday, June 1
Starfish Online Session: The Starfish early alert communication system is available to raise alerts or offer kudos to help our students stay engaged and empowered. For summer faculty but everyone is invited to attend, online via Webex, 9 a.m.
---
Summer Bulletin publication dates
Tuesday, June 6
Tuesday, June 27
Tuesday, July 18
---
---
Special education program earns national praise 
Foundations and Social Advocacy Dept. ranked near top of bachelor's degree programs.  read more
Foster receives Chancellor's Award for Classified Service
Lori Foster of the English Department was recognized for her dedication to faculty and students. read more
---
Capture the Moment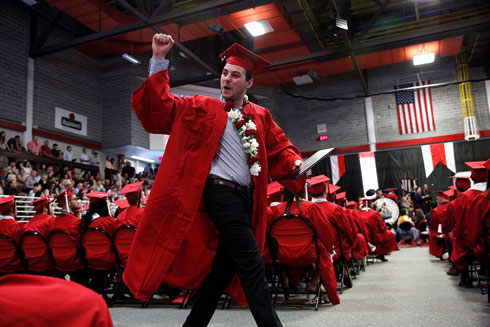 Evan Pasquale, a physical education major from Red Hook, New York, celebrates during Undergraduate Commencement, held Saturday, May 13, in Park Center Alumni Arena. More than 1,500 students were recognized during four weekend ceremonies. Photo galleries from Graduate and Undergraduate Commencement are available on Facebook and webcasts of each ceremony will be posted online for those who want to relive the moment.
---
In Other News

Suggest a feature story
---
Faculty/Staff Activities
Kenneth A. Cohen was featured in WalletHub's recent article "2023's Best Summer Travel Destinations." read more
Evan Faulkenbury co-edited a book titled Teaching Public History that was recently published read more
Tiantian Zheng presented two invited book talks and a talk on "Undertaking Sensitive Fieldwork" this spring. read more

Submit your faculty/staff activity